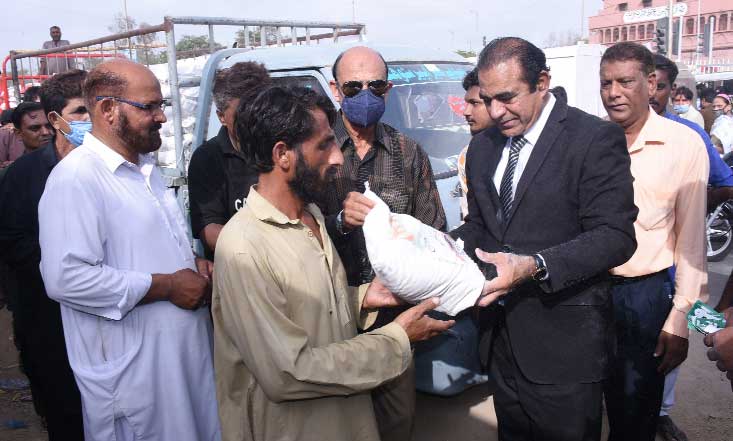 'I'm Pakistan World Wide Movement' head vows to combat food inflation
Imran Zakir
KARACHI: Syed Ahmed Ali, a Pakistani origin businessman from Canada started selling flour at Rs20 per kg at various locations in Karachi. He said that he reached the country to help his white-clad compatriots by selling his business in Canada by providing them quality and cheap flour (Ashrafi Brand) wheat flour for only Rs.20. The project has been launched now in Karachi following Islamabad.
'I'm Pakistan World Wide Movement selling Wheat flour in 20 rupees/kg started from Karachi Press Club on Wednesday and Numaish Chowrangi on Thursday. Meanwhile, standard and cheap flour will be provided by setting up stalls at various places in various Chowrangis at Liaquatabad and Orangi Town and in front of Mazar-e-Quaid also.
Syed Ahmed Ali is the head of the 'I'm Pakistan World Wide Movement'. He founded the charity 20 years ago in Ottawa, Canada. The supply of flour at Rs.20 per kg is a pilot project of the Movement.
Talking to media at Numaish Chowrangi, Syed Ahmed Ali said that cheap flour was being sold not as a charity. We want the price of flour in Pakistan to be the same as it was 20 years ago. The process of supplying flour at Rs.20 per kg will continue on a regular basis.
He further said that government has to control food inflation in Pakistan at the moment, while the rising price of flour has made difficult for a deprived the common man of the right to eat two meals a day and that is why the Movement has set up a flour base in Pakistan.
The organization was established 20 years ago in the Canadian capital of Ottawa. The provision of Rs.20 kg wheat flour is a pilot project of the organization. He said the provision of inexpensive wheat flour is not Sadqa or Khairat but it is being sold at the price of Rs20 per kg. We want the price of wheat flour to be at the level it was 20 years back. He said that we will continue providing the wheat flour at the rate of Rs20 per kg on a permanent basis and after its launch in Islamabad and Lahore, it will be provided to the masses in other cities and towns as well.
Citizens eulogized the effort of Canadian-Pakistani trader Syed Ahmed Ali and demanded that the government and other welfare organizations should take such initiatives to fight with food inflation in the country.