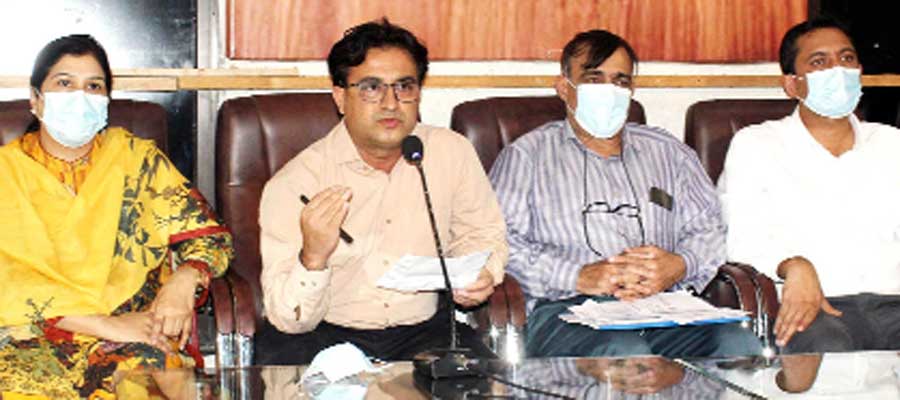 Imran Zakir
KARACHI: Chairman Doctors Association Jinnah Hospital, Dr. Shahbaz said that despite of serving the ailing humanity but Jinnah Postgraduate Medical Center doctors are triangulated by the Government in a press Conference on Wednesday held at Karachi Press Club.
Condemning the situation, JPMC Doctors Association expressed concern over on their promotions not given for 14 years by the provincial government, who are fighting as front-line workers against coronavirus, saying that other provincial governments had announced various incentive packages for their doctors but we are still linger on.
"What is our fault?", We are also fulfilling our responsibilities in COVID-19 said by General Secretary Dr. Naeem Khan. Beside all odds, duties are being performed in an efficient manner but when the government given promotions to only three blue eyed doctors, it's purely in justice and un democratic practice, it would be our right to get promotions on time.
He said that Jinnah Hospital has been under the administrative control of Sindh government for the last 11 years due to this behavior many competent doctors leaving their jobs and moved abroad, we are now lacking competent professionals. The doctors who are performing their duties in Jinnah Hospital are suffering from mental distress as well as they harassed also.
While Dr. Irum Bokhari expressed her grievance, despite of having multiple specialization and supervisory role in Neurosurgery department I'm suffering from many years.
She requested Sind Government not to treat them as step mother, when a question is raised by media during press briefing about National Institute of Cardiovascular Diseases (NICVD) Rs. 12 billion budget and salaries of Post-Graduate Doctors in millions.
Dr. Nazish Butt, Senior Vice President JPMC Doctors Association demanded from the Government of Sindh should immediately issue notification of promotion of doctors and we don't want to become rolling stone between Federal and Provincial Government.
Moreover, she said, High Inflation had a deleterious effect on physician incomes and many of us are not doing private practice.