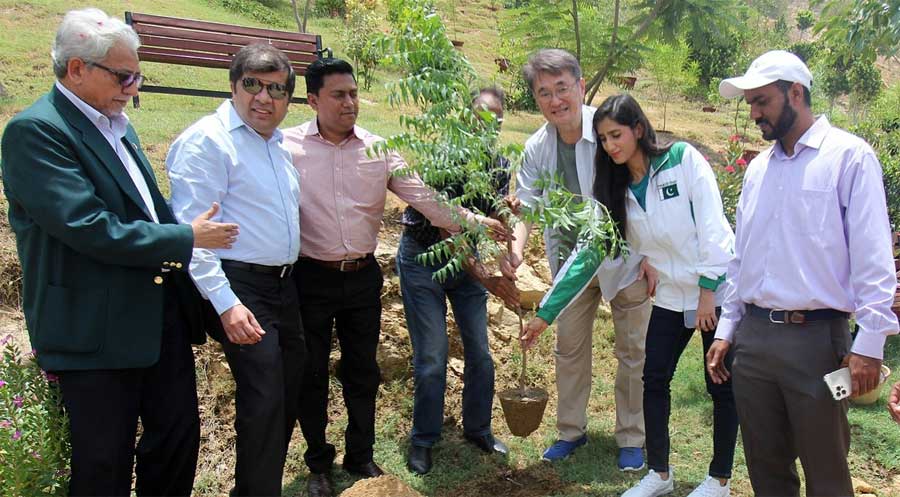 Iqbal Jamil
KARACHI: World Environment Day was observed at Naya Nazimabad, Karachi. Japanese Consul General, Toshikazu Isomura was the chief guest on the occasion. He inspected the sports facilities at the cricket and football grounds. The Japanese diplomat also played basketball and appreciated the facilities of sports in Naya Nazimabad.
The Japanese diplomat on the occasion said that despite the pandemic, Japan is committed to hosting the Olympics in the best possible way. Toshikazu Isomura added that Pakistan had won world titles in cricket, hockey, squash and snooker in the past despite limited resources. He would like Pakistani athletes to fly the flag of success in international competitions, including the Olympics.
Samad Habib, Chief Executive Officer of Naya Nazimabad, said that Naya Nazimabad would be recognized as a sports city after the completion of sports infrastructure in the near future. We will work more on sports activities.
He said that he is planning to hold a mini-Olympics in Naya Mahur Shehzad said that Naya Nazimabad is an ideal society where its residents have access to the best sports facilities.
Syed Mohammad Talha, President of Naya Nazimabad Gymkhana, highlighted the salient features of the sports facilities at Naya Nazimabad.
The Consul General planted a sampling along with others to mark the World Environment Day.