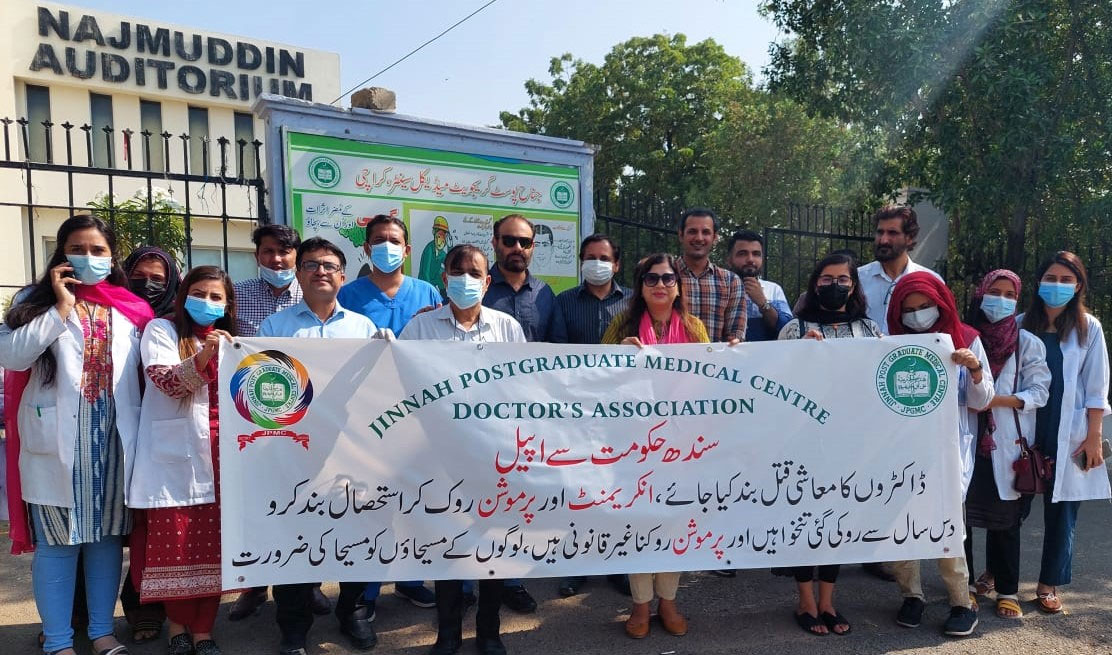 Staff Reporter
KARACHI: Sindh Government largest territory care hospital, Jinnah Hospital Doctors Association Chairman Dr Shahbaz and President Dr Naeem said that the Sindh government has committed professional and economic murder by withholding promotions and allowances of doctors of Jinnah Hospital. Doctors who are performing their duties for ten years despite economic and fundamental rights being frustrated.
PMC doctors staged their protest in front of Najumuddin auditorium of Jinnah Hospital on 10 November displaying their slogans for promotions and allowances.
Dr. Shahbaz said that we have been performing our duties responsibly for many years but in spite of this the Sindh government has stopped our promotions. Many allowances have been blocked and no government representative is interested in solving our problems. Even many times we approached former Secretary of Health, Sindh Government, Jatoi but he did not give us any appointment that proves how much the Sindh Government is concerned about the health of the peoples of this province.
He further said that Jinnah Hospital has been entangled in the problems of the federal and sometimes provincial government and our rights have been violated. We are not willing to shut down the OPD of various departments of JPMC because sick people come here from the whole province for their illness/diseases. If Government has failed to resolve our issue and does not solve our problem then these protests will continue.