New Indonesian CG joins Karachi Consulate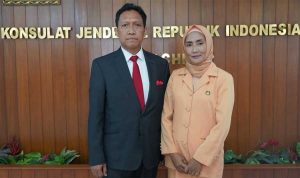 Dr. June Kuncoro Hadiningrat reached Karachi during the reported week after completed his quarantine upon arrival as mandated by the COVID-19 SOP in Pakistan. On Friday, the Indonesian Consulate carried out a handover ceremony to transfer the positions and responsibilities from the previous Acting Consul General, Herian Yuliansyah, to June Kuncoro Hadiningrat as Consul General.
Dr. June is looking forward to further strengthen the longstanding relations between Indonesia and Sindh Province, particularly in the field of trade, investment as well as people-to-people contact that shall benefit both countries. Furthermore, he also reaffirms one of the most important priority in Indonesian missions abroad, which is to provide exemplary citizen services to Indonesian nationals and diaspora in the Sindh Province.
The Consul General is exceptionally grateful to be tasked with leading one of the most important Indonesian missions in the region, and is looking forward to working together with the Ministry of Foreign Affairs of Pakistan, local government, business community, intellectuals, Indonesian diaspora, and Pakistan counterparts in order to achieve mutual goals. Prior to Karachi, June Kuncoro Hadiningrat was assigned in the Indonesian Embassy in The Hague (the Netherlands), Rome (Italy), and Kuala Lumpur.
Systems Limited joins hand with The Citizens Foundation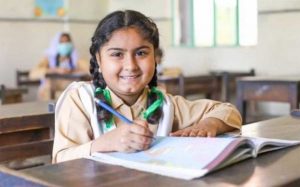 CEO Asif Peer has announced a new initiative of Systems Limited where the company will collaborate with The Citizens Foundation (TCF) to provide underprivileged students a chance to attain formal education. As part of the company's CSR drive, the initiative is geared towards promoting meaningful educational programs that bring about an empowering social impact for the community.
The first-of-its-kind initiative will see Pakistan's premier technology organization join hands with one of the largest privately owned networks of low-cost formal schools in Pakistan. It all started with the exchange of Eid greeting letters between the management of Systems Limited and TCF students. While the letters exchanged warm, positive messages of staying hopeful during these testing times, one of them revealed a student's wish to have a secondary school in his hometown of Burewala, Punjab, so that he could pursue his studies further. This wholesome exchange was picked up by the social media influencers like Dua Amjad, Tasmiah Khan, Hibbah Waqar, Haddiya Azer and Kompal Iqbal, and ultimately resulted in Systems Limited's management deciding to help these young children fulfill their dreams.
"I'm committing to you all that we'll be building a school in Burewala with TCF, who have done wonders in educating masses of needy kids. We would like to participate in their initiative and this won't be the only school. We'll continue doing this because this is our future and as a responsible organization, we will continue to do such CSR activities," said Asif Peer.
Literacy plays a huge role in the development and progress of any country. It strengthens the youth with knowledge, which fuels a culture of innovation and growth. At just 58%, Pakistan's literacy rate is low as compared to the neighboring countries China (80%), India (74%), and Iran (85%). This considerably limits opportunities towards acquiring skills and technical knowledge to achieve higher productivity and financial growth. Over 60% of Pakistan's total population resides in rural areas which don't have proper access to formal education.
Emirates wins record 8th consecutive award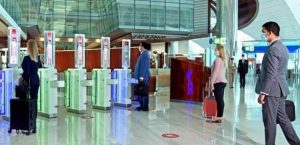 Emirates has been voted 'Best Airline Worldwide' for the eighth consecutive time by the Business Traveller Middle East Awards 2021. The airline also took home accolades for 'Airline with the Best First Class', and 'Airline with Best Economy Class'.
The wins demonstrate Emirates' strategic approach to continuously improving the onboard and on ground experience, offering a safe customer journey across all touchpoints, leaving no detail behind, while ensuring it meets evolving customer expectations during the most challenging period the air travel industry has experienced.
To maintain its industry leadership, the airline has also doubled down on its digital approach to modernise the air travel experience by fully launching and scaling up its biometric path and touchless check-in, providing further assurance and meeting the evolving expectations of customers for a safer, contactless travel experience. Today, from check-in to gate, customers have the choice to experience the future of travel at over 33 Emirates biometric checkpoints and close to 50 touchless kiosks across Dubai International Airport.