DG Federal Insurance Ombudsman fetes KEC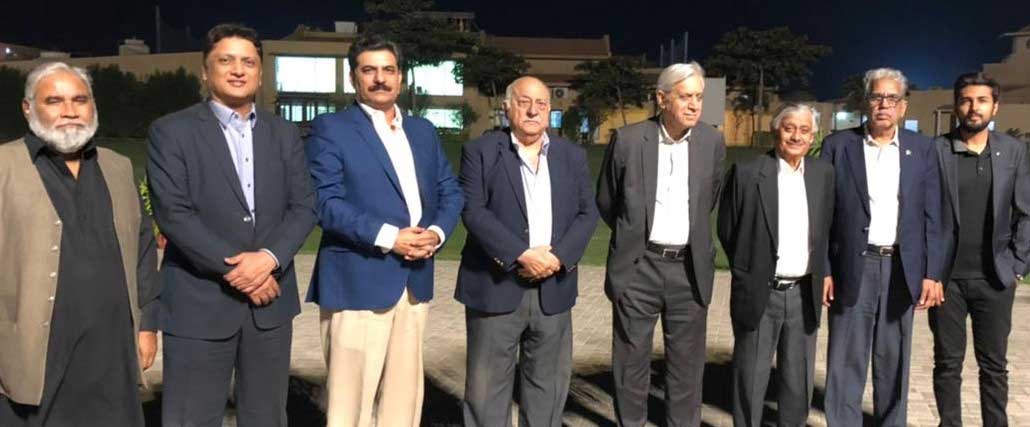 Mubasher Naeem Siddiqui, Director General of Federal Insurance Ombudsman Secretariat, Government of Pakistan, Karachi, hosted an exclusive dinner in honour of some senior and Executive Committee members of Karachi Editors Club (KEC) at Golf Club DHA, Karachi during the reported week.
Mubashir Naeem is a smiley, smart and a hard working government officer. He briefed the journalists about the need of establishment and functioning of the Federal Ombudsman in Pakistan which is now amicably resolving various Insurance related disputes and problems of corporate sector and the general public.
Mubasher Mir President KEC introduced the senior members of KEC and briefed the host about the function of KEC. Members of KEC assured their full cooperation to Mubashir Naeem for the improvement services of the Federal Ombudsman.
PAS elects its new Executive Council


Pakistan Advertisers Society (PAS) held its 24th Annual General Body during the reported week. The AGM was attended by all the major advertisers of Pakistan. The Executive Director of PAS, Qamar Abbas, presented key initiatives of 2021 along with some of the important industry issues.
The agenda for 2022 was also proposed to the members. This was followed by a presentation on the Effie Awards Pakistan by Afsheen Rizavi, project head and General Manager, PAS. The AGM also marked the end of two-year tenure of the current Council and the Office-Bearers. The elections for the new council were also part of the proceedings.
The newly elected Council comprises 14 members. Dr. Zeelaf Munir, CEO and Managing Director of English Biscuit Manufacturers were elected as the Chairperson of the Society. She is the first woman to hold this position.
Khalid Farid, CEO Gillette/CCO P&G was elected as the Vice Chair and Farheen Salman, CEO, Ekaterra – a Unilever Tea Company was nominated as the General Secretary of the Society. In addition, for specific initiatives, Asif Aziz, Chief Commercial Officer of Jazz and the outgoing Chairman of PAS was nominated as the Chair of the Govt. Relations Committee, while Faisal Rana, Director Marketing and Communication, Nestle Pakistan was nominated as the Chair of the newly formed Regional Committee.
Other representative members of the newly elected Executive Council include Ahmed Wahab Shah The Coca Cola Co., AsiamHaq Unilever Pakistan, Hassaan Serwani PEL, Humayun Farooq Reckitt Benckiser, Humayun Shaikh Shan Foods, Khurram Koraishy Al-Karam Studio, Nauman Khan Dabur, Sheikh Adil Hussain Tapal Tea and Syed Usman Qaiser Jubilee Life Insurance. The new council will start its term from 1st of January 2022.
The AGM was concluded on a high note with Asif Aziz handing the Chair to Dr. Zeelaf Munir and thanking all the members of the Society and specially the Council for supporting him during his tenure.
Female CEO from Pak secures Banking Tech Award in London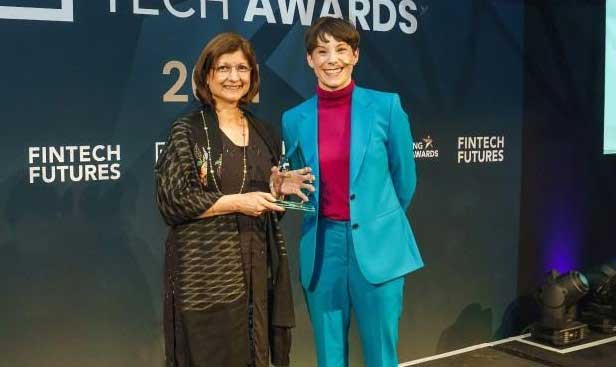 Ammara Masood, CEO of NdcTech is the Winner for "Women in Tech" leadership category at the 2021 Global Banking Tech Awards hosted in London by Fintech Futures. This is truly a valuable recognition competing globally with the top tech leadership in the financial industry among other contenders. The award is an accolade for a leader making a significant impact in the banking/financial services industry and contributing towards the industry's betterment.
Now in its 22nd year, the Banking Tech Awards recognizes excellence and innovation in the use of IT in financial services worldwide, and the people who make it happen. The Woman in Technology Leadership Award category lauds an outstanding woman for her distinguished leadership and inspiring work in her organization, and for making a positive impact on the wider banking/financial services industry.
Ammara, CEO of NdcTech commented "I am delighted and truly humbled to receive such valuable recognition and acknowledgment by a prestigious global organization. I am grateful to Fintech Futures, to the judging panel, to my colleagues at Ndctech, and most of all to the clients who provided me the opportunity to make an impact in the industry. This award is for all women leaders who venture to make breakthroughs by showing their exceptional talent and vision. We don't have enough women in leadership roles and I urge all organizations to advocate for women in such roles."