Sada Welfare treats 37,876 patients in a year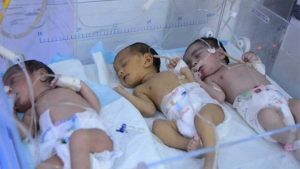 Almost two decades after its inception in 2002, Sada Welfare Foundation is continuing its noble work to serving humanity, especially sick children, free of cost. They announced during the week that between Jan 2020 and Jan 2021 the Foundation had served 37,876 patients – a record high for the organization – by providing them different blood products free of cost.
It may be recalled that social workers Fawzia Siddiqui, Parveen Makdaand and Tahira Jawaid started the Foundation as a non-profit charitable organization for the cause of child health and community service. They have been committed to serve the needy, irrespective of gender, caste, creed, race and religion.
The Foundation's mission is to help save the lives of underprivileged children and infants of Sindh and Balochistan by providing free hospital space with life-saving medical equipment and medical supplies and staff. Blood Bank is the major project of the Foundation which has facilitated the needs of patients across Pakistan with free of cost treatment. It is especially a blessing for thalassemia patients who need regular transfusion of blood throughout their lives.
Sada also provides treatment to patients suffering from renal diseases, cleft palate and cancer and provides artificial limbs.
Furqan Qureshi stars in new upcoming serial 'Gumn'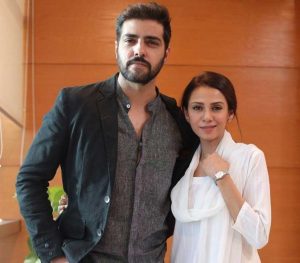 Furqan Qureshi will now be staring in the upcoming drama serial 'Gumn', directed by Sarmad Khoosat. The talented actor has once again proven his knack of choosing diverse and unconventional roles. 'Gumn' is going to be a 13-episode long thriller drama serial where Furqan will be playing the lead role along with many other actors such as Zara Tareen, Usman Peerzada, Agha Mustafa and multiple guest appearances.
"What really sold me was the fact that this project is directed by Sarmad Khoosat and that too a thriller. These days' actors don't really get much of a chance to do something different like this and perhaps that is why I chose to do this project," said the actor.
"The cast is wonderful, there's a lot of great energy on set and this is Tooba's debut as a writer so we're all very excited. Also, this is a 13-episode serial, normally serials these days are around 26 episodes, so this takes me back in time when dramas used be short like Tanhaiyaan, for instance. This is the first time I'm doing a 13-episode serial and that in itself is also very exciting."
Shah Mahmood Qureshi appreciates services of Crescent Art Gallery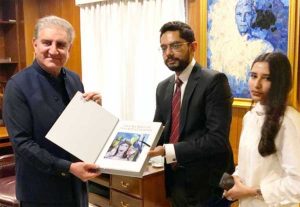 Pakistan Foreign Minister Shah Mahmood Qureshi has appreciated the role of Crescent Art Gallery in promotion of Pakistani art and culture. As per details, a delegation of the Crescent Art Gallery led by Chief Executive Crescent Art Gallery Nasir Javed called on Qureshi during the reported week and discussed the matters related to arts, culture and tourism.
Nasir Javed briefed the Minister on efforts of his gallery for promotion of Pakistani art and culture. He said that the Crescent Art Gallery is working on self-help basis and using its available resources for this national cause. He said services of leading artists have been hired for the Academy to train young artists through lectures and other media to educate them on new art techniques.
Moreover, the Gallery is holding national and international art shows which help in encouraging young talented Pakistani artists. He said local artists through their paintings are introducing Pakistani culture in whole world and it would result in far-reaching effects. Nasir Javed said that by holding art shows in USA, UK, France and other countries, the soft image of Pakistan abroad would further improve.
Foreign Minister Shah Mahmood Qureshi appreciated these efforts of the Crescent Art Gallery. He said Pakistani culture holds a unique status in whole world. He said art exhibitions are playing a good role. He assured his support in promotion of arts and encouragement of artists. He said improving the soft image of Pakistan is on the priorities of the government and in this regard a comprehensive plan has already been chalked out and a well coordinated team formed and positive results are expected soon in this regard. The delegation also includes the directors R. Sameer Nasir and Sidra Nasir, who presented the paintings to Federal Minister Shah Mahmood Qureshi.