A delegation led by Haseeb meets Qadeer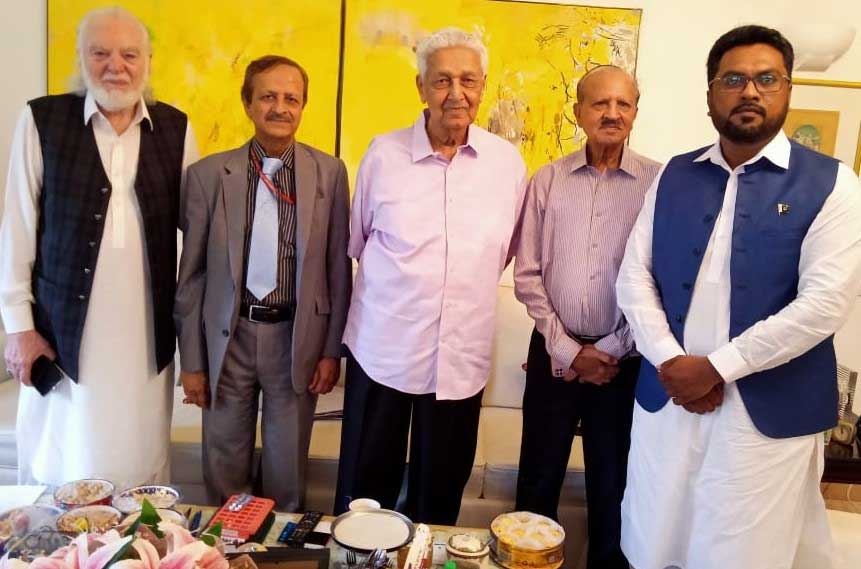 A delegation of Hum Pakistan led by former Senator Abdul Haseeb Khan called on Fakhr-e-Pakistan Dr Abdul Qadeer Khan at his residence during the reported week. Dr Khan said that Shaheed Zulfikar Ali Bhutto had an important role in making Pakistan a nuclear power. On this occasion, the CEO of "Hum Pakistan" Asif Rafique composed a song in collaboration with former Senator Haseeb Khan in which a great tribute was paid to Dr. Abdul Qadeer.
Abdul Haseeb Khan on this occasion said that Dr Qadeer was a benefactor not only of us but of Muslims the world over. Asif Rafique said that it is our national duty to pay homage to the national heroes.
Senior journalist Agha Masood Hussain paid rich tributes to Dr. Khan for his invaluable national services and said that the ones we speak to today with the eyes of the enemy are Dr. Sahib. Thanks to Dr. Sahib is a very kind and loving person. Dr. Sahib's life is a beacon for us.
The delegation also prayed for the recovery of Dr. Qadeer Khan.
Pakistan Red Crescent commendation awards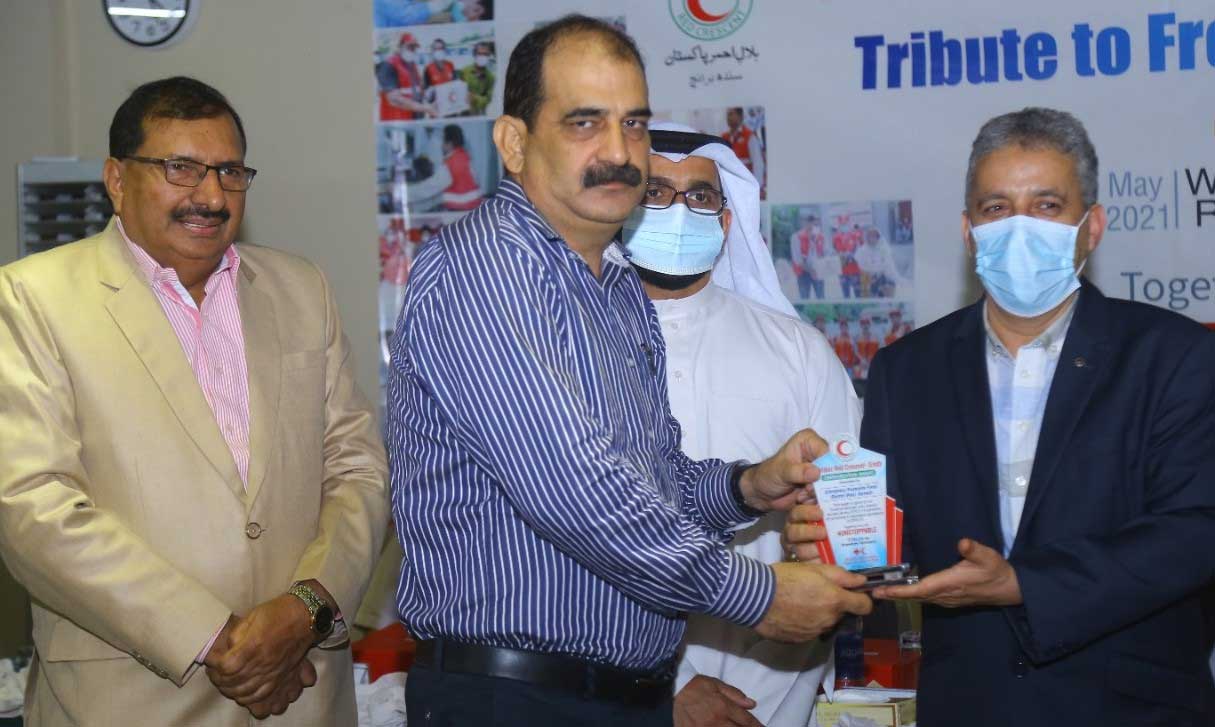 The Sindh Branch of Pakistan Red Crescent (PRC) organised an event during the week at Karachi to commemorate World Red Cross Red Crescent Day. The event paid tribute to humanitarian organisations, journalists, and volunteers for their valiant efforts during the COVID-19 pandemic. Commendation awards were given to humanitarian organization including Edhi Foundation, Chipa Welfare Association, JDC Foundation, Al-Khidmat Foundation, Al-Mustafa Welfare Society, Saylani Welfare Trust, Indus Hospital and Sindh Boy Scouts Association (SBSA).
In addition, commendation awards were also presented to eight senior journalists belonging to print and electronic media for reporting issues related to COVID-19. Apart from external organizations, PRC-Sindh also presented commendation awards and certificates to its staff, Emergency Response Force (ERF) volunteers and First Aid responders.
Addressing the event, Chairman Pakistan Red Crescent Shahnaz S. Hamid said that these are the staff and volunteers of Pakistan Red Crescent that has enabled the organization to serve humanity and deal with disasters efficiently.
Haji Hanif Tayab, Chairman & Chief Patron, Al-Mustafa Welfare Society, Zaffar Abbas Jaffri, General Secretary JDC Foundation, Qazi Syed Sadaruddin, Director Community Services, Al-Khidmat Foundation, Ahmed Edhi from Edhi Foundation and others have addressed the event and praised the efforts of Pakistan Red Crescent.
The event was also attended by Consul General Turkey Tolga Ucak, Consul General UAE Bakheet Ateeq Ali Alayan, Second Consul Republic of Iran Syed Muhammad Hossein Rouhani, vice chairman PRC-Sindh Raffique Ahmed Jaferi, Honorary Treasurer Dr. Majid Alvia and various other.
International Religious Freedom and Interfaith Harmony Conference


Islam teaches us tolerance, humility, and humbleness and we can establish peace and harmony in our personal lives, society and the world by following the teachings of the Holy Prophet (SAAW), scholars and speakers at the concluding Interfaith Commission for Peace and Harmony (ICPH), organized an International Religious Freedom and Interfaith Harmony Conference 2021 with the collaboration of American Muslim and Multifaith Women's Empowerment Council, at Avari Hotel, Karachi during the reported week.
Religious scholars from various beliefs such as the representatives of Christian, Muslim, Hindu, Sikh, Paarsi and Bihaai communities, social activists, diplomats of various countries and people from different walks of life participated in the conference. Number of international dignitaries joined the event virtually and shared their views on this important and sensitive topic which is the foundation to bring peace in the world. The program was officially started with the readings from the Holy books of all the different faiths to give them equal respect and love.
Speaking on the occasion Senior Minister Nasir Hussain Shah said, ending extremism, terrorism and sectarian violence requires dialogue between people of different groups and to achieve this goal the government will hold training sessions for Imams, Preachers, Teachers as per modern requirements and standards of society,"
The Consul General of UAE at Karachi Bakheet Ateeq al Remeithi also graced the occasion and appreciated the interfaith harmony created by all those that were present.
Allama Imam Ahsan Siddiqui, Chairman of Interfaith Council for Peace and Harmony (ICPH) moderated the conference. Addressing the guests, he said that the ICPH, with the support of Ulema and Mashaikh, had been playing an effective role to keep a check on the misuse of blasphemy law, therefore, on account of hearsay, any objections on violation of religious freedom in Pakistan should not be made.
Anila Ali President of American Muslim and Multifaith Women's Empowerment Council said that it is not just the responsibility of religious leaders but all actors of the civil society have to be involved.
While addressing the audience, Seasoned Educationist and Provincial head of PMTA and PCCI Seema Basif, appreciated the efforts of the government for taking a rights-based approach to protect the rights of minorities guaranteed by the Constitution.
Bindya Rana, activist from the Transgender community shared insights into the Trans community of Pakistan. He Anila Ali, expressed her organizations support for the Trans community, "your ICPH and AMMWEC brother &sisters are with you." Senator Krishna Kumari, Hindu MPA urged the audience to support them in advocating for minorities and pursue justice for them.
At the end of the event a declaration and pledge were signed by all the religious scholars, civil society members and all the attendees of the event as a commitment that they will be the active agents to promote interfaith harmony, love and respect among practitioners of various religious beliefs for the peaceful co-existence of mankind. It is evident that Interfaith Harmony and religious freedom are the way forward to global peace and prosperity.