3-day Pakistan International Film Festival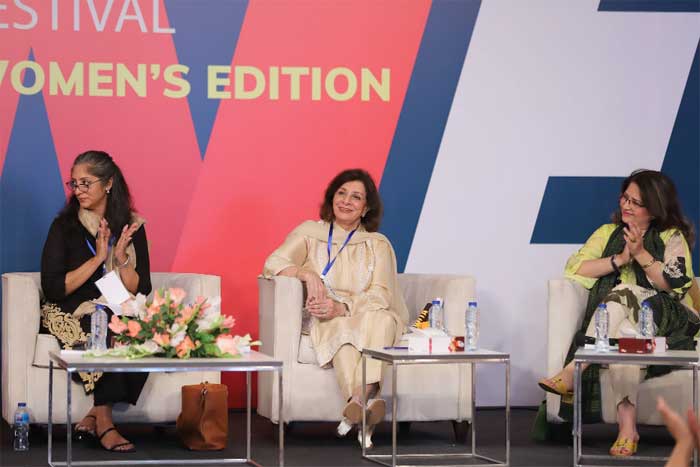 The three-day Pakistan International Film Festival, Women's Edition 2021, organized by the Karachi Film Society, concluded during the reported week with a workshop on Women Entrepreneurship in a Creative Economy, followed by a panel discussion on Gender Stereotypes in Media and What are Women Doing About It? The panel discussion was attended by the Provincial Minister of Sindh for Culture, Tourism, and Antiquities, Syed Sardar Ali Shah, Senator Sehar Kamran, media fraternity, founding members of the Karachi Film Society and other guests including Bushra Ansari, Zeba Bakhtiar, Urwa Hocane and Shafaat Ali.
The seminar/webinar on Gender Stereotypes in Media and What are Women Doing About It? was moderated by Tazeen Hussain, an Associate Professor and Head of the Department of Communication Design at Indus Valley School of Art and Architecture. The panelists present were Sultana Siddiqui, President KFS & HUM Network Ltd and recipient of Sitara-I-Imtiaz as well as the President's Pride of Performance for her outstanding contributions in the field of television/entertainment; Atiqa Odho, Chairperson of FocusPK, an entrepreneur, social activist and artist; Sangeeta, director of blockbuster Pakistani films such as Society Girl, Mian Biwi Razi, Mutthi Bhar Chawal and Tasneem Ahmar, head of UKS Research Centre – a gender-based media advocacy and monitoring organization and executive producer for Meri Awaz Suno.
The three-day event concluded with a closing speech by KFS founding member Ameena Saiyid. PIFF Women's Edition 2021 was supported by KMC, WCCI, PNCA, PFPA, Azat Films, Mjafferjees, Image, Active Media, Bookitnow.pk, Rinstra, Ladies Fund and Dice Foundation.
Shaukat Khanum launches Online Qurbani Campaign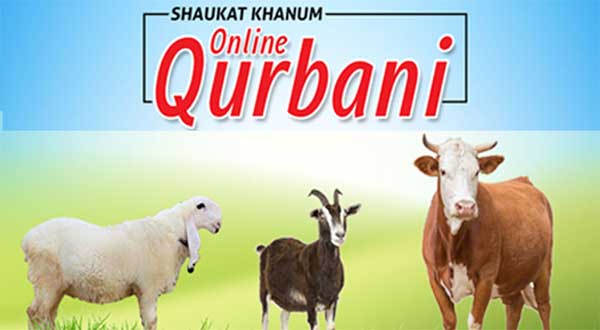 The Shaukat Khanum Memorial Trust has launched its Online QurbaniCampaign for 2021. The service is available for all Muslims around the world. During the ongoing pandemic, the Online Qurbani Service presents an excellent opportunity for the public on this Eidul Azha to stay safe by opting a hassle-free, safe, healthy and economical mode of performing this religious obligation. The slaughter-houses are carefully selected that provide healthy goats and cows. It is ensured that the slaughtering services are rendered in accordance with the Islamic injunctions and within the stipulated time of performing Qurbani for Muslims residing in Pakistan and abroad.
The Shaukat Khanum Online Qurbani Service gives the public an opportunity to share the joy of Eid with those who cannot afford it. Meat from Qurbani will be distributed amongst the needy in different parts of the country while all proceeds from the sale of animal hides will be utilized to support the treatment of needy cancer patients at Shaukat Khanum Memorial Cancer Hospital & Research Centres located in Lahore and in Peshawar. Each Year, over 75% of all cancer patients receive free of charge comprehensive treatment at the facilities of SKMT.
The Qurbani orders can be placed through the website online (www.shaukatkhanum.org.pk) or by depositing cash or cheque at the hospitals, local and overseas Regional Offices or Laboratory Collection Centres of the Shaukat Khanum Memorial Trust. Photos of the Qurbani process, from selection of animals to meat distribution, will be communicated to the public through social media.
Korean CG, team visits Altamash General Hospital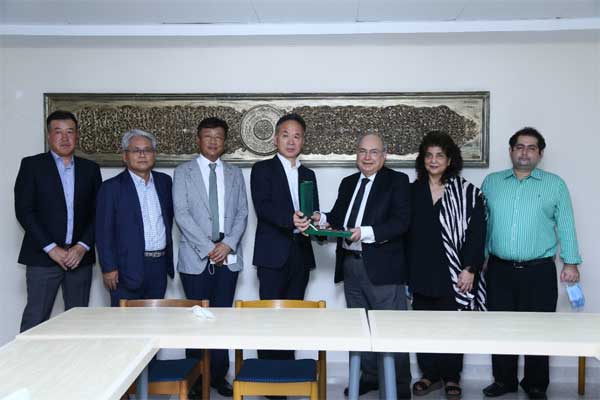 The Consul General of the Republic of Korea Kim Haksung, along with a four-member delegation of Koreans visited Altamash General Hospital during the week to thank the hospital management for the excellent medical care provided to a Korean national and facilitating them in getting COVID-19 Vaccination. Chairman Korean Residents Association, Karachi Kwangsuk Lim and Vice Chairman Jinhan Chung were also part of the delegation.
On arrival Chairman of the hospital Dr Mohammad Altamash, Executive Director Dr Shaheena Altamash, Director Dr. Imad Altamash and Administrator of the hospital Dr Munir Ahmed welcomed the dignitaries.
In his welcome address, the Chairman said that Dr Altamash and Associates has been a name to reckon with for their quality and high standard dental care provision and in dental education for the last 40 years. Carrying forward this legacy, Dr Altamash and Associates had set up the Altamash General Hospital to offer best possible medical care in different disciplines of Medicine and Surgery.
Korean Consul General Kim Haksung on the occasion said that he was highly impressed by the standard of Altamash General Hospital and Quality Medical care being provided. He further said that he would strive to promote cooperation between Korean medical care institutions and their Pakistani counterparts, especially Altamash General Hospital.