Serving Hands holds Ramazan and Eid relief packages camps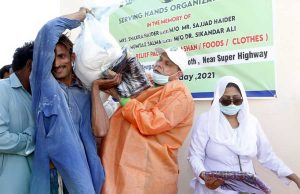 Serving Hands Organization (SHO) arranged Ramazan and Eid relief packages camps (Rashan, foods, clothes) in Peer Bukhsh Goth, Mengal Goth, Gul Goth and the surrounding villages near Superhighway during the reported week.
In these camps, free Rashan bags, Eid clothes and Iftari foods were distributed among the poor and the suffering community.
President Serving Hands Organization Dr Sikandar Ali Shaikh promised poor patients of the area to organize free medical camps after COVID-19.
Dr Sikandar and General Secretary Arshad Anwar thanked Sajjad Haider from Australia, Khaqan Anwar from Qatar, Ahsan Afzal from USA for their generosity towards needy people. These Rashan bags, foods and Eid clothes' camps were dedicated for Eisal-e-Sawab to Sajjad Haider's late mother Shakra Haider and Dr. Sikandar Ali's later mother Mumtaz Salma.
Sr. Vice President of Serving Hands Organization and CEO of Gohar Textiles Waseem Khan took active financial participation in every camp for this noble cause.
SHO team distributed Eid clothes, Rashan bags, Iftari packets among the poor and Madaras children and Goth's needy residents.
Dr. Sikandar Ali, Arshad Anwar, Saeed Ahmed, Mrs Naila, Yasir Hashim of Sufi Organization decided further that next mega free medical and Rashan camp inshallah be dedicated to Khaqan Anwar Khan's later mother. Khaqan is executive head of Serving Hands Organization in Qatar and has supported a lot during flood disasters and rain emergencies in 2010-11.
Arshad said that they are serving the nation and the poor community for the last 25 years. Serving Hands have organized these advanced free medical camps in earthquake, flood disasters and rain emergencies.
Yashma Gill set to stage comeback on 'Azmaish'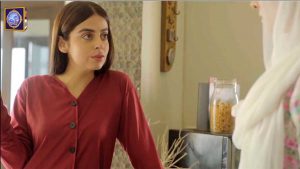 One of the talented actresses and versatile young performers, Yashma Gill, is ready to appear at the screen once again with an intimidating and complex role in ARY Digital's new drama – 'Azmaish'.
Currently garnering praises for her stellar act in the star-studded drama 'Phaans' which has caught everyone's attention, Gill is set to appear in another intricate and demanding role on our TV screens. Produced under the banner of Big Bang Entertainment, directed by Fajr Raza, and written by Sameena Aijaz, Azmaish follows the story of Yashma Gill (starring as Shiza) and Kinza Hashmi (starring as Nimra) – who are both step siblings.
Yashma Gill – who has slowly risen to the top with her immaculate performances and knack of playing versatile roles with ease – and Azmaish looks to be no different. Coming back on the screens in a negative role yet again after her performance in Pyar Ke Sadqay – it is exciting to see what this new role would bring from her on the screens.
Azaan Sami Khan new music video for 'Tu' starring Mahira Khan

Azaan Sami Khan has released the music video for 'Tu', the second single from his debut album titled Main Tera. And as depicted by teasers released prior, the video features a special costar: Mahira Khan.
Released under the banner of HUM Music, the song lyrically revolves around the stages of being in love, and the dilemma that comes with falling for somebody who you know isn't good for you. Touting Billie Jean by Michael Jackson as the inspiration for the track, Azaan shared he wanted to do a lyrically solemn song with an upbeat tune.
The music video of Tu, which is almost like a short film, is jam-packed with special effects and plenty of scenes depicting the leading couple's relationship. From early romance and infatuation to overwhelming feelings of love, we see Azaan and Mahira nailing these scenes in their own quirky manners, be it playing video games at home, carrying out fights, or feeling overpowered by a partner – the video has covered pretty much everything one goes through and inwardly feels in a relationship.
Directed by Hassan Dawar, the video features tonnes of visual effects by The KROOT, an animation studio that has previously worked with international artists like Billie Eilish, Coldplay, and Travis Scott. On the overall concept of the music video, Azaan says, "Hassan Dawar played a huge role in coming up with the concept of the music video. It was basically delving into the stages of love you feel when you're falling in love with somebody. So, you feel bigger than the world, and at times, you feel really small when the person completely controls you. You feel like you're literally falling, and enjoying it."