Launching ceremony of Shama Munshi's book 'Concept of Terrorism in Post Cold War Era'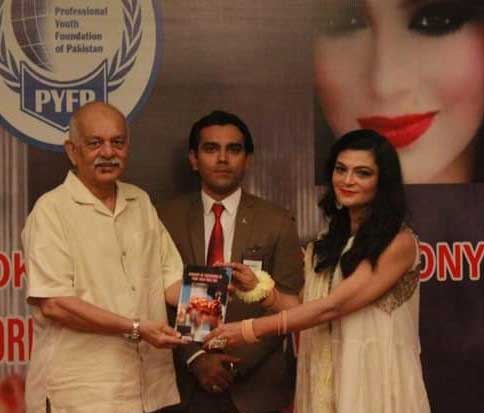 Professional Youth Foundation of Pakistan organised a book launching ceremony of 'Concept of Terrorism in Post Cold War Era' written by Shama Munshi, here at a local hotel, during the week. Senior Journalists, Defense Analysts, Political and IR experts, former Ambassadors graced the occasion and admired the effort of Shama Munshi for writing this book in a very relevant period.
President Professional Youth Foundation of Pakistan Umer Khan welcomed all the guests and dignitaries in the ceremony.
Commander Muhammad Tahir said that post-cold war era is most important era to understand the tactics of USA in regional politics. Captain Adeeb Uz Zaman Safvi represented Ex-Servicemen Society and addressed on the concept of terrorism and their impacts during the last three decades.
Former President Karachi Chamber of Commerce and Industries Majid Aziz spoke on business and economic challenges in the post-cold war era and appreciated the author that being a female, she had done a great job.
Consul General of Yemen Mirza Ikhtiar Baig said that the book is a noble effort of Ms. Shama Munshi to highlight the conceptual terrorism.
CAP Chairman Kaukab Iqbal appreciated the move of Shama Munshi to expose the facts in her book.
Air Vice Marshal Abid Rao graced the ceremony and presented his opinion on the launching of this book.
Col Rizwan Ahmed admired the environment where young scholars and senior analysts were gathered on ideological subjects.
Brig. Rafiq Ahmed appreciated here for keeping the literature concise.
Ambassador Jameel Ahmed congratulated Shama Munshi and gave gratitude for her cause.
Brig. Karar Shah focused on the title of the book in the reference of Allama Iqbal.
Justice of Peace Aman Pir presented admirable remarks for Shama Munshi.
Shama Munshi thanked all dignitaries and presented books as souvenirs.
President Professional Youth Foundation of Pakistan Umer Khan emphasised on the importance of literature for promoting the ideology of Pakistan.
'Spiritual Democracy' a film on Prime Minister Imran Khan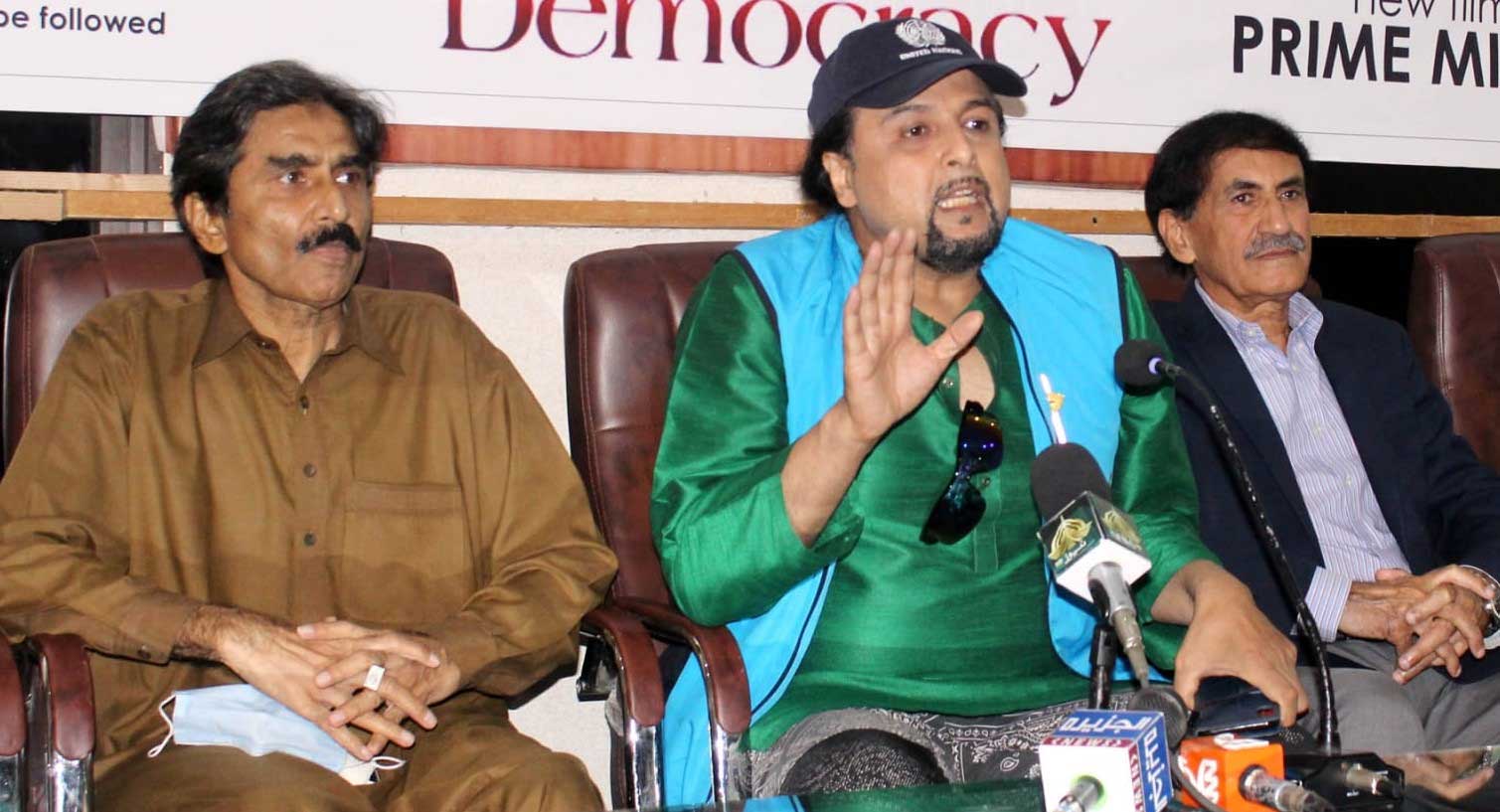 A Press briefing on the Founder of Junoon, Salman Ahmad's new film on Prime Minister Imran Khan's first episode 'Spiritual Democracy' was held at Karachi Press Club during the reported week.
Speaking at the Press conference, leading activist Physician, and Guitarist Slaman Ahmad briefed the media about 4 episodes of his democracy.
It revolves around Imran Khan's life spanning over 50 years. The first episode Journey of Self-Discovery that what led Imran to venture into politics.
The second episode on 'Nuclear Neighbours' captures turbulent Pakistan-India relations. The last episode on 'Pakistan: The Search for Identity' explores what Imran thinks of Pakistan's future.
The documentary-series will feature interviews from his sister Aleema Khan, Jugan Kazmi and leaders such as former Malaysian prime minister Mahathir Mohamad and others.
Speaking at the Press conference, Salman said that he is in contact with distributors in the West because he wants a global release for the English documentary. It will be dubbed in seven to 10 languages. He especially thanked PTV and other private channels for providing him Imran Khan's news clips which are included in all the 4 episodes.
The media fellows are much disappointed from P.M. Imran Khan's 3 years' performance and failed governance raised their questions during the Press conference which was also addressed by Legend Cricketer Javed Miandad, who replied that Imran Khan's regime is like a Test match, we have to wait till the end.
KEC celebrates three birthdays with one cake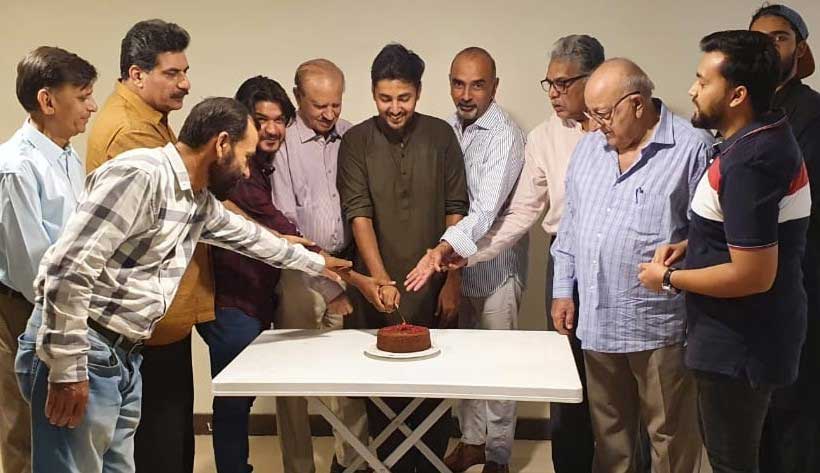 Mubasher Mir President Karachi Editors Club (KEC) hosted a lunch followed by cake-cutting ceremony at the TFD offices during the reported week to celebrates three birthdays of three members of The Financial Daily, i.e. Hasnain Jafri TFD News Producer, Ali Shabbar Naqvi Assistant Editor and Manzar Naqvi Executive Editor (according to his Islamic month, Rabiul Awal 9).
A Pakistan legend artist, producer and businessman based in USA, Akif Ashary who is on Pakistan visit, Agha Masood Hussain Ex-Provincial Minister Information Sindh and senior Journalist, Col (Retd)_ Mukhtar Butt Defence Analyst, Saifullah Saleem CEO Travellogist, Saood Ahmed CEO Media Line Advertising (Pvt) Ltd, Abul Abbas Naqvi from Engro Fertilizers and Mansoor Ahmed of TFD attended the cake-cutting ceremony of three persons who cut the cake jointly.
They congratulated all the three on their birthday. Shabbar Naqvi and Hasnain Jafri thanked all guests and President KEC for arranging a memorable birthday party.