FPCCI & BelCCI hold online joint Zoom meeting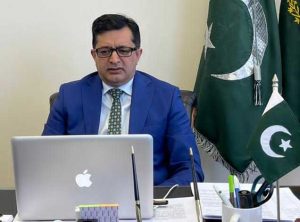 The Federation of Pakistan Chambers of Commerce and Industry (FPCCI) in collaboration with the Belarusian Chamber of Commerce and Industry (BelCCI) organized the 4th Session of Pakistan-Belarus Joint Business Council on Zoom. Around 90 businesspersons and enterprises from both the countries participated in the event during the reported week.
President FPCCI Mian Nasser Hyatt Magoo, Chairman BelCCI Vladimir Ulakhovich gave the welcome remarks and encouraged the participants to benefit from the interactive session.
Minister of Energy of the Republic of Belarus Viktor Karankevich participated in the event through a video message. Subsequently, Ambassador of Pakistan to Belarus Sajjad Haider Khan and Ambassador of Belarus to Pakistan Andrei Metelitsa briefed the participants on the existing level of bilateral relations, highlighting potential for cooperation. Trade Minister, Embassy of Pakistan, Moscow Nasir Hamid and Honorary Consul of Belarus to Punjab Walid Mushtaq also addressed the event.
In the second segment, several other speakers from Pakistan including Director General (TDAP), Director General (BoI), Chairman Pakistan Association of Automobile Parts Manufacturer while from Belarusian side representatives from Great Stone Industrial Park, OJSC "Belkommunmash" and BelCCI also made presentations on respective areas identifying potential areas for cooperation. The meeting ended after the question and answer session.
KMC, KATI MoU for tree plantation campaign in KIA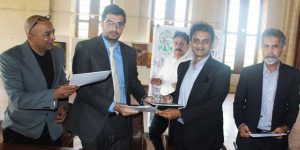 President Korangi Association of Trade and Industry (KATI) Saleem-uz-Zaman has said the Government and Business community representatives and the Private sector must work together to protect the city's environment. He said the Korangi Association of Trade and Industry (KATI) have always set an example for the city to be green, beautiful and improve the environment.
Addressing the gathering to sign a memorandum of understanding on tree planting campaign jointly launched by Karachi Municipality, KATI, Rajby and GFS Builder, he said tree planting campaign in the city needs to promote trees and plants that are compatible with the environment of Karachi.
Chairman KATI Standing Committee on Tree Planting Junaid Naqi, Director General Parks Taha Saleem, GFS Builder's representative Asim Ali Khan and Tariq Mustafa also addressed the gathering.
Under the signed MoU, in the initial phase, trees will be planted on Road 3000 from Brooks Chowrangi to EBM Causeway while the same project will be further expanded to Road 12000. Along with this, tree planting campaign will be continued on other roads of Korangi Industrial Area including Indus Hospital, Nasir Jump and Shan Chowrangi.
SINA Trust model works as efficient filtration system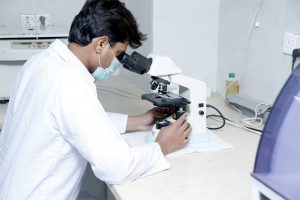 SINA Welfare Trust has announced during the week that they aim to facilitate and provide primary healthcare services to people keeping in mind the basic financial hurdles, economic challenges, unemployment crisis and mobility issues. The services provided at the NGO include primary healthcare, authentic and quality medication, laboratory tests at par with international standards, ultrasounds, immunization, mental health counseling, hepatitis screening, and referrals to secondary health care. The NGO also provides awareness sessions at their facilities for breast cancer, HIV, Covid-19 safety protocols and more.
Understanding the urban slum populations' struggle to make ends meet and medical care becoming a non-priority, SINA has developed an effective and efficient primary healthcare system, at a token charge of Rs. 20 to underprivileged communities and Zakat eligible patients, in order to delay the need for secondary care and restore the quality of life. SINA Welfare Trust works as an effective filtration system for overburdened public facilities by resolving a large volume of cases at primary stage. This also helps in better allocation of resources for secondary and tertiary care cases.
On its dedicated journey since 1998, the NGO today has grown with 30 operational clinics in urban slums providing services to more than 800,000 patients annually, majority of which are women and children. The financially challenged communities are scanned through a Shariah compliant Zakat evaluation system and it is deduced that 80% of the patients are Zakat eligible.
Umbrellas installed by GFC for Karachi Traffic Police staff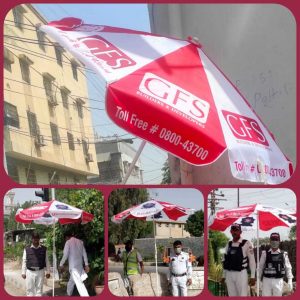 GFS Builders and Developers in the service of humanity following its corporate social responsibility, umbrellas have been installed for traffic police in different districts of Karachi to protect themselves from the sun in hot weather during the reported week. Chief of GFS Builders on the special directive of Executive Irfan Wahid, large and attractive umbrellas were installed at various places in the city.
Traffic police officers and officials appreciated the initiative of GF Builders Chief Executive Irfan Wahid. They thanked GFS Builders for their service to humanity and said that humanity service being provided by GFC Builders are appreciated.