China CG Li Bijian visits SSU Hqs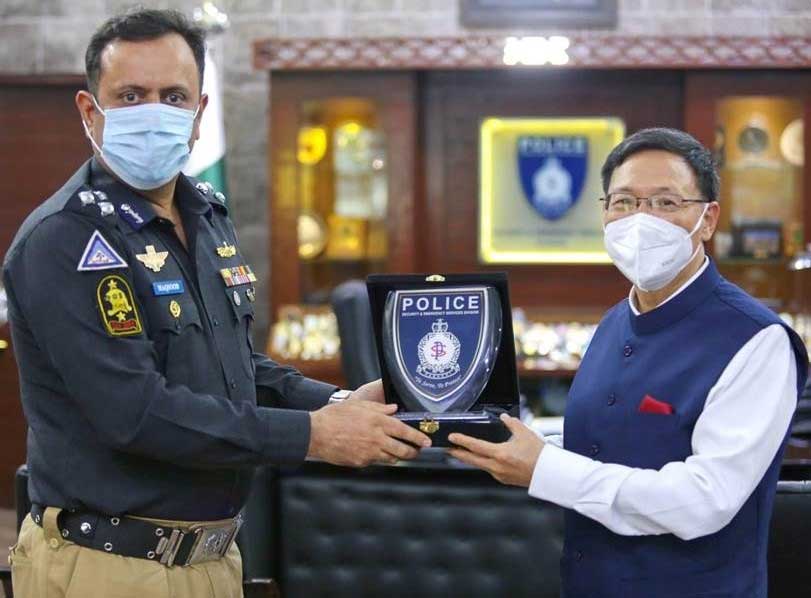 Li Bijian, Consul General of China at Karachi visited different sections of Special Security Unit (SSU) Headquarters, during the week, and applauded professional standards maintained in the unit.
The Consul General was briefed by the Commandant SSU Zeeshan Shafique Siddiqui about the various sections of the SSU and measures adapted to setup country's first Special Weapons and Tactics (S.W.A.T) team in SSU to challenge any emergency situation if created by the anti-social elements/terrorists.
Li Bijian expressed happiness to see the progress of the Police Commandos in the field of counter terrorism. The Consul General also witnessed a mock exercise conducted by SWAT Commandos of SSU. On this occasion Li Bijian was presented honorary shield by DIG Security and Emergency Services Division Maqsood Ahmed.
Conclave Pakistan 4.0 pays tribute to arts and culture fraternity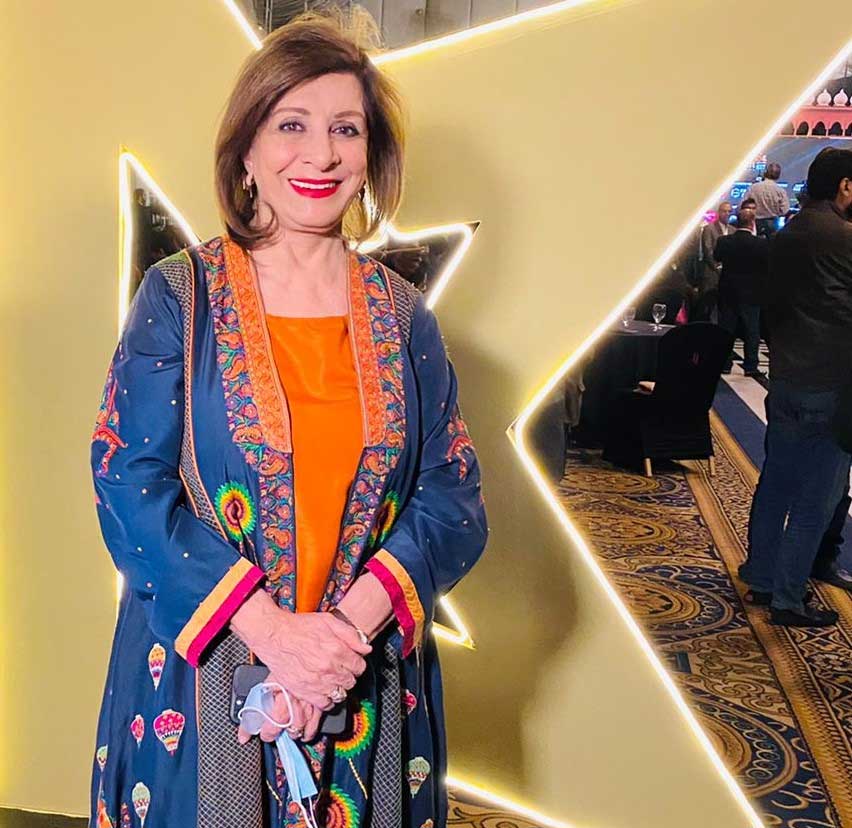 After the resounding success of Conclave Pakistan 3.0 annual event of Conclave Pakistan took place, during the reported week. As in the past, Conclave Pakistan's fourth edition – Conclave 4.0 – paid tribute to the arts and culture fraternity of the country and recognized those who have contributed immeasurably to society through a high-profile awards event and panel discussions. The exclusive event was attended by corporate personalities, celebs, socialites, media and individuals from various professions.
The event started with recitation of the Holy Quran and national anthem followed by a welcome note by the organizers Sameer Shamsi and Naseer Wajahat in collaboration with e-Creatorz Pvt Ltd and America Pakistan Business Development Forum. Followed by another welcome note by the co-organizer AMPAK BDF, Zeeshan Altaf Lohya & Amaan Pir Chairman.Muhammad Iqbal Memon, Commissioner Karachi was the special guest on the occasion.
Among the many panel discussions that took place was Stars of Pakistan featuring Mehak Rashid, Muaaz Zahid and Nirmala Maghani, followed by one on Arts & Crafts featuring Yaqoob Somroo, Ghulam Hyder Daudpota and Saliha Naz. The session on Film-making featured Syed Nini, Habib Paracha and Syed Makhdoom Riaz. Panel discussion on Music featured Kashmir Band.
Achievers of Pakistan discussion featured Syed Shafaat Ali, Ayesha Omar and Humayun Alamgir, while the one on Drama Artistes and Standup Comedians featured Shakeel Siddiqui, Rauf Lala and Saleem Afridi who also honoured Late Umer Shareef.
OTT & Digital Media discussion featured Sheheryar Munawar, Sarwat Gillani, Syra Yousf and Asim Abbasi. In the last session Pakistan's media mogul, president HUM Network, Sultana Siddiqui spoke about her journey to the pinnacle of the media industry.
Among the worthy Pride of Pakistan award-winners were Khushbakht Shujaat, Noor Ul Huda Shah, Mahtab Rashdi, Hina Dilpazeer, Yousuf Basheer Qureshi, Ayub Khoso, Ali Ansari, Lenny Massey, Syed Nini, Hira Mani, Anoushey Ashraf, Saboor Aly, Rao Ali Khan, Humayun Ashraf, Shazia Naz, Nadia Hussain, Barkat and Uzmi, Ali Hassan & Irfan Malik, Saba Asad, Sadaf Aashan, Zarmeena Ikram, Habibullah Dadabouy, Syed Wajahat Ali, Fatima Hasan, Farhan Rais Khan, Habib Paracha, Erum Shahid, Aziz Warsi, Nadia Khan, Duriya Monem Farooqui, Bushra Bilal, Sehrish Rehan and Shireen Anwer.
The programme ended with a live performance by the renowned musician and saxophonist, Lenny Massey, followed by a performance by folk and classical Ghazal singer, Nirmala Maghani, from Umar Kot, after which dinner was served.
GoJ confers The Order of the Rising Sun, Gold Rays to Sohail P.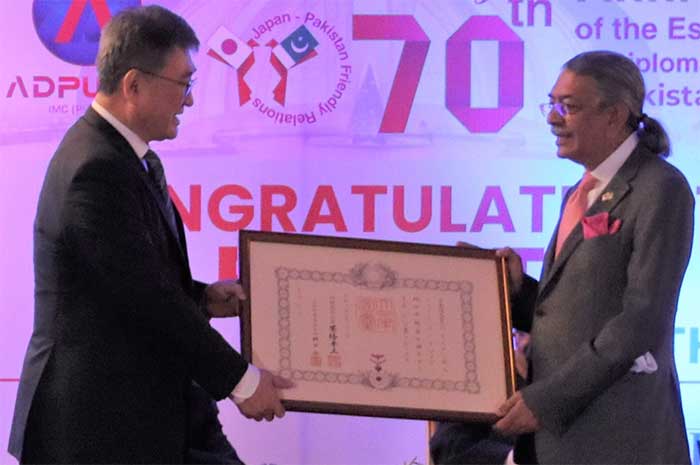 The Government of Japan has conferred the prestigious decoration, The Order of the Rising Sun, Gold Rays with Neck Ribbon to Sohail P. Ahmed, in recognition of his dedicated contributions for strengthening economic relations and mutual understanding between Japan and Pakistan.
The Commendation Awarding Ceremony was held during the reported week by Isomura Toshikazu, Consul-General of Japan in Karachi, as part of the reception celebrating 70th anniversary between Japan and Pakistan.
Sohail P. Ahmed had worked as the Chairman of the Pakistan Japan Business Forum (PJBF) for 7.5 years from 2012 to 2020. He made the Forum grow on better business lines which has now emerged as a leading bilateral business Forum. He also attended the Pakistan-Japan Private Sector Business Dialogue and the Joint Government Business Dialogues held in Pakistan in 2015 as Chairman of PJBF. Three years later, in 2018, he led 27 PJBF members along with Pakistani government officials to Japan to attend the two Dialogues as well. At the conference, he took a strong initiative and discussed measures to correct the trade imbalance in a way that would benefit both Japan and Pakistan. His contribution will certainly be greatly remembered in terms of support and facilitating technical agreement between Japanese and Pakistani companies.
Isomura appreciated the development of the cooperative ties via his assistance. Also, Ahmed mentioned that he had entered into 5 Technical Assistance Agreements with Japanese companies in his career, including 2 Fortune 500 companies. He stated that he was an admirer of the Japanese management system which was in sync with laws of nature, treated every human being with respect and made ordinary people do extraordinary things.