Dr. Nasaka visits Dua Dialysis & Kidney Care Centre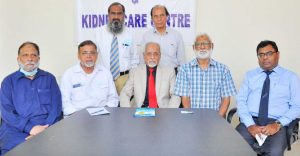 Dr. Nasir Saleem Nasaka is the only Ayurvedic doctor in Pakistan having a command to medicate and cure almost all types of diseases and medical problems including thalassemia lupus and skin diseases and cancer through herbal and ayurvedic medications.
On the invitation of Hands Thalassemia Welfare Foundation (HTWF) Dr N.S. Nakasa during the visit at HTWF offices at Gulistan-e-Jauhar Karachi delivered a lecture on "How to stop blood transfusion with herbal treatment to the thalassemia children free of cost".
Dr Nasaka also visited Dua Dialysis & Kidney Care Centre North Nazimabad as a chief guest during the week.
SITE Association launches vaccination centre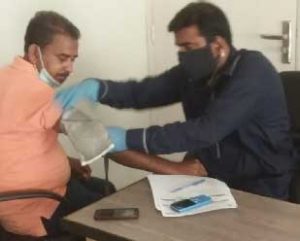 SITE Association of Industry has launched vaccination of industrialists & workers in collaboration with Sindh Government, during the week. According to the guideline, SAI directed the members to register the persons to be vaccinated by sending CNIC number through SMS at 1166. Once the verification code is received, send the list of persons to be vaccinated to the Secretary General of SITE Association of Industry.
Abdul Hadi, President, Site Association of Industry, stated that in the largest and oldest SITE area of Karachi, a target of 100,000 to 150,000 beneficiaries has been set for vaccination. The aim is to protect industrialists & workers from the deadly COVID-19 pandemic.
SAI Chief further said that the vaccination centre will provide non-stop services from 9 am to 2 pm Monday to Saturday. beneficiaries have also been instructed to strictly adhere to SOPs to prevent the spread of COVID-19 pandemic.
Qatar's number one selling ice cream brand launched in Karachi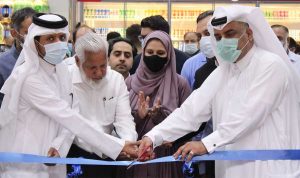 Samrah Enterprises commemorates the launch of Dandy in an exclusive event held at Naheed Supermarket Karachi during the week. Mishal Mohammed A.A. Al-Ansari, Consul General of the State of Qatar graced the occasion as Chief Guest and inaugurated the launch of Dandy. The event was attended by top management officials from all the key partners along with other dignitaries and eminent businessmen.
Dandy is one of Qatar's number one selling ice cream brands. The event highlighted how Dandy offers a wide range of ice cream flavors with a unique twist. They offer cube-shaped ice cream pieces which is a completely different take on the product.
Consul General of the State of Qatar, on this occasion said: "This is not only a proud moment for Dandy as a brand, but a matter of immense pleasure for the State of Qatar. Dandy is considered to be our number one selling ice cream brand and the fact that it is now being introduced in Pakistan is very exciting for Pakistani consumers as well. We hope this collaboration will help strengthen the friendship between our two states."
Samrah Munsub, Director Samrah Enterprises, said: "We're extremely humbled and proud of not only hosting this great event but also of the fact that the Consul General, Mishal Mohammed A.A. Al -Ansari, was able to join us and help us commemorate the launch of our latest brand. We believe that this is a great move ahead to strengthen ties between the two states."
Sheikh Mansour Bin Mohammad Bin Jabor Al-Thani, Chairman of Dandy Company Ltd said: "It gives us great pleasure to launch the ice cream range of Dandy in Pakistan. From using the choicest ingredients to getting the perfect flavor combinations, we promise our consumers a delectable ice cream experience."
Syed Muhammad Salman, VP Marketing, Samrah Enterprises, added, "After a lot of market research and trying out different products, we have now introduced an exclusive product and added it to our vast portfolio. We are committed to bringing new and unique products for our customers to entice their taste buds. This is such a perfect model of partnership between the Qatar and Pakistani market."
Khuda Aur Mohabbat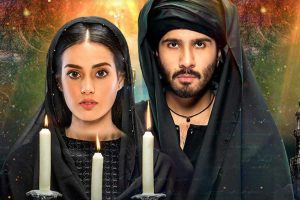 Abdullah Kadwani and Asad Qureshi's latest masterpiece Khuda Aur Mohabbat's first episode has surpassed 51 million views on YouTube, setting a new record in the entertainment industry. The series has become the talk of the town and garnered a large fan-following within a short period.
The well-versed drama serial brought to our screens by 7th Sky Entertainment has become a benchmark for the drama industry. It also trended as number 1, 2, and 3 on YouTube, something which is yet to be achieved by any other channel.