KEC delegation condole death of Allama Muhammad Aun Naqvi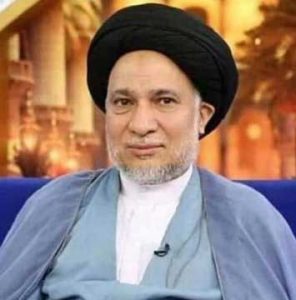 Renowned religious scholar Allama Muhammad Aun Naqvi in a young age of only 56 years passed away recently after a short illness in a local hospital of Karachi. He was the brother of renowned Islamic Scholar Allama Shahanshah Naqvi and son of Syed Abid Naqvi (Hatif Alvari), famous Poet and Manqabat Khawan.
People from all walks of life including personalities from Federal and Provincial governments are continuously visiting Allama Shahanshah Naqvi and Haatif Alvari for condolences, they termed untimely death of Allama Aun Muhammad is an irreparable loss.
A delegation of Karachi Editors Club also visited and condoled the death of Allama Aun Muhammad Naqvi with Allam's father and brothers. The delegation comprised Mubasher Mir President KEC, Manzar Naqvi Secretary General KEC, Naeemuddin Secretary Finance KEC, Agha Masood Hussain Member Executive Body, Z.H. Khurram, Muhammad Ali, and Muhammad Asif while Poet Abbas Naqvi coordinated the condolence meeting of KEC.
Mubasher Mir introduced KEC in brief at this occasion while Secretary General announced for a proper condolence reference by KEC for Lata Allama Aun Naqvi after the Eid.
On this occasion, Hatif Alvari said that his late son was not only a religious scholar but was the best human being and he used to help various poor families. According to Sindh traditions he was the man of ten heads.
Allama Shahanshah Naqvi while addressing the KEC delegation informed that Allama Aun was the best Journalist also. He had started his carrier with journalism. His journalistic work had been published in various national and regional newspapers and magazines. He was good writer and believed to write everything properly. Aun Bhai was also a good father, good brother good son and good neighbour. He was the best person even on every relation. Shahanshah Naqvi thanked the KEC members and appreciated the gesture to organize a proper reference on late Allama Sahib.
Relaunch event of Startup Grind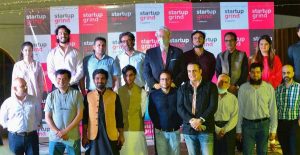 Startup Grind is an international startup community designed to educate, inspire, and connect entrepreneurs. We host monthly events in more than 600 cities and 115 countries featuring successful local founders, innovators, educators, and investors who share personal stories and lessons learned on the road to building great companies and platforms.
Startup Grind, Karachi Chapter re-launch event happened during the reported week at Joyco's rooftop at Pavilion End Club.
Arzish Azam, Country Director Startup Grind announced Saad Allahwala as the new incoming Director of Startup Grind Karachi at the opening of the event.
On the event day, various well-known Startups' Founders and CEOs were invited as panelists such as Ahmed Ayub (Airlift), Hassan Khan (Trax), Mina Khan (Bagallery), Nimra Jabbar (Runway by AJ).
Startup Grind, Karachi will be hosting weekly events with amazing Inspirational Founders & CEOs and we wish to open Start Grind Universities Chapter all over Karachi in the upcoming months.
Syed Jawaid Iqbal congratulates Zia Mohyeddin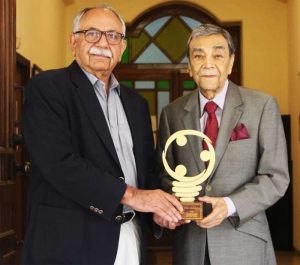 Chairman of the Board of Directors of NAPA, Syed Jawaid Iqbal congratulated President & CEO Zia Mohyeddin, and the staff which include the management team & the aculty of National Academy of Performing Arts for their impeccable efforts in winning First Prize in the "Heritage & Culture" category of Karachi Electric KHI Awards 2021.
Over the past fifteen years, NAPA's graduates have made a mark in the field of performing arts and their presentations – dramatic and musical – have enlightened and entertained a wide range of appreciative audiences. Foreign collaborations with distinguished visiting international artists have played a noteworthy role in bridging the gap between cultures.
GFS Builders & Bank Islami sign MoU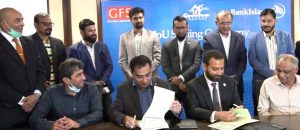 GFS Builders & Bank Islami have signed an MoU to allow simplified and affordable housing finance to be disbursed to customers across the country. The agreement was signed by Irfan Wahid, CEO, GFS Builders & Developers & Syed Amir Ali, President and CEO, Bank Islami.
Speaking at the occasion, CEO GFS Builders & Developers Irfan Wahid said that the rise of housing finance in the country is a good sign and we at GFS Builders & Developers are dedicated to making sure that this agreement transforms from paperwork into actual properties that will benefit people across Pakistan.
Syed Amir Ali on this occasion said that this partnership with GFS Builders shows a commitment from both our organizations that we need to play our share in enabling all individuals fulfills their right to basic necessities among which housing is paramount.