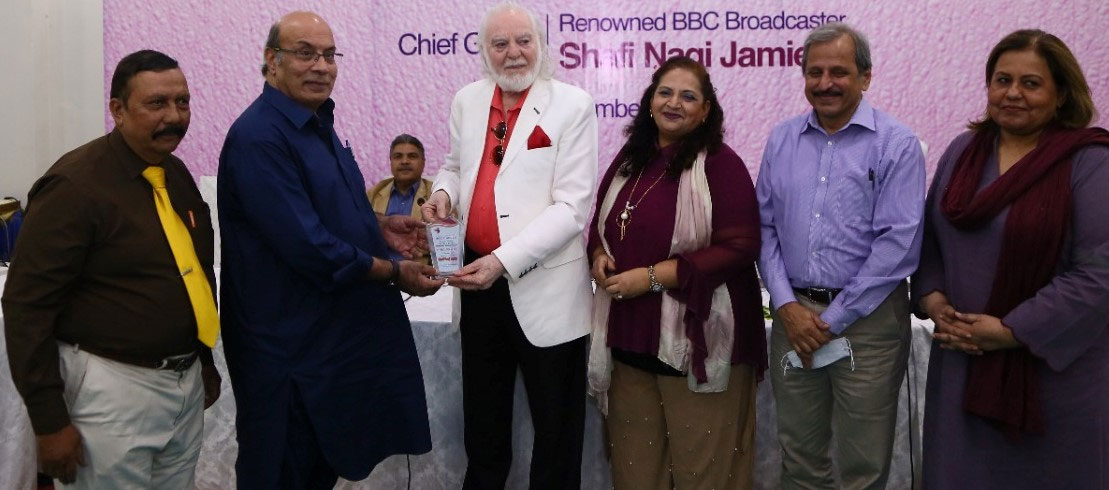 Dr. Murzada Mughal delivers key-not address; Need to recognize our organic heroes and our past history: Shafi Naqi; As a nation, we seek angel in every hero, forgetting they're human: Humaira
Special Report
KARACHI: A discussion forum on National Heroes and Role of Media in highlighting National Heroes: A Debate on State and Government Media Policies, here at Arts Council Wednesday.
Renowned social activist and close friend of A.Q Khan, Senator Haseeb Khan presided over the event. In his address on the occasion Senator Haseeb said: "Dr A.Q Khan was a true Pakistani and sincere to this nation, he came to Pakistan on special request of then PM Zulfikar Ali Bhutto. He was the only individual who enjoyed the trust of the entire nation and was ready to respond to him any time."
He said, Pakistani nation should learn to recognize and honor their national heroes. This was the time to separate the state narrative from the government one. Those who are working for the state deserve respect. Government's interests can differ from the state's and we have to safeguard the state's interest at every cost.
Chief Guest, renowned broadcaster and columnist of BBC, Shafi Naqi Jamie, speaking on the occasion said keeping in view the needs of today and our youth, the syllabus of Pakistan studies should be revised to have better understanding of regional heroes. Media could play a pivotal role but it has commercial priorities. Appreciating the views and debate of the female journalists' forum he says "I am carrying so much learning from this platform and will share this learning with others".
President PFUJ G.M. Jamali in his speech said: "We failed to pay tribute to our national heroes like Dr A.Q Khan and Edhi in their lives." Dr A.Q Khan made Pakistan invincible but unfortunately his services were not recognized, he added.
President PCMW and senior journalist Humaira Motala said we were good at making our every national hero controversial just because we tend to forget that they were human beings and can make mistakes. We should produce films and dramas on Dr Ruth Fao, Edhi and many others to inspire our young generation.
Guest of Honour Ghulam Abbas Detho said that as Muslim our Prophet Muhammad (SAAW) the criteria of hero to be truthful, honest and courageous and for all of us our hero is our Prophet. Following his footsteps whoever has these qualities deserved to be called hero and Dr Qadeer was rightly so.
Renowned Analyst Mazhar Abbas said apart from Quaid-i-Azam and Allama Iqbal we had several heroes who should be celebrated like national heroes like Hasrat Mohani, Sir Syed but we failed to do so. Besides Shaukat Khanum there are many other institutions like SIUT and Akhuwat, their respective head Adeeb Rizvi, Amjad Saqib should be projected on media as national heroes but our media could not pay befitting tribute to them.
Emphasizing on identifying our organic local heroes of soil, world famous drama writer and scholar, Noor ul Huda Shah said to bring forward heroes and pay befitting tribute to them one must love the very motherland, he lives in and its 22 billion residents, then only one would have the ability to see their national heroes.
President Karachi Editors' club, Mubasher Mir said when it came to recognize national heroes one must keep all racial, religious, provincial, ethnic differences away. "We should declare our heroes without any prejudice and personal biases".
Executive Editor The Financial Daily and General Secretary KEC Manzar Naqvi said that as a Pakistani community should we need endorsement from other counties to choose our heroes? If we were independent, we should take pride in our heroes without any hesitation and we were proud of having Dr A.Q Khan as our national hero.
Diversified speakers from different media fields participated in debate including Nawab Din, Dr Murtaza Mughal from Isalmabad, Mubashira Alavi, Brig Tariq, Sitwat Nizami, Farah Ahmed, Erum Zaidi, Bushra Qavi, Anum Ali, Shakir Saylani, Shaista Zaidi, Dr Shujat Hussain, Shahazad Khan, Shama Munshi, Hoor ul Ain, Mrs Ghufrana Badar, Bina Khan, Naimat Khan, Ayesha Ali, Bushra Ali and many more.
At the end of the ceremony President Humaira Motala presented Appreciation Shields to the honorable guests.