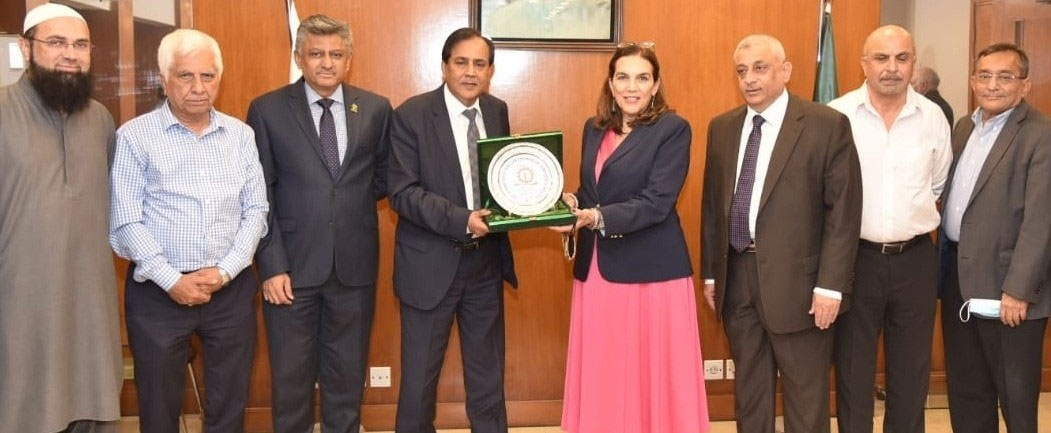 KARACHI: Mian Nasser Hyatt Maggo, President FPCCI, has expressed the collective resolve of the business, industry and trade community of Pakistan in a high-profile and detailed consultative session with Androulla Kaminara, European Union's Ambassador to Pakistan, says a Press release.
Mian Nasser Hyatt Maggo maintained that Pakistan should be treated at par with other regional countries and countries with the similar economic conditions and challenges. European Commission should measure us with the same yardstick on Working Conditions, Minimum Wage and Labour Inspections, he added.
Mohammad Younus Dagha, Chairman Policy Advisory Board of FPCCI, said that GSP Plus has, in fact, benefited both sides; as both exports and imports with EU have posted a 7% average yearly growth. He also proposed the formation of a permanent Working Group between EU & Business Community of Pakistan for awareness, monitoring and consultancy on performance parameters pertaining to GSP Plus for its uninterrupted and smooth continuation. There should be regular consultations and seminars under the proposed working group, he added.
Ather Sultan Chawla, VP FPCCI, said that GSP Plus has created huge employment opportunities, prompted private-sector investments and ensured sustainability of industrial units run by SMEs – the engine of growth.
Hanif Lakhany, VP FPCCI, said that Pakistani textile industry has performed exceedingly well and have created a niche for itself in the markets of European Union countries on the back of world-class quality products.
Androulla Kaminara said that Pakistan's progress on GSP Plus related 27 conventions is in the grey area according to the latest report of the European Commission. The areas of concerns are primarily in the Human Rights related issues; which include Freedom of Press, Child Labour, Minimum Wage, Working Conditions, Women Rights and Treatment of Minorities & other vulnerable groups. She said that there are positives and negatives pertaining to Pakistan's overall GSP Plus record; however, Pakistan needs to improve on its Human Rights' state of affairs.
Androulla Kaminara apprised the august gathering of the representative and leading businessmen of the metropolis that EU is moving towards an expanded and enhanced GSP program, which may be called GSP ++ or GSP+ v2.0.
FPCCI Chief said that Pakistan deserves to be made a beneficiary of GSP Plus v2.0; and, that he will persuade the government from the platform of FPCCI to enact the required legislation(s). Nonetheless, the government must also facilitate the business & industry to enable them to enhance Pakistan's exports to EU and earn the precious foreign exchange for the country, he added.