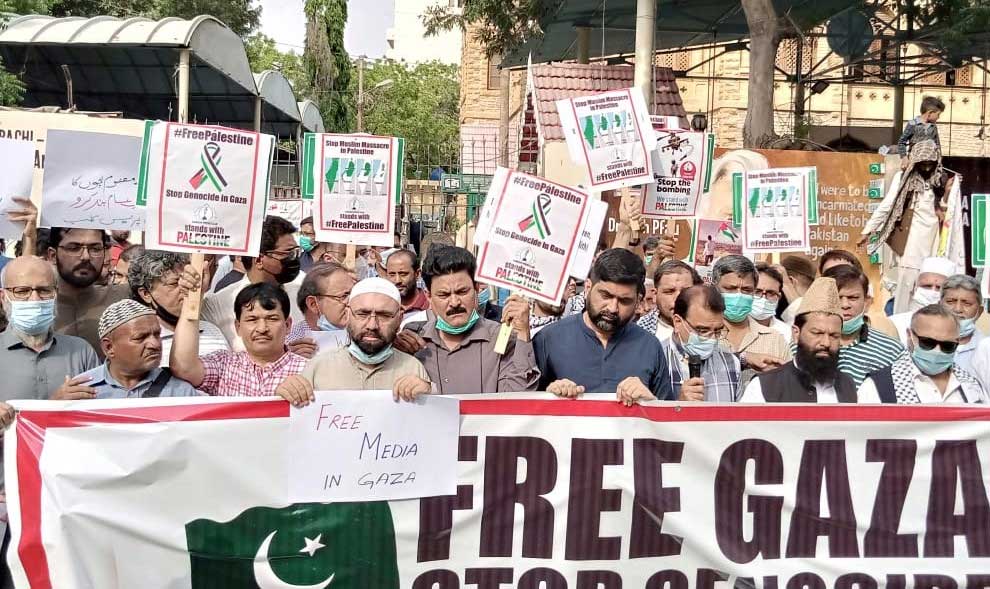 Imran Zakir
KARACHI: Karachi Press Club in collaboration with Jamaat-e-Islami and Palestine Foundation demonstrates staged a protest against Israeli atrocities on Monday evening outside Karachi Press Club. The religious leaders and media demanded practical steps against Israel and called for Muslim Umma harmony to get rid of the puppet leaders.
A large number of workers from media houses stook with Jamaat-e-Islami and Palestine Foundation leaders, carrying placards and banners, chanting slogans against the Zionist attack.
Addressing the protesters, the JI leaders Osama Razi, Zahid Askari, Abdul Rasheed and Osama Razi said that it is a pre-planned attack. OIC and the Arab League will not play any role in this issue because Arab rulers already have met friendly hands with Israel. How could they stand against Israel? after some days, this issue will be solved in the form of a ceasefire when the preplanned objectives of Israel would achieve.
The media activists condemned the attack on media houses by Israeli air strike on Saturday destroying a high-rise building in Gaza City that housed offices of The Associated Press, Al Jazeera, Middle East Eye and other media outlets. The media activists praised the resistance force against Israel in Gaza and paid rich tribute to the resilient Muslims in Palestine.
They demanded from the government to ban the Israel's FMCG products especially Pepsi. The media activists who addressed this peaceful protest under the umbrella of Karachi Press Club are President KUJ Ejaz Ahmed, KUJ Secretary (Dastoor) Moosa Kalim, Vice President KPC, Shazia Hasan, former President KPC, Imtiaz K. Faran, President Jang Group Employees Union Rafique Bashir and others.
The leadership of Palestine Foundation demanded from the Pakistani leadership to secure the Muslim World from their nuclear assets.
They expressed their grievances that our leaderships in respective Muslim countries don't represent the aspirations of Muslims. Instead, Muslim leaders with a few exceptions have become stooges of the Zionist regime. They further said that the Muslim World will have to launch a struggle to change its leaderships.