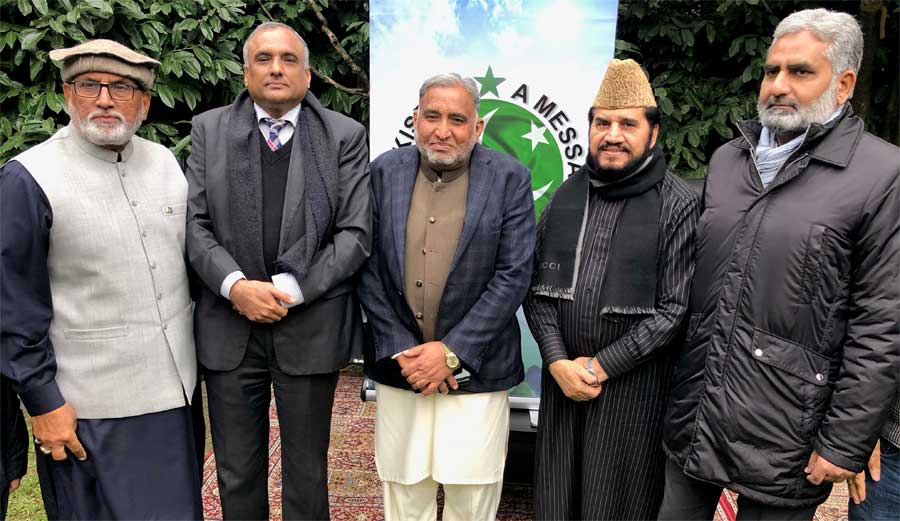 Mumtaz Hussain Khyal
MILAN: On the day of Iqbal, Consulate General Pakistan Milan, organized a combined program called "Seerat-e-Nabi" SAAW, and Iqbal Day here in Milan.
In this limited Pakistanis community gathering, people were excited to see and listen to the famous Pakistani Quran reciter Qari Syed Sadaqat Ali. Meanwhile, before to start the program, talking to The Financial Daily, Qari Syed Sadaqat talked about his mission.
He said that the current government is organizing such programs in vast areas of the Pakistan, and around the globe. In addition, he said that I attended a program in Islamabad and recited the Holy Quran as a mark of the beginning of the program.
Prime Minister Imran Khan delivered a brief message on Islamophobia and other issues.
He said that my mission "A message of Peace from Pakistan", is all about the life of our beloved Prophet and His teachings towards mankind, a message of love and harmony. We are a peaceful nation and our narrative is to spread the peace among each other's. Consulate General official, Manzoor Ahmed recited from the Holy Quran as a mark of the beginning of the program.
Ambassador to Italy from Pakistan, Juhar Saleem joined the whole session through live streaming from Rome embassy. He admired the efforts of Syed Sadaqat Ali towards the spreading of peace message.
Consul General Milan, Dr. Manzoor Ahmed Chaudhry delivered a brief message regarding different issues and challenges. He added that it might be my last public appearance among you all, however, I will keep remember you all in very great way. He is about to leave from Milan very soon. He is being promoted from CG to ambassador to some African countries.
New appointed Attaché welfare Milan, Mrs Syeda Shufq were anchoring the program.
A large number of community members from Brescia participated in this program along with Tanveer Asghar, Mehmood Sharif, and others.
After two years of COVD-19, it was the first community gathering at consulate in good enough amount of people.
The program sum-up with a comprehensive prayer for the whole world and for the community members. A traditional Pakistani food served with great hospitality as a lunch.
Community members were excited to see to the Qari Syed Sadaqat Ali among them, and were taking selfies with him. He has a series of programs around the European Union. He is about to participate in community a program in Brescia on 13 November.