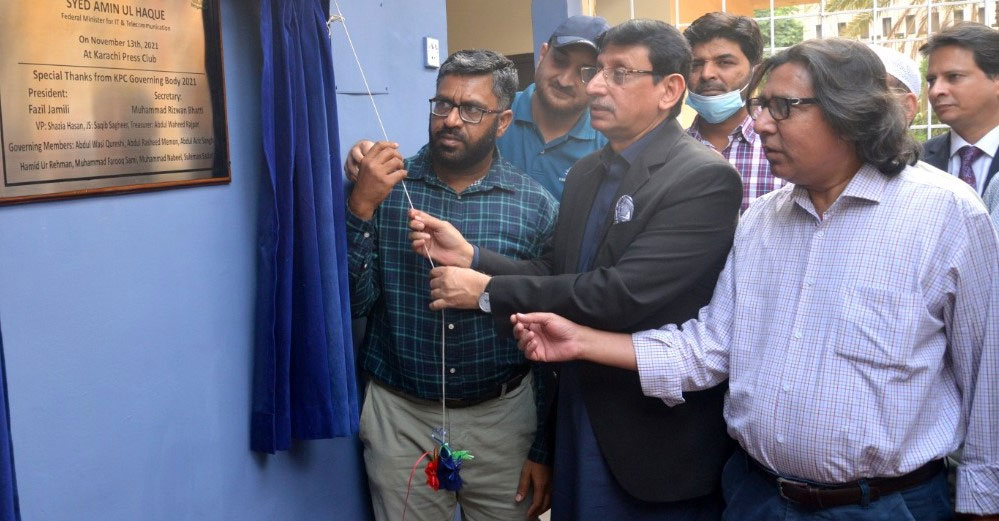 Imran Zakir
KARACHI: A digital studio for journalists was set up at Karachi Press Club in collaboration with the Ministry of Information Technology and Telecommunication, which was inaugurated by Federal Minister for IT and Telecommunication Syed Amin Ul Haq at a prestigious function held at the Press Club here Saturday.
On this occasion, Member IT Syed Junaid Imam, President Karachi Press Club Fazil Jamili, Secretary Rizwan Bhatti highlighted the details regarding the establishment of Digital Studio. The event was attended by a large number of senior journalists including journalist leaders Ejaz Ahmed, A.H Khanzada, Imtiaz Khan Faran, Maqsood Yusufi.
Speaking on the occasion, Federal Minister Syed Amin Ul Haq said that MQM has always adopted the motto of serving the people without any distinction of color, race and political affiliation. I don't know which group has the running of Karachi Press Club and I am not interested in it. Whether it is Fazil Jamili, or Ahmed Malik, Imtiaz Faran, Hassan Abbas, Fahim Siddiqui or Tahir Hassan Khan, GM Jamali or Mazhar Abbas, Ijaz Ahmed, all I know is that they are all journalists.
Similarly, Karachi Press Club is a center for the convenience of journalists. If me, or my party are doing something good for this institution, then the only purpose behind it is to provide facilities to journalists.
Syed Amin Ul Haq said that I have the portfolio of Ministry of IT; I have done what I could to set up a digital studio in Karachi Press Club because all these journalists are mine. With the establishment of Digital Studio, I hope that it will be easier for journalists to carry out their professional duties. I assure the Karachi Press Club officials and the governing body as well as all the journalist organizations that the MQM has always taken the initiative in raising its voice on journalistic issues in the past as well.
The Federal Minister for IT said that our main objective is to serve the people, so whenever there is any action against the country and the nation, MQM will never be a part of it. On this occasion, Syed Amin Ul Haq sharply criticized the anti-people policy of PPP government in Sindh and said that Sindh has been ruled by PPP without any hurdle for almost 13 years.
"The treatment meted out to the people of Sindh including Larkana and Nawabshah and the conspiracy under which its infrastructure is being destroyed is not hidden from anyone. The PPP is conspiring to enslave the people of Sindh mentally and physically by making them, suffer from darkness, backwardness and ignorance" he added.
"Let me tell you all that if you all do not raise your voice against this act of PPP then your Sindh, our Sindh will become a province of the Stone Age, someone should tell what steps PPP has taken in these 13 years to improve the life of common man in Sindh including education, health, employment, roads, water and sewerage system" said Minister IT Syed Amin Ul Haque.
He said that the Sindh government should state where the development funds of more than Rs. 1800 billion allocated in 13 years were used. How many universities, hospitals, roads were built? The answer…Nothing will happen more than zero by zero. However, the claims, political statements and accusations of Sindh ministers have been on the rise during this period. At the same time, whenever we invited the Chief Minister of Sindh to participate in the projects of the province, he never showed any seriousness and did not even bother to respond properly.
The Federal Minister for IT said that MQM is a part of the present government. Can anyone tell me a single example of the way in which the Ministry of IT has started non-discriminatory public projects in all the four provinces? Syed Amin Ul Haq said that Rs. 3.38 billion is being spent on 6 different projects for providing broadband services in 3,227 un-served and under-served areas of 19 districts of Sindh. While Rs. 5.1 billion is being spent on 3 different projects of laying 1,905 km long fiber optical cable in 230 union councils of 7 districts of Sindh for increasing technology requirements and high-speed internet and mobile services. Facilities will be available to a population of 10 million. The Projects will be provided for increasing technology requirements and high-speed internet and mobile services.
Syed Amin Ul Haq further stated that the state-of-the-art IT Park project in Karachi is being launched at a cost of Rs. 31 billion, will be attached. In collaboration with Karachi University, a state-of-the-art 3D animation and graphics institute is being set up in the building of Sheikh Zayed Islamic University at a cost of Rs. 2 billion. Software technology parks have been set up in different cities of Sindh including Hyderabad and Sukkur from where skilled youth are earning millions of rupees per month by associating with international companies.
Various schemes have been launched to impart international standard training to the IT professionals of Sindh and to provide them with respectable employment. A modern National Incubation Center for Young Skills is being set up in Hyderabad. In the DG Skills Programs of the Ministry of IT, 452,994 people from all over Sindh have registered themselves for vocational training.
Sindh Govt received 34 billion from NFC awards but no model UC has been established. We increased 47.4 % IT exports and next year we set our target of $ 3.5 billion while after 5 years Pakistan has the lion's share in IT exports in world and hopefully, we'll reach to $ 10 to 15 bn. Our $ 60 million IT export coming from un identified channels.