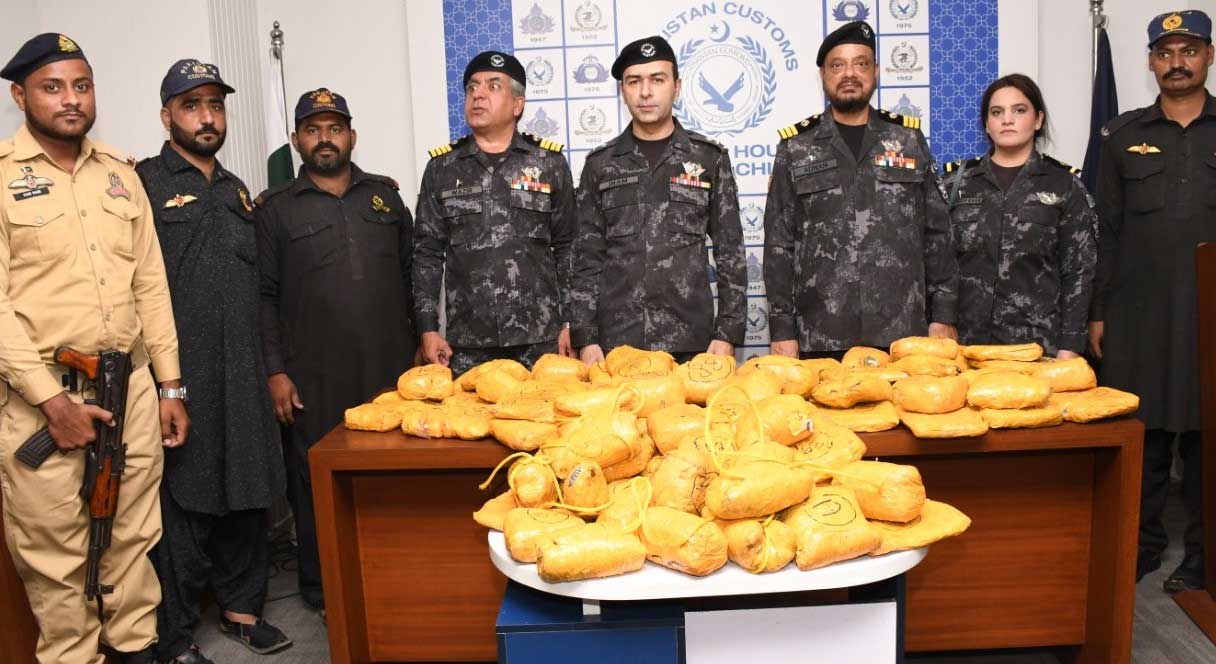 Imran Zakir
KARACHI: Chief Collector Custom, Enforcement (South) Feroze Alam Junejo shared with the Media about the performance of Anti-smuggling Organization (ASO) Pakistan Customs successful seizures held during a few weeks at a Press conference at Media Cell, Custom House, Karachi, Monday.
He said that we are not only monitoring our borders but also having eyes on retail stores where smuggled goods / Non custom paid items are easily available, we are seeking for some changes in policy matters and then we are going to start an effective crackdown against various retail stores after starting an awareness campaign.
Sharing the details of recent successful seized 109 KGs of Narcotics on Friday having worth millions of rupees along with Toyota Corollas car which is special designed for smuggling purpose, coming from Peshawar and enters in Karachi through Moro, Ranipur, Saeedabad and Hyderabad consequently.
A team was dedicatedly constituted to foil the attempt and vigilance that we already have the information. So, when the Custom team identified this car they tried to stop it at Super Highway but it never stopped. Our team chased the car and successfully intercepted it but the driver managed to escape in the Sohrab Goth area. Our investigation is in progress and we collected the data of car owner with his all-registered Sims and address, will soon trace him from any corner of the country.
Responding to the question and answers session during the press Conference he said that Prime minister Imran Khan declared Pakistan Customs as lead agency. So, we are trying to establish ethical trade practices to help out the country to improve its Tax base and Collection of duties properly, so we started action against the petrol pumps which are selling smuggled petroleum, 98 petrol pumps are sealed in Karachi while more than 300 hundred gas stations were sealed in interior Sindh. We are monitoring them properly and not allowing them to sell their petroleum products.
Moreover, he said that many of the shops associated with Petrol pumps which are selling smuggled goods were also sealed. Total estimated cost of all contraband items seized in a few weeks by ASO having the worth of Rs.182,236,938, he added.