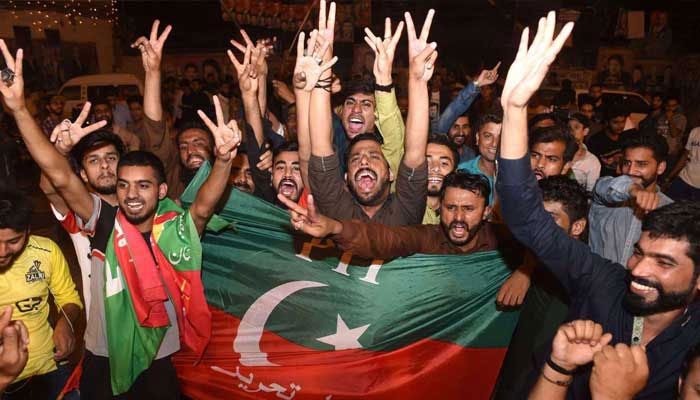 Monitoring Desk
ISLAMABAD: Polling for local government elections in the 39 cantonment boards ended at 5:00 pm on Sunday after having started at 8:00 am, wherein the unofficial results showed independent candidates in the lead.
As of the time of filing, Pakistan Tehreek-e-Insaf had won 48 seats so far followed by independent candidates who had won 46.
Among the opposition parties, PML-N has won 43, PPP has won 11, and while BAP and Jamaat-e-Islami has won three seats each. ANP and JUI-F could manage one seat each.
Of the candidates vying for a total 219 wards, seven candidates have already been elected unopposed. In addition, there is no competition in four wards of Kamra, none in one ward of Rawalpindi and none in one ward of Pano Aqil.
According to the Election Commission of Pakistan, over 5,000 polling booths had been set up in 1,644 stations. A total of 2.1 million voters, including 1.1 million men and 1 million women, are registered in all the 42 cantonment boards.
There are 42 cantonment boards nationwide but no polling was held in Kamra, Cherat and Murree cantonments for a variety of reasons. In addition, candidates in several wards were elected unopposed.
A total of 1,513 candidates were in the run for 206 seats in as many wards. Though all major political parties have fielded their candidates, a close contest among the ruling Pakistan Tehreek-i-Insaf, Pakistan Muslim League-Nawaz and Pakistan People's Party was seen.
878 candidates competed for 112 wards of 19 cantonments in Punjab, 418 in 53 wards of eight cantonments in Sindh, 170 in 33 wards of nine cantonments in Khyber Pakhtunkhwa and 47 in eight wards of three cantonments in Balochistan.
PTI fielded over 170 candidates in all four provinces, followed by 140 of the PML-N and 112 of the PPP. 105 candidates of the Jamaat-i-Islami are also in the run in the four provinces.
Both Muttahida Qaumi Movement-Pakistan and the Pak Sarzameen Party fielded 41 and 33 candidates, respectively, in Karachi and Hyderabad.
While the results continued to trickle in, various party leaders took to claiming victory in the polls and thanked people for their support. PML-N President Shehbaz Sharif on Twitter thanked God and the people who had shown the party support through their votes in the polls.
"We assure the people that we will not disappoint them and will leave no stone unturned in resolving their hardships and issues," he said.
"We will take the country on the path to development, progress and prosperity with renewed vigour. InshaAllah," he added.
Similarly, PPP leader Murtaza Wahab declared victory in several wards of Karachi's Clifton Cantonment Board. He claimed the party has won for the first time from polling stations of PNT Colony in Ward 9 and 10 of the Board.
He further claimed PPP's triumph in Ward 2 in a later tweet.
Meanwhile, with inundated streets after intermittent rain in Lahore hampering voters, PML-N MP Khawaja Saad Rafique demanded an hour extension in polling time.
Drizzling has left the streets of Lahore water-logged with two to three feet of water accumulated in some areas, he tweeted, sharing a video of a flooded street.
Voters are facing hardships in reaching polling stations to cast their ballot, Saad said, requesting the ECP to extend the polling time.