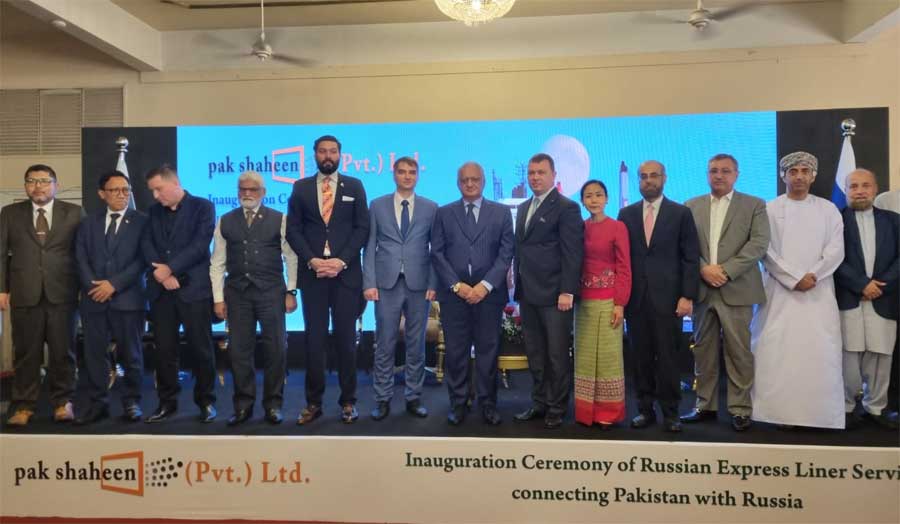 An impressive event defining the new Pakistan-Russia trading partnership took place on 24 May 2023. The event was organized by the management of PAK SHAHEEN (Pvt) Ltd at Beach Luxury Hotel Karachi. The event was organized to announce the launch of Russian Express Line Service connecting Pakistan with Russia directly. NECO Line vessel 'MY CRYSTAL, Petersburg berthed at KPT berthing at KICTL on 25th May 2023. From Pakistan's side Minister for power and energy Khurrum Dastagir Khan and minister for state petroleum division Musadik Masood Malik graced the occasion. It was heartening to witness and hear the speeches of the distinguished guests from Russia and the enthusiastic involvement of Pakistani businessmen in the joint business venture which clearly speaks about Pakistan's opening towards East and particularly Russia. One of the speakers on the occasion was Andrew Fedorov, the honorable Consul General of Russia.
Fedorov was clear and extremely eloquently in how he saw the Pakistan-Russian relations and considering that both Russia and Pakistan are on the threshold of rebuilding, reconstructing and renewing their relationship the content of his speech are important to understand to ensure that this new found relationship is based on the two countries mutual respect and interests as his speech indicated. Fedorov admitted that in the 80's decade the relationship between the two countries became strained due to Afghan war but that never meant the diplomatic relationship between the two countries were pushed back to the point of no return. He reminded the audience present on the occasion that it was in 1973 that Pakistan's Prime Minister Zulfiqar Ali Bhutto laid the foundation stone of the Steel Mills and with the joint effort of both Russia and Pakistan this project was finally completed during Gen Zia's tenure. He also made a mention of Guddu Thermal Power Plant located at Guddu, Sindh which was also built with the joint technical cooperation and financial assistance from the former Soviet Union. To showcase Russian desire of establishing peace in the region he gave the example of Tashkent Declaration wherein the former Soviet Union offered mediation between India and Pakistan because of which on 10 January 1966, a declaration between India and Pakistan was signed. He reminded the audience that if anyone one wants to trace the legacy of Pakistan-Russia relationship than it cannot be found in the decades of 80's but in how Soviet Union acted as an instrumental actor and a great power to resolve a regional conflict. He also appreciated Pakistan for its handling of the hijacking incident in August 90 when eleven Siberian convicts armed with machine guns and explosives hijacked a Soviet passenger plane and forced it to fly to Karachi. He admired the operation carried out by Pakistan's security forces which enabled the freeing of all the Soviet passengers and the surrender of the convicts without any loss or causalities. The good relations between the two countries he said were further boosted when Russia signed an agreement with Pakistan in 1994 allowing visa free entrance to the diplomats of each other's countries.
Fedorov spoke about the post-Soviet Union world in which like the relationship of the rest of the world with Russia the dynamics of Pakistan-Russia relationship must also change. He emphasized the importance of the continued diplomatic and business relationship between the two countries and made mention of some of the important diplomatic engagements that took place in the era; President Musharraf's visit to Moscow in 2003, the 2007, three day official visit of Russian Prime Minister Mikhail Fradikov to Pakistan, Russian Defence Minister Sergei Shoigu's visit to Pakistan in 2014during which matters related to cooperation in energy sector, fight against terrorism, trade, economic partnership were discussed. In 2021 the Russian Foreign Minister Sergey Lavrov also visited Pakistan to primarily discuss the fast-developing situation in Afghanistan. Then from January 18 to 20, 2023 a Russian-Pakistan Inter-governmental Commission on trading, economics, science and technology cooperation was established followed by a visit of Pakistan's Foreign Minister Bilawal Bhutto to Moscow where he met his Russian counterpart. Pakistan and Russia in 2014 also signed a military cooperation pact to regularly conduct anti-terror military drills named 'Druzhbe' – a Russian word which means friendship. The military-to-military cooperation between Russia and Pakistan continued and in Feb 2021 and later 2023 when Russia participated in Pakistan sponsored and conducted multinational naval exercise 'AMAN 2023'. Fedorov also made a mention of President Putin's last address to the Russian Federal Assembly in which he mentioned the name of Pakistan as one of the few countries with which Russia is eager to develop a partnership. He insisted on Russia's eagerness to develop the Pakistan Stream Gas Pipeline as well to ensure that Russia can extend help to Pakistan for it to tackle and address its energy woes.
Sitting in the audience and listening to the Russian Consul General one could make out that his speech was not event specific but in fact was covering a broad range of historical Russia-Pakistan partnership may be as a reminder to all that there exists a sound base on which this partnership can be pushed forward to expand and grow.
In the end Fedorov spoke about the changing world order in which Russia like any other member of UN was ready to abide by the international law but not the international order based on rules created by United States. He criticized these rules as the very ills that divides the world into a world in which there are exceptional states like United Sates that have rights to do everything and anything they want and the other countries that have little choice but to follow the rules set by United States. He reminded the audience that Russia is implementing a new concept of foreign policy in which its priorities are shifting from west to Asia. The implementation of this foreign policy concept he explained would ensure growth of Asian influence, removal of unjust hegemony of United States, coming together of the region and regional integration and most importantly restore UN's role as central coordinating mechanism in reconciling and furthering the interests of the UN member states.
Fedorov's speech has come at a critical time of a rebuilding phase of relationship between Russia and Pakistan and Pakistan must do everything to ensure it reinvests in its relationship with Russia – if 21st Century is the Asian Century then our relationship with Russia will determine how beneficial this century can be for the people of Pakistan.