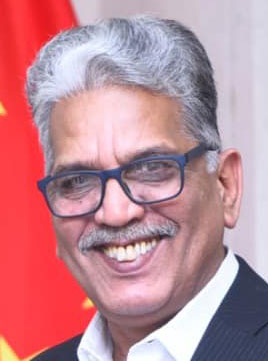 Kafeel Hussain Associates (KHA), a preeminent architectural, interior design, and consulting firm renowned for its prestigious projects spanning Pakistan, recently hosted a spectacular dinner reception at the Residence of Abdullah Rafi, a venue synonymous with grandeur and sophistication. The evening's crowning glory was the gracious presence of His Excellency, the Consul General of the United Arab Emirates (UAE) in Karachi, who honored the event as its Chief Guest.
This illustrious gathering welcomed a diverse array of distinguished guests, all luminaries in their respective fields, including architecture, design, construction, and business. Government officials and esteemed clients, integral to KHA's success, were also in attendance, making for a truly remarkable assembly. Among the notable attendees were former Ambassador to the UAE, Mr. Jameel Ahmed Khan; Consul General of the Sultanate of Oman, Eng. Sami Al Khanjari; Consul General of Turkey, Cemal Sangu; Consul General of Indonesia, Dr. June Kuncoro; President of Karachi Business Forum and Think Tank, Rashid Ahmed Siddiqui; Chairman of Bulgaria Forum, Sheikh Mohammed Magoon; Ex-Presidents of KCCI, Majyd Aziz and Mr. Tariq Yousuf; Chief Secretary of Sindh, Mumtaz Ali Shah; Consul General of Morocco, Ishtiaq Baig; Consul General of Yemen, Ikhtiar Baig; President of Hyderabad Gymkhana, Agha Taj Mohammed, and other distinguished guests, including Tariq Mustafa, Afzal Chamdia, and Aftab Imam, Chief Commissioner of FBR.
Kafeel Hussain Associates (KHA) continues to stand as a symbol of architectural excellence and a beacon of innovation in the industry. The evening commenced with the screening of a documentary, not only celebrating their illustrious past achievements but also setting the stage for a future brimming with even more remarkable projects and groundbreaking design solutions.
Founded and spearheaded by the visionary Kafeel Hussain, KHA has established an impeccable reputation in the architectural and design domain. Throughout its journey, the firm has undertaken and flawlessly executed a diverse spectrum of projects, ranging from consulates, residential complexes, and commercial spaces to industrial structures, shopping malls, and hotels. Their influence extends across key regions, encompassing Karachi, Hub Balochistan, and Islamabad.
Since its inception in 2000, KHA has continually expanded its scope of expertise to encompass multifaceted detailing, structural engineering, and civil works, in addition to its architectural prowess. This holistic approach to design and construction has unequivocally set KHA apart as an industry pacesetter, celebrated for its unwavering commitment to quality, innovation, and creative excellence. The firm's dedication to pushing the boundaries of architectural innovation ensures a dynamic and vibrant future, making Kafeel Hussain Associates a trailblazer in the field for years to come.
During his address, Kafeel Hussain, the esteemed CEO of Kafeel Hussain Group (KHA), extended his heartfelt gratitude to the Consul General and all the distinguished attendees for their unwavering support and the trust they have placed in KHA's remarkable capabilities. With a deep sense of pride, he underscored the firm's steadfast commitment to upholding a legacy of excellence and its unswerving dedication to contributing to Pakistan's vibrant architectural and developmental landscape.
In a remarkable display of diplomatic finesse and cultural immersion, UAE Consul General Bakheet Ateeq Al-Rumaithi, who holds the impressive record of 24 years of service as the Consul General of the UAE in Karachi, delivered a captivating address in fluent Urdu. As the chief guest of the event, he eloquently emphasized the longstanding and robust cooperation between Pakistan and the UAE, a partnership that has been flourishing since 1971. Al-Rumaithi reaffirmed the UAE's unwavering commitment to supporting Pakistan on its journey towards prosperity and showered praise upon the nation's highly skilled professionals, including the invaluable contributions of doctors and engineers, who are instrumental in driving its remarkable progress. With heartfelt sincerity, Al-Rumaithi assured all Pakistani expatriates that the UAE would always keep its doors wide open, offering a warm embrace to those seeking opportunities and growth on foreign shores.
Furthermore, Al-Rumaithi astutely highlighted the significant investment opportunities that beckon in Pakistan's thriving economic landscape, encouraging a focused and strategic approach to bolster the country's economy. He underscored Pakistan's immense growth potential and the bountiful natural resources that grace every corner of its provinces. While recognizing the diverse talents and skills possessed by the citizens of Pakistan, he also imparted a nugget of wisdom by urging them to cultivate the habit of early rising, emphasizing its potential to kickstart their daily routines with vigor and purpose.
In a milestone celebration marking two decades of unwavering excellence, Kafeel Hussain Group proudly commemorated the launch of KHA Business and International Relations, a unique platform designed to bridge the gap between the business and diplomatic communities, both at the national and international levels. This groundbreaking initiative is envisioned to foster robust social networking and to explore new avenues that will contribute to the economic development and prosperity of the country, a testament to KHA's enduring commitment to Pakistan's growth and progress.
The Consul General of Oman, Engineer Sami Khanjari, extended his sincere gratitude to Kafeel Hussain for graciously inviting him and his fellow consul generals to this prestigious gathering. In his address, he not only acknowledged the remarkable service of the UAE Consul General, who has dedicated an impressive 24 years to his role but also highlighted the relatively short duration of his own tenure, having arrived just one year ago. Khanjari shared an insightful anecdote from his early days in Karachi, where he sought advice from Bakheet, a highly regarded figure among Consul Generals. Bakheet wisely advised him to prioritize learning the Urdu language as a means of connecting with the local community and enhancing his diplomatic effectiveness. Following this sage counsel, Khanjari embarked on a journey to master Urdu and remains deeply committed to furthering his language skills, demonstrating his dedication to his role and the people he serves.
The Consul General of Indonesia, Dr. Jon Konkoro Hadeningrat, delivered a heartfelt address that celebrated the culinary delights of Pakistan. With genuine admiration, he emphasized that Pakistanis excel not only in the culinary domain but also in the realms of entertainment and hospitality. He commended the people of Pakistan for their unparalleled level of affection and generosity towards their guests. Dr. Hadeningrat expressed his deep gratitude to the gracious hosts for their warm invitation, extending his appreciation to all the fellow Consul Generals in Karachi who had the privilege of experiencing this remarkable Pakistani hospitality, thus fostering a sense of camaraderie among the diplomats present.
Taking the stage next, the Consul General of Turkey, Samal Kemal Sangu, conveyed his heartfelt thanks to Kafeel Hussain for extending the gracious invitation to him and his fellow consul generals to partake in this splendid dinner. Mr. Sangu emphasized the longstanding and robust relationship between Pakistan and Turkey, cherishing the enduring bond of Pak-Turkiye friendship. He underlined the vital role that gatherings like this play in further strengthening the bilateral ties between the two nations. Mr. Sangu expressed his optimism for even more collaborative efforts in the future, reinforcing the enduring friendship between Pakistan and Turkey and showcasing the commitment of both countries to fostering diplomatic relations.
Former Ambassador to the UAE, Jameel Ahmed Khan, President of the Karachi Business Forum and Think Tank, Mr. Rashid Ahmed Siddiqui, Chairman of the Bulgaria Forum, and former Presidents of KCCI, Majyd Aziz and Tariq Yousuf, graced the occasion with their insightful speeches and profound perspectives. The event was further enriched by the addresses delivered by the Honorary Consul General of Morocco, Ishtiaq Baig, and the Honorary Consul General of Yemen, Ikhtiar Baig. Both expressed their deep gratitude for the exceptional services rendered by KHA and lauded the remarkable efforts of Kafeel Ahmed and Siddique Rafi for orchestrating this splendid evening.
In addition to these luminaries, the distinguished guests at the event extended their warm appreciation to the Consul Generals of the United Arab Emirates, Oman, Turkey, and Indonesia in Karachi. These Consul Generals played pivotal roles in strengthening business ties and bilateral relations between their respective nations and Pakistan. Their tireless efforts in promoting economic cooperation and fostering cultural exchanges were acknowledged as indispensable in enhancing partnerships between nations and deepening the cultural fabric.
This prestigious gathering served as a platform to pay tribute to and celebrate the outstanding contributions of philanthropists, diplomats, and eminent businessmen to society. Among the deserving awardees, Islahuddin Siddique was honored with the prestigious "KHA Business and International Relations Lifetime Achievement Award 2023." This recognition celebrated his exceptional contributions to the world of sports, which have left an indelible mark on the global stage. Meanwhile, Farooq Dadi's unwavering commitment to social service was duly recognized with a well-deserved award, acknowledging his selfless dedication to improving the lives of others.
The event reached its poignant conclusion when esteemed businessman Kafeel Hussain took the stage to express his gratitude and admiration for the dedicated service of UAE Consul General Bakheet Ateeq Al-Rumaithi. In a touching moment, Kafeel Hussain presented a meaningful memento as a symbol of the enduring bonds of friendship and collaboration that this event aimed to foster. This gesture encapsulated the essence of unity and camaraderie that permeated the evening, serving as a poignant reminder of the immense power of collective efforts in building a better and more harmonious world.
Throughout the evening, lively conversations, captivating musical performances, and exquisite gourmet cuisine came together to create an atmosphere that embodied the spirit of collaboration and appreciation. The event served as a testament to the art of design and construction, mirroring the beauty that emerges when individuals and nations come together to celebrate their shared goals and aspirations.
Kafeel Hussain Associates (KHA) stands as a prominent emblem of architectural brilliance and a guiding light of ingenuity in the industry. The grand dinner reception served as a momentous occasion, not only commemorating their impressive track record but also casting a hopeful gaze towards an exciting future brimming with extraordinary projects and revolutionary design solutions. It was a celebration of their legacy, a testament to their unwavering commitment to pushing the boundaries of creativity, and a promise of even greater accomplishments on the horizon.
Omer Khan, a well-known anchor in the world of electronic media, showcased his remarkable talent and charisma as he gracefully hosted the entire dinner ceremony. With his captivating presence and eloquent communication skills, he not only ensured the seamless flow of the event but also left a lasting impression on the attendees with his charming and engaging demeanor. Omer Khan's ability to connect with the audience and keep them entertained throughout the evening made the dinner ceremony an unforgettable and enjoyable experience for everyone in attendance.