Roza Hazrat Bibi Fatima (Masooma-e-Qom)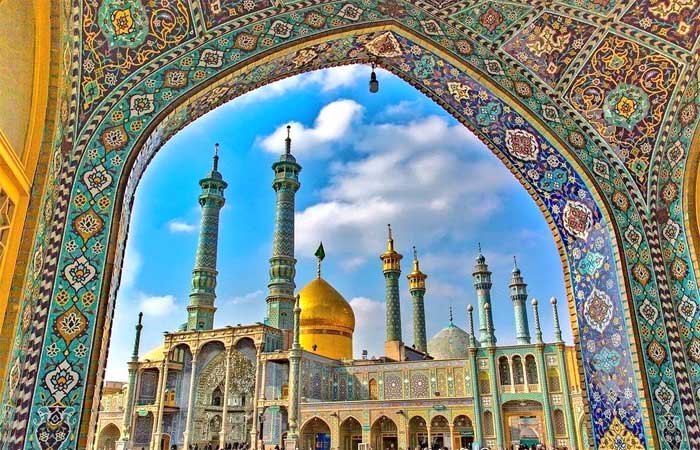 On Saturday, we woke up at 5.30 in the morning in Isfahan, as it was our last day before returning to Tehran for our flight IR812 which was scheduled at 7:50 PM from Tehran Airport. We had made a request to our assigned Protocol Officer, Ali Fatime, from the Foreign Office of Iran, to visit the holy site of Roza Bibi Masooma-e-Qom, the shrine of Hazrat Fatima (S.A), the daughter of Imam Musa Kazim (A.S) and the sister of the eighth Imam, Hazrat Ali Raza (A.S), on our way back to Tehran. Bibi Masooma-e-Qom holds a special place in the hearts of Shia Muslims, especially in the city of Qom, Iran.
Thanks to the kind cooperation of Ali Fatime, we enjoyed our breakfast and completed the check-out process at the hotel. We departed from Isfahan at 7:25 AM and reached Qom at 12:00 PM. By 12:10 PM, we had arrived at this sacred location, ready to begin our visit.
Bibi Masooma-e-Qom is highly revered as a pious and knowledgeable woman in Islamic history. She is often referred to as "Masooma," which means "infallible" or "sinless," highlighting her spiritual status. According to Shia tradition, she traveled from Medina to Qom, where she eventually passed away.
The city of Qom is considered one of the most important centers of Shia scholarship and religious learning. It is home to the revered shrine of Bibi Masooma, which attracts countless Shia pilgrims from around the world. The shrine is a significant place of worship and devotion, with many visitors seeking blessings and spiritual solace.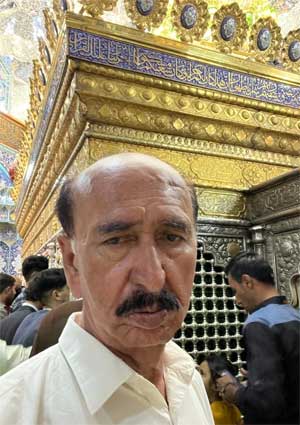 Bibi Masooma's shrine complex in Qom includes a mausoleum, courtyards, and various facilities for pilgrims. It serves as a hub of religious activities, including prayers, lectures, and the dissemination of religious knowledge. The shrine is also a center for Islamic studies, hosting seminaries and educational institutions.
Pilgrims who visit the shrine often engage in acts of devotion, such as recitation of prayers, supplications, and seeking intercession from Bibi Masooma. Many believe that she possesses a special spiritual status and can intercede on behalf of the believers. The shrine's importance extends beyond Iran, as Shia Muslims from various countries make the pilgrimage to pay their respects and seek spiritual enlightenment.
Bibi Masooma's legacy as a symbol of piety, knowledge, and devotion continues to inspire Shia Muslims around the world. Her life story and the significance of her shrine in Qom serve as a reminder of the central role women have played in Islamic history and scholarship.
We left the Dargah Bibi Masooma-e-Qom (S.A) with a heavy heart because we have to catch our flight and moved from Qom at 2:50 PM and reached the Imam Khomeini International Airport.
Imam Khomeini International Airport, Tehran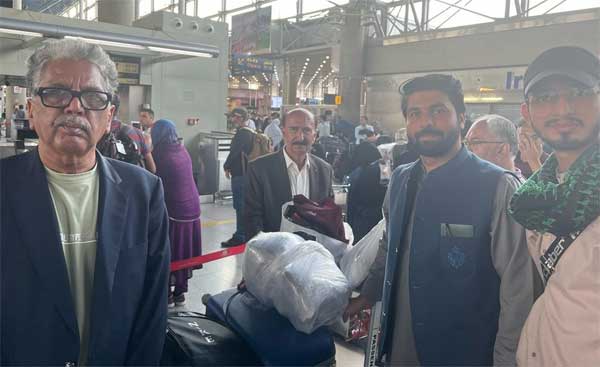 Imam Khomeini International Airport (IKA) is the main international airport serving Tehran. Named after the late Ayatollah Ruhollah Khomeini, the founder of the Islamic Republic of Iran, the airport is located approximately 30 kilometers southwest of Tehran.
IKA is Iran's largest airport and one of the busiest in the Middle East. It serves as a major hub for both domestic and international flights, connecting Tehran to numerous destinations worldwide. The airport has undergone significant expansions and renovations to handle the increasing passenger traffic and accommodate larger aircraft.
Due to reaching in time at the airport we skipped our Lunch. Our Protocol Officer Ali Fatemi helped us for the boarding at the airport. When we got all our boarding cards for the Iran Air flight number IR812, he dropped us at the immigration counter and saw us off. After the well-organised boarding process, we all settled in the departure lounge at 5:40 PM. We all were hungry because we had taken breakfast early in the morning in a hurry so as to reach Qom. Therefore, now I got the opportunity to fete dinner/lunch to all members of the delegation including Zain Naqvi, our Interpreter for Persian to Urdu from the Iranian Cultural Center Karachi.
Jinnah International Airport, Karachi
Our flight IR812 departed 40 minutes behind schedule and arrived at Jinnah International Airport Karachi (JIAP) on Sunday at 12:50 AM. JIAP is the largest and busiest airport in Pakistan, serving as the primary gateway for both international and domestic air travel. However, upon reaching the immigration counters, we encountered severe mismanagement. The designated immigration center for senior citizens, women, and children was being solely attended by FIA staff catering to foreign citizens, while another counter was assigned for foreign passengers. This blatant mismanagement by the FIA staff left us dismayed. Notably, our esteemed senior journalist, Nazir Leghari, expressed his dissatisfaction with the unprofessional behavior of the FIA personnel and even threatened to report their misconduct to the Director General of FIA. Eventually, after enduring the unnecessarily lengthy immigration process, we proceeded to the luggage collection area, where we encountered further mismanagement. Finally, we exit the airport to find our families eagerly awaiting our arrival after a considerable wait.
Amazing Services of CAA at JIAP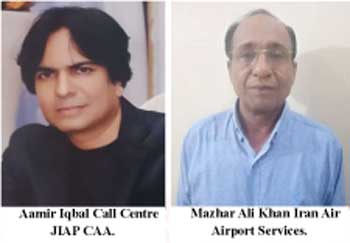 Upon reaching home in DHA, Karachi, I was shocked to discover that my wallet, containing over 300 dollars as well as local and Iranian currencies, was missing. I recalled placing it in the front jacket pocket of the airplane. In a rush, my son Abbas Naqvi immediately returned to the airport to report the incident to the Lost and Found Department. While en route, I searched for CAA airport services and found the PTCL number. To my surprise, the operator answered the call after just one ring. I explained my situation and requested to be connected to the relevant department in order to report my misplaced wallet.
The operator informed me that Shaheen Airport Service (SAP) handles Iran Air flights and promptly connected me to them. He also advised me not to hang up after speaking with them, assuring me that he would personally update me on any progress. I spoke with a representative at SAP, who then provided me with another number for Operations. I was connected to a desk and from there, I was put in touch with the staff at the Iranian Air Karachi office. The person I spoke to, Mazhar Ali Khan from Airport Services of Iran Air, informed me that my wallet was with him and that I could collect it at any time. I informed him that I was on my way and would arrive in 10 minutes. Throughout this entire process, I did not disconnect the call, so it returned back to the operator.
I expressed my gratitude and marveled at the amazing and caring services provided by the airport staff, something that is not usually expected from any government department in our country. I asked the operator, whose name was Aamir Iqbal from Call Centre Karachi Airport JIAP, CAA, if I could include his picture in my diary as a token of appreciation. However, he mentioned that he would require approval from CAA authorities before sharing his picture.
After a 10-minute drive, I arrived at the airport and met with Mazhar Ali Khan from Iran Air. He handed me a slip detailing the amounts in US dollars, Iranian currency, and local currency, and requested me to verify the accuracy of the amounts. I thanked him for his exceptional service and gestures, and then returned home, amazed by the remarkable services provided by CAA.
Upon my arrival home, I contacted the CAA Public Relations Department and spoke with Saif Ullah. I shared my experience with him and requested permission for Aamir Iqbal to share his picture. Saif Ullah also appreciated my feedback informed me that the credit for these outstanding services goes to the true leadership of CAA. He granted permission for Aamir to share his picture with me.