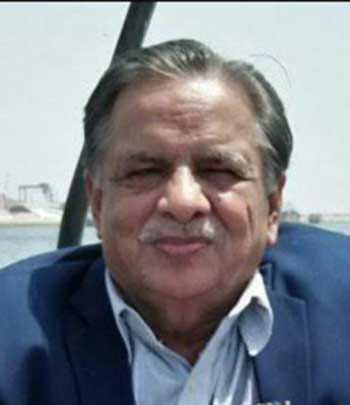 Pakistani foreign minister's visit to UAE is of paramount importance. According to a well-informed source, his next visit is going to be in Turkey and then Iran. And initially, there are two important points on the table: 1. who will be the replacement after US' evacuation from Afghanistan. 2. Pak-India relations. The Istanbul peace conference under the UN umbrella will begin on April 24th. Initially, Pakistan was not interested to attend it and neither were the Afghan Taliban. However, the foreign office sources indicate that the President of Turkey contacted Islamabad and convinced them to not only attend the high-profile Peace Conference but also ask Afghan Taliban to join as well. All the major regional partners of the region including the Russians, Chinese and others will be there.
For them the most important thing is how to fill the gap after US' evacuation of its troops because it is a known fact that after this unilateral withdrawal from Kabul a big civil war will erupt affecting the entire region. So, this will be discussed in great details.
On the Indian front, reliable sources in Islamabad informed that although have Indians always kept any third party intervention away from PAK India relations, but recently they had agreed for UAE to mediate and the news has already broken that Delhi and Islamabad's high-profile Agencies met n January this year. This ended the stalemate between the two neighbouring countries, and the has already broken that both agreed on ceasefire at LoC. Secondly both Nations will exchange high commissioners and now Islamabad is hopeful that Pakistan Foreign Minister will meet his Indian counterpart in the April 24 peace summit.
As I had already predicted last time that after a long time Russians entered the scene of the regional politics. Naturally they know that without Pakistan's blessing they cannot play any role in Afghanistan. On the other hand, my observation is this that only on this issue Russians and Chinese are extending their support for Pakistan to play the same role as in the 90s. Islamabad is happy that though initially it was isolated from Doha talks but once again it has become main player and naturally Delhi who have been investing in Kabil for a very long time are not pleased that again their Arch Nemesis is now standing face-to-face with them. Washington initially wanted to keep Islamabad away from Afghanistan. And with the help of Delhi they hoped to exit Kabul. Three decades ago, Russians face humiliating defeat in Kabul but now they are looking at Islamabad to let them re-enter the region and play an important role. So now, all these developments are in pipeline and it will be too early to predict anything for the near future.