ARRIVAL AT BEIJING, THE CAPITAL CITY OF CHINA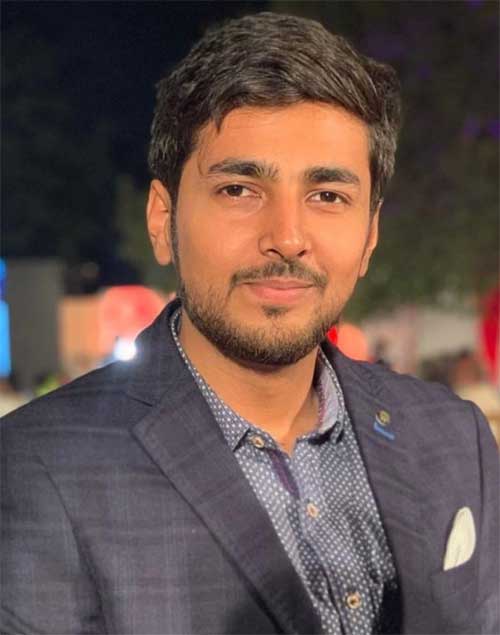 8-member journalists' team on China visit
Under the kind support and courtesy of the Chinese Consulate Karachi, an eight-member delegation is embarking on a visit to China. Led by Mubasher Mir, President of the Karachi Editors Club (KEC) and Editor of Daily Pakistan Karachi, the delegation comprises esteemed members such as Ahmed Khan Malik from Business Recorder, Dr. Muhammad Ali Ehsan from Express Tribune, Syed Ali Shabbar Naqvi (myself) from The Financial Daily International, Jawed Ahmed Malik from Newslark, Gul Rukhsar Mujahid from Way Forward, Muhamad Noman, a photojournalist and Vice President of the Pakistan Association of Press Photographers (PAPP), and Shama Munshi, a freelancer.
Yundong fetes Dinner & briefs the visiting delegates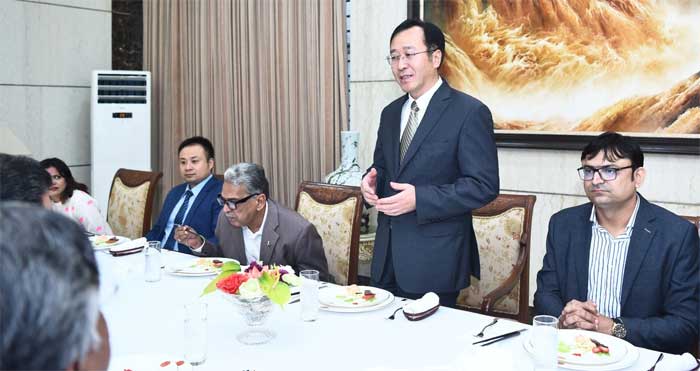 Yang Yundong the Consul General of China in Karachi organized a delegation of journalists from Karachi to visit China, shortly after assuming his responsibilities at the Chinese Consulate in Karachi. Yang, having completed all the necessary preparations for the visit of the 8-member journalists' delegation to China, hosted an exquisite dinner. During the dinner, Yundong provided the delegation with a briefing on the places they would be visiting, namely Beijing, Shanghai, and Suzhou, as well as shared necessary information about China. On behalf of the entire delegation on this occasion, Mubasher Mir, the leader of the group, expressed gratitude to Yang and the other Chinese envoys for their love trust, hospitality, and for arranging a splendid 9-day journey to explore the beauty of China and providing an opportunity to learn from Chinese developments.
Karachi Airport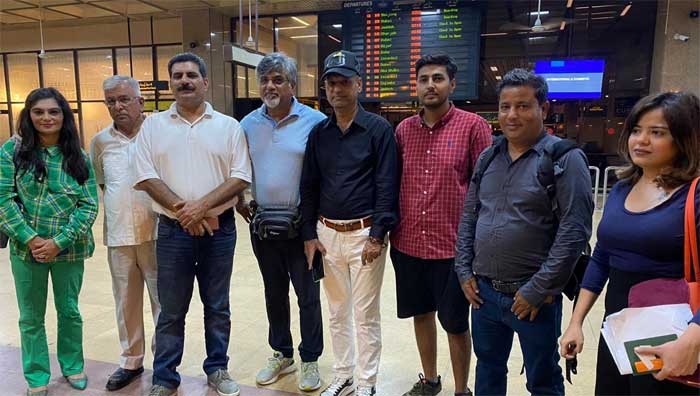 We left home on Sunday, June 25, 2023 for Karachi airport to catch our flight EK607 for Beijing, China via Dubai, UAE which was scheduled to depart Dubai at 2:45 on Monday June 26, 2023, AM the all 8 members of the delegation gathered at Karachi Airport at night where we took a group picture, after all the formalities for obtaining the boarding pass were done we all gathered at the waiting lounge where half of the members fell asleep as one could expect on a Sunday night.
After the boarding was open we all moved to the flight and had our journey started, the flight was a connecting one from Karachi to Dubai where we have to wait for 7 hours at the airport, probably the most difficult part for the trip but it would be worth it for what has to come for us, where I forgot to turn on the international transactions for my debt card, I was unable to get anything at the airport, so a point to note if you have a connecting flight do turn your credit cards/debit cards active for any international transaction or keep some US dollars with you.
This would be my second trip to China, where I visited last time in 2016, so I may be able to differentiate how much China has changed as compared to the previous one in 7 years as the two major cities are also the same in our itinerary which is Beijing and Shanghai.
This time as I'm traveling not with my family but with a delegation so it's going to be a completely different experience, I know I'm gonna try some new things in this trip as I've just got to buy a pack of cigars from the Dubai airport with the help of our delegation member Dr. Muhammad Ali, which I will try when we reach Beijing and that I'm pretty sure if the beginning is so exciting the trip this time is going to be a great one indeed.
Reached Beijing, the Capital City of China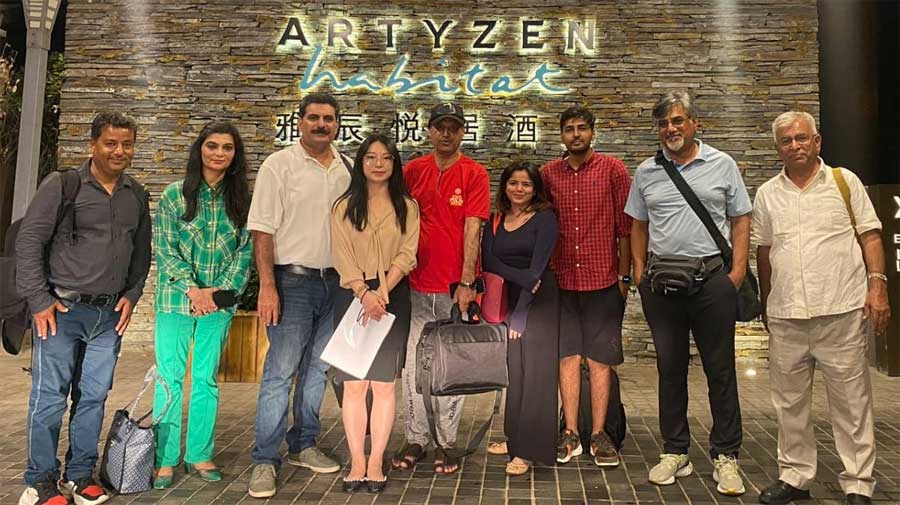 There was a huge crowd for the flight to Beijing and we had to stand for around 45 minutes and after getting on board to the flight to Beijing, the plane got a technical problem and its air conditioner stopped working. We had to wait for one hour to depart and after a flight of 7.5 hours, so it was a tiring trip but once we reached at the Beijing airport and got cleared from all the formalities, our guide, Miss Tongyue, waited for us outside to welcome us. We then proceeded to the Artyzen Hotel, located in the beautiful surroundings of the Chinese capital, where we spent our first night. Our arrival time was 2:00 AM on June 27, 2023. After a few hours of rest, we began our scheduled visits on the first day. Stay tuned for tomorrow's update to learn about our exciting trip. Until then, Cheers!