Special Report
KOTLI (Azad Kashmir): Today, April 10 is the 73rd day of Shahadat of Maj Khalil Ur Rehman Shaheed who achieved this great achievement in 1949. His son Brigadier (Retd) Tariq Khalil SJ, SI (M), IS(BAR) Gallantry says: "Allah be Great – I commanded the same sector as Commander Artillery of the same Division in 1978-90."
Capt (T/Maj) in April 1949 getting a bridge laid on Poonch River on track going to Kotli. In those days there was no metaled road. The area was mined, and they themselves blasting to create track. On the night of April 9 there was heavy rain and mountain was sliding due to rain and blasts. He was conducting his men when he suddenly noticed mountain collapsing.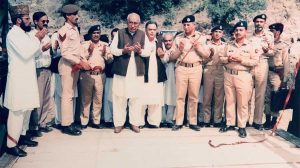 His number 2, Lt. Farooki was on one site and Subedar in the other direction. He decided to move towards the mountain to save himself, a move cost him his life. The whole mountain side collapsed. His body was revived by the army after the hectic efforts spread over three days.
He was buried at the side and the bridge made by him at Kotli is named after him as Rehman Bridge. .
Commissioned (PA 1515) in 16 Punjab in 1942, Mohammadi Bn, took part in Burma Campaign. At that time, he was posted in Calcutta as Staff Officer. He moved to Pakistan with his troops in September 1947. He was a graduate of class of 1941 in Aligarh, was transferred to Corp of Engineers due to departure of British officers.
He was awarded Tamgha-e-Pakistan posthumously.
He had four sons, eldest, Brigadier (Retd) Tariq Khalil SJ, SI(M), IS Bar Gallantry who commanded the same sector Kotli-Chamb in 1989-1990.
There is a monument on his grave on top of the hill on Rehman Bridge. First of lot who sacrificed for Pakistan.