Ethiopian Ambassador calls on the Chairman Senate, discusses how to fortify bilateral ties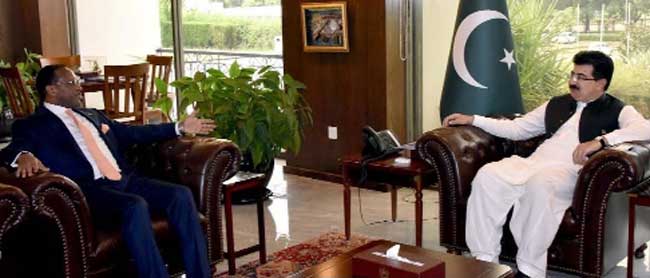 Ambassador of Ethiopia to Pakistan, Jemal Beker Abdula called on Chairman Senate Muhammad Sadiq Sanjrani here at the Parliament House, during the week. The meeting focused on reinforcing the longstanding and friendly relationship between Pakistan and Ethiopia, concentrating on enhancing trade, parliamentary cooperation, and matters of mutual interest.
Chairman Sanjrani emphasized the importance of the existing strong bond between the two nations, rooted in shared history, common interests, and mutual support at international platforms. He stressed the need to foster trade and economic ties, highlighting the facilitation and improvement of contacts between Pakistani and Ethiopian businessmen.
In the discussion, both sides accentuated the augmentation of bilateral trade volume and applauded the resumption of flights between Pakistan and Ethiopia. Chairman Sanjrani Muhammad Sadiq Sanjrani lauded the initiative, stating that it would enhance connectivity not only within Africa but also with Pakistan. He further stressed the significance of increasing cooperation and public relations in the field of education and addressing global challenges such as Islamophobia through interfaith harmony and mutual respect.
Ambassador Jemal Beker Abdula reaffirmed Ethiopia's importance under Pakistan's Engage Africa policy and invited Chairman Sanjrani to visit Ethiopia on behalf of the Ethiopian Parliament's leadership. Chairman Sanjrani expressed gratitude to the Ethiopian parliamentary leadership, government, and the ambassador, foreseeing that the exchange of parliamentary delegations would fortify relations.
Thailand Embassy delegation visits RCCI in Rawalpindi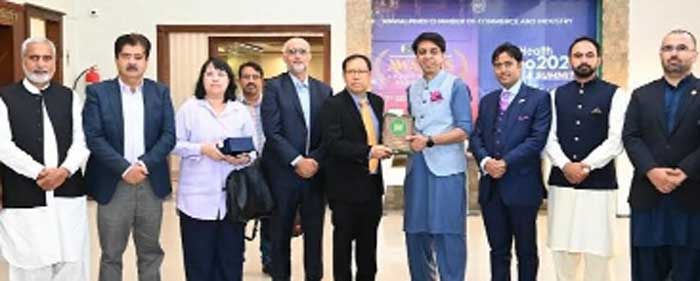 A delegation of Thailand Embassy headed by Khemathat Archawathamrong, Minister Councilor (Commercial), Royal Thai Embassy, Kamolwan Sriposil, Deputy Head of Mission & Faisal Hassan, Honorary Trade Advisor of the embassy visited Rawalpindi Chamber of Commerce and Industry, during the week.
President RCCI Mr. Saqib Rafiq, Vice President Faisal Shahzad, Former President Malik Shahid Saleem, Executive Committee Members, distinguished RCCI members attended the meeting.
During the meeting discussed several issues as part of efforts to enhance trade relation and to explore the potential cooperation between both countries especially in the sectors of Agriculture, Machinery, Plastic, Leather Products, Tiles, Garments, Textile & Auto parts. Matters related to bilateral trade, investment opportunities, networking & chamber to chamber connectivity came under discussion. RCCI President Saqib Rafiq in his welcome remarks said that private sector of Pakistan is very keen to enhance trade links between the Association of South East Nations (ASEAN) countries and bring closer the business community and private sector of Pakistan and Thailand.
Kazak President to visit Pakistan to strengthen economic ties: Kistafin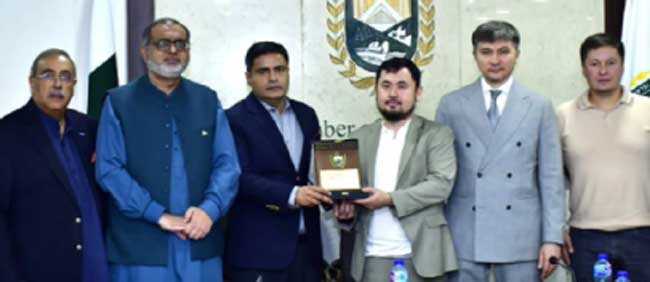 Yerzhan Kistafin, Ambassador of Kazakhstan has disclosed that the President of Kazakhstan, Kassym-Jomart Tokayev is scheduled to visit Pakistan in near future for further strengthen bilateral trade and economic relations.
He revealed this information during the visit of a business delegation of Kazakhstan led by him visited Islamabad Chamber of Commerce and Industry (ICCI), during the week. The delegation members showed interest to explore business and investment opportunities in Pakistan.
The delegation was representing food and beverages, oil and gas, minerals, precious stones, fertilizers, chemicals, textiles, autoparts, wholesale and retail sectors.
Yerzhan Kistafin, Ambassador of Kazakhstan said that his country wants to further strengthen trade relations with Pakistan as both countries have good potential to do trade in many items.
He said that last year, a trade delegation of Kazakhstan was organized to Pakistan and hoped that the visit of another Kazakh delegation would contribute to promote business relations between the two countries.
Ahsan Zafar Bakhtawari, President, Islamabad Chamber of Commerce & Industry said that both countries should set at least US$ 1 billion bilateral trade target as the current level of trade is not matching with their actual potential.
He said that Kazakhstan is a big landlocked country and Pakistani ports provide it the shortest route through Arabian Sea to access other markets.
Pakistan and Kazakhstan can cooperate in many fields including construction, agriculture, energy, textiles, pharmaceuticals, food items, engineering equipment, machinery, banking & finance.
He said both countries should explore road and railway links that would boost trade and economic relations between them.
He said that ICCI is planning a delegation to Kazakhstan to explore new avenues of business partnerships increasing bilateral trade ties between the two countries.
Yessentayev Arman, Head of Kazakh delegation said that Pakistan is a huge market for business and investment and they have come to explore business opportunities in many sectors in Pakistan including oil & gas, surgical instruments, juices, textiles, rice, sugar, fertilizers and others.
Engr. Azhar ul Islam Zafar, Vice President ICCI said that both countries should sign a transit trade agreement to provide a legal framework to the private sectors for trade promotion. He said that Pakistan can also get easy access to Central Asian markets by developing close cooperation with Kazakhstan.