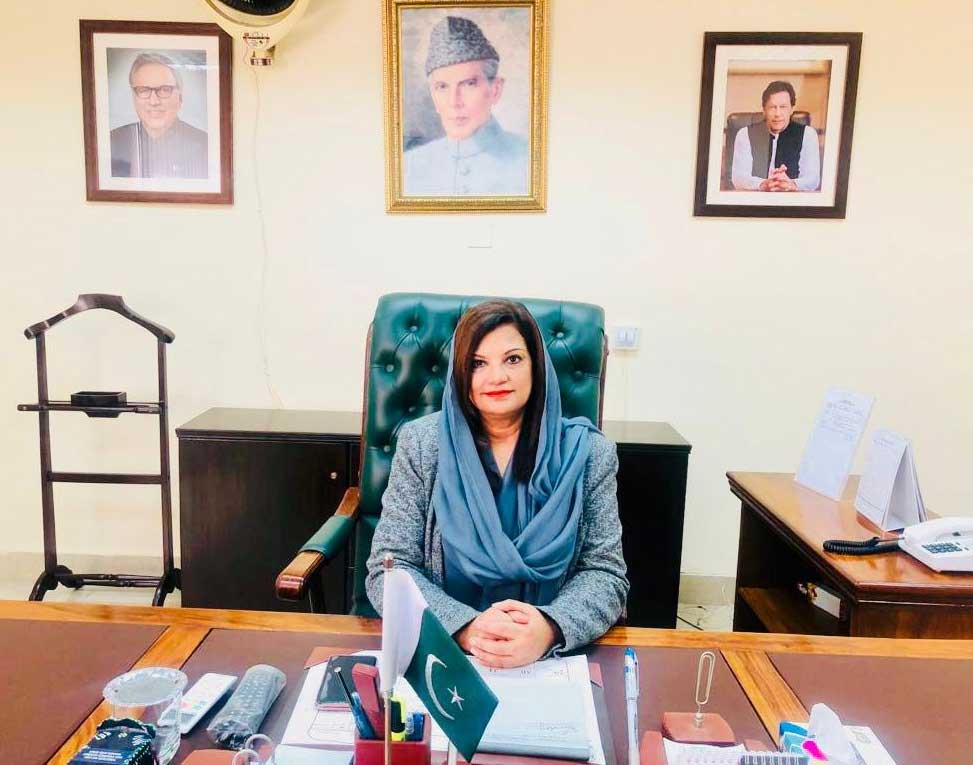 According to the World Economic Forum's Global Gender Index 2021, Pakistan ranks at 153 out of 156 countries. The indicators of social cohesion included education attainment, health and survival, economic participation and opportunity, political participation and empowerment, Pakistan was just ahead of Iraq, Yemen and Afghanistan. It is commonly known that Pakistan lags behind severely in gender equality. However, one area in which women have made progress is politics. It is one of 70 countries in the world that has had a woman prime minister or president.
In Pakistan, the 2018 general election witnessed the highest number of female candidates running for parliament. In addition to quota representation in elections, the National Assembly of Pakistan has 60 reserved seats for women. Women representatives on reserved seats face the charge of elitism and hailing from upper class. It is often claimed that these women parliamentarians come from prominent political families and that they have made it to parliament on the back of that family and tribes name.
Though the public perception is not fully baseless, still today there are many female legislators who have proven their presence in parliament through their passion and hard work. One such MNA is Syma Nadeem, who is federal parliamentary secretary for Ministry of Inter Provincial coordination. She is also member National Standing committee for Information and Broadcast.
It was a good experience to know her during an interactive session of Pakistan Council of Media Women (PCMW) on "Effects of Downsizing and other alternatives for Media women" of female journalists with women parliamentarians and senior Journalists in Karachi. It was my first interaction with Syma Nadeem, though she's been part of national assembly first time, but one can sense and feel her immense desire to contribute towards society and be of some value for media women issues. She herself offered PCMW to raise issues of women journalists on right platform of National Assembly. Her intentions were genuine and impressive. I found her a decent and charismatic woman, being a politician and a social activist.
In conversation with MNA Syma Nadeem, who represents PTI on reserved seats for women when asked what was the reason behind joining PTI and become a politician, she said she always wanted to do some service for the people and it came from her family background, her father and then her husband served in armed forces( Air force) and she saw her mother active and doing community service since childhood and she did the same, after getting married; doing community service. Being a double post graduate in English, when her children grew up and were able to take care of themselves, she firstly opted to be a teacher. However, she realized she could not continue a monotonous routine, she switched to advertising field as copy writer and gradually promoted as Group head of the company. "I have been offered to join PTI as before 2013 also, but I felt I was not ready because politics everywhere and more so in Pakistan, is considered a man's domain. Women are often explicitly and implicitly discouraged from taking part. But there was some urge inside me to do some welfare things for people, something big on a mass level. So, I decide to join PTI and become President of women wing PTI, Karachi and remained so till 2018, when I have been selected for reserved seat for women in National Assembly."
Discussing her roles, achievements and performances in last three years as parliamentary secretary (PS) Syma Nadeem said that "in Senate my Minister for Inter-Provincial Coordination, Dr Fahmida Mirza responses to the queries of members but in National Assembly I as PS handle all queries of members NA. Inter-provincial coordination also handle sports department which has become a provincial subject after 18th amendment. With the consent of my minister, I have done and planned following:
1- Signed a MoU with Youth Ministry to start a talent hunt program in schools, colleges and universities. Those children who would be identified during this talent hunt will be given professional training to excel in their respective sports. The program has already been initiated.
2- Allocated funds for the development of sports complex in 13 districts of Sindh. In next phase complex will be designed in KPK and Balouchistan.
3- A day-care centre has been established in their ministry.
4- Syma Nadeem also drafted a bill on renewable energy. Upon which work has already been started.
5- She also drafted a bill on harassment policy for women ministry and submitted the recommendations to women caucus.
6- A 3-day sports expo is under pipeline with public-private partnership, where different stake holders of sports industry will participate. For 3 days different sports events would be organised. Different sports products would be displayed and multiple industries and exporters will be invited to attend. The key feature of the Expo will be a Book on female sports people in which our unsung female sports will be appreciated and saluted.
Due to a system of indirect elections, political parties award these reserved seats through nepotism and favoritism instead of qualifications or gender. For example, the list of female candidates for reserved seats by Pakistan Muslim League-Nawaz (PML-N) has remained confined to women that have close links with the party's male leadership. Same hold true for PTI in KPK, when MNA was asked to share her take, she said: "My Prime Minister Imran Khan, has the resolve to contribute to women's empowerment in line with Quid-e-Azam Mohammad Ali Jinnah's vision. He does not doubt women's potential to participate in politics since this is mandatory for advancing gender equality so that women-related policy issues and legislation come to the front. That is the reason In National Assembly we have 12 women parliamentary secretaries, which is the highest number in NA so far. Apart from this, we have many female Ministers like Shireen Mazari, Zartaj Gul, Dr Fahmida Mirza and many."
Our political party wants to have some gender-sensitive policymaking reforms, they need to elect, nominate, and even select more women for representation. If more women are elected to office, more serious and relevant policies and laws will be tabled. Our leader IK thinks that empowering women on higher level will bring change at grass roots level also, .Syma Nadeem added.
Women who enter parliament on reserved seats do not generally become natural candidates for general seats due to male dominated society and party structure Women lack the constituency experience, which precludes them from forming viable electoral connections to become competitive for the general seats, so does she plan to participate in direct general election in 2023? How does she plan to mobilize her voters?
Responding to the query MNA Syma Nadeem said, "Although the gender gap in the parliament is still high, the political individuality of female legislatures, arising from their active political struggle from the grassroots level, adds in her lessons for next electoral process. My journey from 2018 as MNA on reserve seats has added immense value in my experience and journey. Most female politicians in Pakistan directly enter politics via reserved seats without contesting elections. They do not have a constituency. They have no chance to campaign or appeal to voters. Therefore, they have low chances of winning. However, owing to the fact, I have joined politics out of my passion to help others on larger scale. I go out in my area where I live in and make sure to participate in local politics and to take interest in development projects. People of area know me very well. I have a deep connection with them. I never entertained myself as woman. I considered myself their representative and their fellow being. People of my area do not hesitate to approach me for any help and support. In fact I was surprised when female teams from a remote area of Balouchistan contacted me to visit Islamabad and I made all arrangements for their visit. That's how my connection is with the ordinary people".
Emphasizing the role of women entering parliament through electoral process Syma Nadeem stated that underrepresentation of women in the economic and political decision-making process is an obstacle to meet Millennium development goals. Meeting sustainable goals would not be possible unless women are given direct tickets to contest in electoral process. Without this participation, the fundamental rights of women are likely to remain unprotected and vulnerable. Without empowering and encouraging women to empower themselves they cannot become activists and community leaders"
Referring to Sarah Khan's 'Women in Electoral Politics: An Account of Exclusion' where she terms reserved seats for women as a "safety valve" and does not think they have led to women being competitive in mainstream electoral politics. In the 2018 general elections, the highest number of women candidates contested and yet fewer women (8) were successful on general seats in 2018 compared to 2008 (16) and 2013 (9). This shows that gradually women are becoming less competitive on general seats.
However, after meeting and knowing energetic MNA like Syma Nadeem, this theory seems going wrong. A very recent study has shown that whereas women constituted about 20 percent (or one-fifth) of the total combined membership of both houses of parliament, they contributed 33 percent (or one-third) to the parliamentary business. Today women are more proactive and at par with their male-counter parts in politics and parliament. Increasing women representation is crucial for social and economic cohesion.