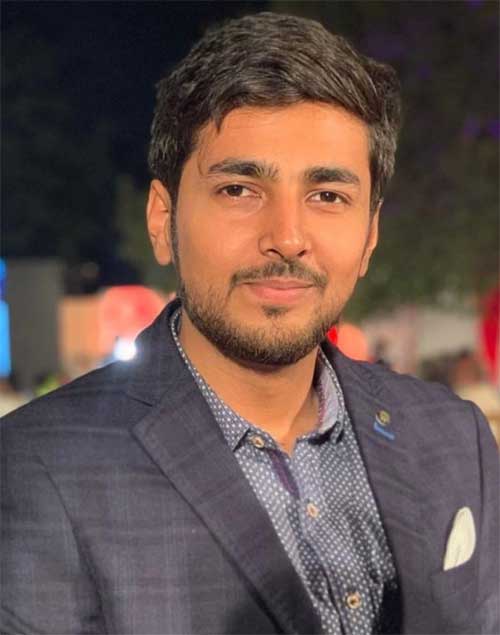 Last Day wake-up call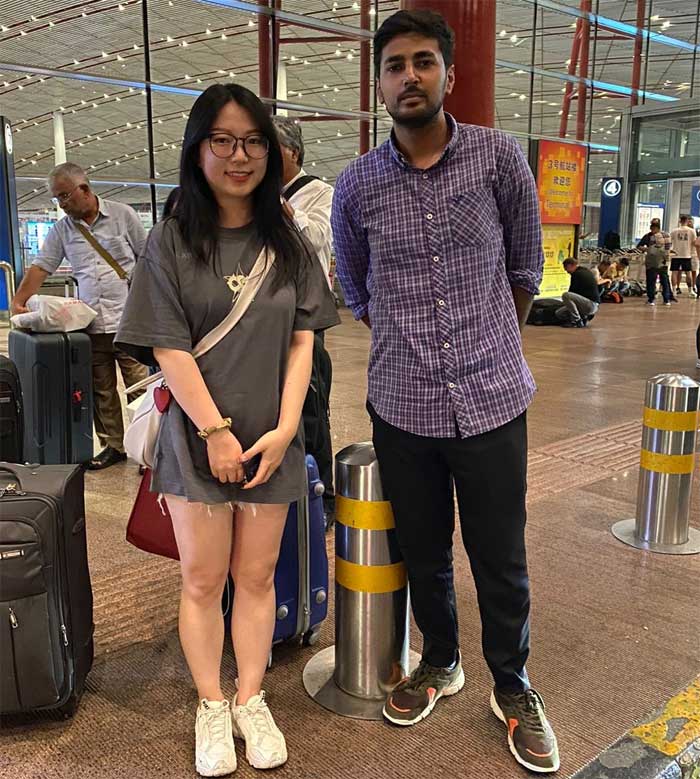 Writing late as I travelled back home and due to non-availability of internet, this part is being published after a gap of two days. We were staying at Ramada Suzhou, the phone bell rang at 7 in the morning, though it was hard to wake up as last night after writing the diary I went down in the lobby of the hotel, borrowed a lighter and lit up the cigar that I got from my very good colleague and one of the most professional and organized person I have ever met, Dr. Muhammad Ali. So I went down to the lobby and after lighting up the cigar I took a walk imagining that this time will pass and tomorrow I will be in the middle of China and Pakistan; it was an emotional feeling with which I continued walking on the streets enjoying peace of mind and drizzling that gave it even more aesthetic and nostalgic feel and not to forget I was also listening to music at the same time so it was some situation there I was going through.
I had thus slept late at night and woke up early, it was also on purpose as I knew I will have to travel a lot so I shouldn't take rest at night so I can sleep in the middle of travelling and won't get tired enough. So after waking up, I delayed the alarm and got in the lobby at 8:20 and had only 10 minutes left for our travel to the only place for the day that was at Higer Manufacturing Plant. Our guide was worried as it was Monday and traffic was too much on Mondays and we also had the bullet train travel, the guide said we have to be there on time and wait for the train because train don't wait for anyone; and it was funny. So I left without having the breakfast and we all gathered and sat in the coach and left for the Higer Company visit.
Higer Manufacturing Plant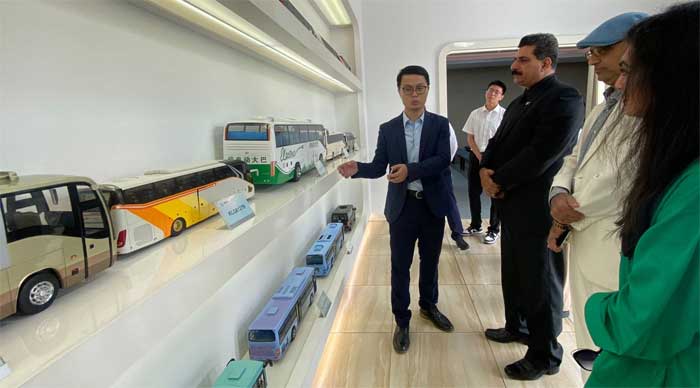 We reached the Higer Plant where we were greeted with a cannon type thing on the entrance. Once we reached their office the team was standing there already to greet us, I really love the attitude of Chinese people that they greet you from the entrance and come by themselves to receive you right from the beginning. We were then taken to their office where there was this huge display of Model Buses which reminds me of my own enthusiasm for cars and of my display rack at my home, it was almost the same but theirs was of buses. They showed us the models that are being exported to Pakistan and is currently running in EV bus service, they told us they have exported 250 units to Pakistan in total and they are currently exporting to 120 countries while manufacturing roughly around 11,000 units per year.
They then showed us a documentary in a theatre like room which showed their plans in future and it was surely a visionary documentary, there were step by step rooms for our visit that started from the display rack to the documentary than a sample half cut model with the back portion of the bus showing EV mechanism and the structure of aluminum frame that is being used in the bus.
The bus uses ADAS system that includes safety features such as auto breaking, lane keeping assist and many more. I was curious if they will also go driverless in the future, so as I asked the Senior Sales Manager Mr. Sean Tsui who was leading his team who told us they have a proto-type that we will get to see in a while that is driverless unit and can travel at the speed of 40km/h driverless and onwards if needed to be driven. We were then taken to the unit and got to experience it and it dropped us to their manufacturing plant where on a walk of almost 6-7 hundred meters we were shown how the unit starts from Chassis and then step by step how it turns to a complete running EV bus.
After the visit was over, we were taken to a meeting room where we were asked if we had any questions and these questions were answered by the team and they gave us model of the bus that was being exported to Pakistan, so we brought 8 more buses to Pakistan but they cannot be used for traveling as they are just toy models. We said goodbye to Higer team and went on our way to our last lunch in China.
Last Lunch at Suzhou and Bullet Train Travel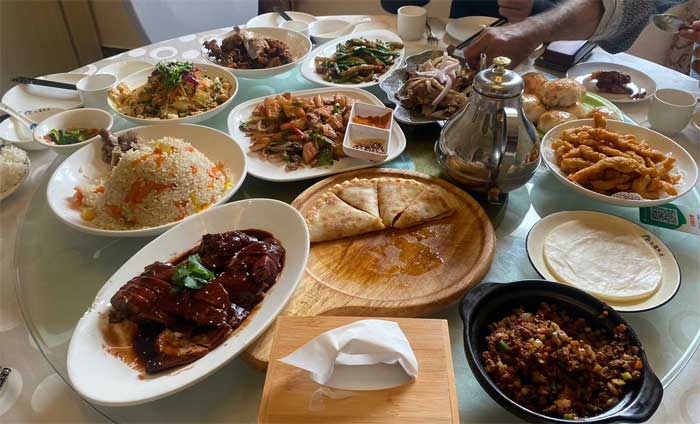 After reaching the restaurant we were already short on time and had to hurry up, the food was already served on our arrival and we started to eat it quickly while wanting to enjoy it thoroughly, there were a lot of dishes and for the first time in my travelling I tried every one of them as I knew it was my last chance and I will be eating the Pakistani food from Tuesday onwards until I visit again. We all enjoyed and discusses how everything went so smooth and even these 8 days feels like 8 hours and how time passes so quick and China is so big that even for exploring one of its small city we need at least a week, we didn't get to hear our member Javed Malik singing, probably because he also didn't want to leave and was not in the mood for singing.
Our departure for Beijing via Bullet Train from Suzhou was scheduled at 2:47pm and the train arrived at 2:35pm, our guide had taken a train to Hangzhou that was scheduled half hours before ours. So we got into the check-in line carrying all our baggage into the train and reached Beijing by 8:10pm making the total travel nearly around of 5 hours 23 minutes.
I am amazed how Chinese are so conscious about even each minute and recalled our guide saying that train doesn't wait for you, you wait for the train. Also I saw a car crash where the drivers don't fight but instead they put the warning cone on the lane and stay there until the police comes and involves insurance company to settle the damages and how even such things are executed so peacefully and calmly.
Final Goodbye to China, until we come back again!
Anyhow we reached at Beijing and I knew there was still a long way to travel back home and we had a flight already scheduled at 12:40am and our guide from the Ministry of Foreign Affairs Miss Thong was there at the Beijing Station to pick us up; we were glad to see her again and we were then taken to the Airport.
I was staring outside the windows and were trying to convince myself that I will come again as I am so much into China now that I am nearly loving it so much, the people, the cleanliness, the beauty, technology, historical places everything is 10/10 and the peace of mind is so much that one nearly forgets all their problems back home being in China, the love this Nation has given and the people who smiles at you and gives you thumbs up when they got to know you are from Pakistan makes you feel like so much acknowledged and loved.
The relationship between China and Pakistan and something out of this world and the role being played by China in bringing in peace to Pakistan via CPEC and BRI and other ventures should be acknowledged; so we can also become a peaceful and prosperous nation like China and take this relationship to new heights.
Miss Thong dropped us to the airport and stayed with us until the check-in was over and after making sure we were all good to go she went back and we waved her our final goodbye until our next visit hoping to see China grown even further being another step closer to their proactive and visionary approach.