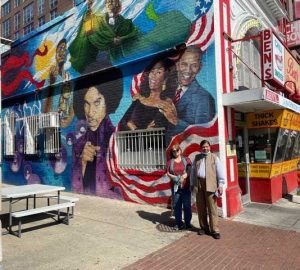 It was a crisp afternoon in early March when we visited Ben's Chilly Bowl-an immensely popular restaurant on U Street in Washington DC. Once, this street was known as the Black Broadway of Washington. There were theatres, restaurants, nightclubs, and many other places for entertainment. The development in this area started erecting chain restaurants and high-rise buildings; however, many expressed that "with all development on U street district, the history is getting lost."
Ms. Virginia, with her husband, Ben Ali, started Ben's Chilly Bowl after four weeks of their marriage in 1958. Ben Mahboob Ali came to the U.S. from Trinidad for studies at Nebraska University but then decided to go to the Howard University in Washington, DC.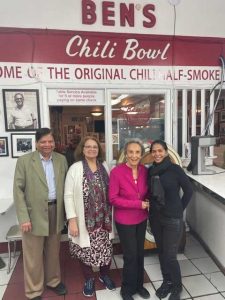 The restaurant displays living history. President Obama, Dr. Martin Luther King Jr., and many iconic figures from all walks of life have visited this famous restaurant. The life-size pictures of these and several stalwart personalities tell many stories.
I sat down with Virginia Ali, Ben's wife, now 87, a petite lively woman still driving her car, who comes to the restaurant every day, meets and greets customers.
Her children, along with her, manage the restaurant. Her youngest son Nizam Ali has a J.D. (Jurisprudence Doctorate), left his job when his father passed away, and started working at Ben's. Virginia's eldest son Sage Ali's wife, Vida Ali, who was one of the entertainment industry's most highly respected publicists in the business in Hollywood for twenty-five years, has also left her job and joined the family business.
"I have heard that Ben Ali repeatedly came to meet you," I asked her. She laughed and said that her proper job was at a bank where Ben Ali saw her.
He came three days in a row. I served him as others were busy. He left a note for me to call him. He was a handsome and confident man, but I did not call him as in 1957, ladies were not expected to call men. Our bank closing time was 2:00 pm, he called me at 2:45 and introduced himself, and said that he was a student at Howard University at the dental school.
"I knew some professors at the school mentioned names of few people whom he also knew. Considering it safe, I gave him my number to call me at home, and he invited me for dinner. We went to dinner escorted by one of our mutual friends. He met my family with our mutual friend, and they fixed a date, and the rest is history".
Q: As a young woman, born in Virginia, raised in the U.S., gets married to a man coming from a foreign country, how did you and your family feel about all this?
A: My parents were amazing, beautiful people; they raised us as well as anybody else, but not better than anybody else, so we did not have any attitude. We grew up in an atmosphere where the family remained a focal point of life. We worked hard, went to school, church every Sunday, and have dinner with our uncles and aunts, grandparents every Sunday. My father was also an entrepreneur, and he owned three hundred and fifty acres of farmland.
Q: How would you describe your relationship with your parents?
A: My father was a very calm, soft-spoken person; he never raises his voice no matter what happened. I was never spanked or had a threat of a spank. My parents set an example for us; we never heard my parents argue. We enjoyed the extended family system; my uncle's daughter of my age and I used to spend nights at each other's home.
Q: What were the activities of young people in college, in those days?
A: I went to a small African American Christian school in Richmond. In those days, young men and women would go to a hall in the college dormitory in the presence of the house mother (warden) for conversation. They could go out in groups and come back at a particular time, so there was control, and parents liked this control.
Q: Back then, there was no concept of girlfriend, boyfriend?
A: Oh, no, no, no, no. When I was a senior in college and at our Prom, I wanted to go with a little fellow, but there was a "no," no argument, nothing else.
Q: Children were also listening to their parents in those days?
A: My parents made us believe that we are exceptional and could do whatever we wanted but must be respectful to people. When I married Ben, I was anxious to get into the business and grow into it. Ben was a genius in business, and I was more comfortable with people. We established relations with the community as we wanted our business to be community-based and a part of the community.
Q: So, this restaurant was your first baby?
A: Oh, yes, Absolutely, we got married in 1958, and within few weeks the restaurant was opened. Our first child was born in 1960.
Q: Since you both were living in D.C., how was the community response?
A: In those days, society was very segregated. We found artisans, plumbers, electricians, and cabinet makers within a few blocks in the Afro-American community. They supported us and took care of us as and when needed. For example, we could call a plumber at three o'clock in the morning for any plumbing needs, and they would come and fix it. So, we could start this business, and we made it colorful, bright, and very modern. The window was just a big glass to see outside. We would open it at 11:00 am and close at 3:00 am on weekdays and at 4:00 or 5:00 am on Saturdays. I managed the restaurant during the daytime, while Ben took care of our children at home. He would come to the restaurant at night after I was back with the children at home.
Q: You have met Dr. Martin Luther King Jr. and saw his famous March. How did this March impact the people, especially the African American community?
A: Dr. King's office was few blocks away from our restaurant, and I had met him briefly when he came for lunch. He planned his March in 1963 and brought two hundred and fifty thousand people. I remember him telling me that he met with President John Kennedy and told him that he would bring people for protests against injustices that were happening to society. President Kennedy said that it was not a good idea to bring so many people as any incident will set your movement back. Dr. King said he promised the president that there would not be any incident. He delivered his famous speech in front of a mammoth gathering. Ben and I were very motivated; people were happy that we were making progress. In 1964, the legislators passed the Civil Rights bill and in 1965 saw the acceptance of the voting rights bill.
Q: Voting rights for African American people?
A: Yes, for everybody, including women. We continued the business until April 1968, when Dr. King was assassinated. Those days were exceedingly difficult. When we heard the news about Dr. King, nobody believed that our calm, nonviolent beloved leader was killed, but that was true. People were crying, it was a sad time, and that sadness turned into frustration, the frustration led to anger, and then an uprising began. This neighborhood was destroyed. By God's grace, we were the only place that was permitted to open during three nights of the curfew.
Q: Your family and restaurant encountered many difficulties, but you survived.
A: As a result of the riots, the middle class began to move away. Many businesses did not re-open, and then the heroine, crack, cocaine moved in, and the area became a ghetto. It lasted for about 20 years. In 1988, the construction of a Metro subway station started just in front of our restaurant. They dug the entire street sixty-five feet down. Only three businesses survived in the vicinity, an industrial bank, a flower shop, and Ben's Chilly Bowl. Lack of customers due to traffic blockade and absence of businesses was not enough to support or maintain our restaurant. My husband looked for alternatives to support the family, became involved in the stock market; that is another story. Although my husband had suggested closing it for a year, I differed with him kept it going.
Q: How was Washington during the attack on Capitol on January 6, 2021? How was the situation during the George Floyd protests?
A: When the George Floyd protests started, it was noteworthy to observe that the same injustices we fought back in the sixties were happening now. It was a renewed challenge to the community, but it was difficult for the people as they did not have a strong leader like Dr. King or others. They did all of their initiative and thoughts of injustices. Another significant difference was the cooperation of people from all backgrounds, races. They protested peacefully against injustices, what happened to George Floyd, and what is happening in this country. There is a lot of work ahead of us.
Q: What kind of change you observed in the African American community after these protests?
A: There are so many injustices taken place over the years; we cannot forget the time when women did not have equal rights, equal pay, and voting rights. After my father died, my mother could live her life on the land, but she had no right to sell even a small piece of the land.
Q: Why was that? It was her land.
A: True, but that was the law in the Virginia State at that time. So, you are fighting for women's rights, human rights, fighting for justice all around, and that is still going on today. No one would not have imagined the insurrection on the Nation's sacred building-the Capitol on January 6. it was unbelievable in this country.
Q: You just talked about women's rights. Did you see any impact on what Gloria Steinman did for African American and native women?
A: Yes, she had fought for women, and it did positively impact American women. She worked hard for them [African American and Native women], young women going to college becoming professionals. Sadly, they are still having trouble getting to the top. However, it is changing now. Today, we have a woman of color as our Vice President.
She concluded with a happy note, "I have been here long enough to witness changes in the society and the communities. I talked with Dr. King and welcomed President Obama's first visit to Ben's Chilly Bowl when he moved to Washington, and now we have a woman of color as our Vice President.