Pakistanis celebrate 73rd founding anniversary of China
Li Bijian attends KEC event to celebrate Chinese National Day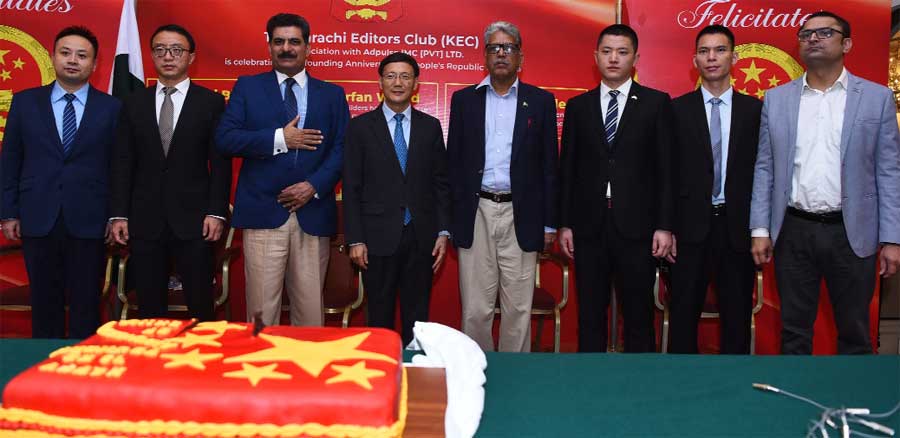 Mega event of this reporting week was the ceremony to celebrate 73rd founding anniversary of China arranged by Karachi Editors Club (KEC) in association with AdPulse IMC Pvt Ltd at a local hotel.
Consul General of China Li Bijian in his presidential address on this occasion shared China's economic and social development achievements and experience with all walks of life in Karachi, and introducing China's response to the flood disaster in Pakistan, the aid situation, China's principled position on the Taiwan issue, and the refutation of the so-called "human rights issue" in Xinjiang and the "debt trap" issue of the China-Pakistan Economic Corridor by Western countries have been widely recognised and praised by the audience.
Irfan Wahid CEO, GFS Builders & Developers was the Chief Guest, Haji Muhammad Rafique Pardesi Chairman HMR, Group, Lt. Gen. (Retd) Moinuddin Haider former Governor Sindh and ex-Federal Minister Interior and Senator Abdul Haseeb Khan Chairman Brookes Pharma addressed as the guests of honour. Mubasher Mir President and Manzar Naqvi Secretary General KEC addressed as hosts on this prestigious occasion. Khurram Jaffarani from Adpusle delivered vote of thanks.
Commercial Counselor Yang Guangyuan, Shang Hailong, deputy director of the Political Department, Zheng Chao, Consul of the Chinese Consulate and the guests from all walks of life including industry, commerce, and media, attended the event.
Li Bijian, in his presidential address also informed the economic and social development achievements of the Xinjiang Uygur Autonomous Region. Li said that since the founding of the People's Republic of China, under the correct leadership of the Communist Party of China, Xinjiang's economic aggregate has grown at an average annual rate of 8.3%, and its per capita GDP has reached US$7,000, with an average annual growth rate of 5.7%.
He said people's living standards have been greatly improved. Among them, the population of Uyghur compatriots has increased from 2.2 million in 1962 to 12 million in 2022, and life expectancy has increased from 30 to 74.7 years. In Xinjiang, the number of mosques has reached 24,400, twice the number of mosques in the United States, Germany, Britain and France combined.
When talking about the Taiwan issue, Li said that there is only one China in the world, Taiwan is an inalienable part of China's territory, and the government of the People's Republic of China is the only legitimate government representing the whole of China.
Irum calls on CG on behalf of the Federal Information Minister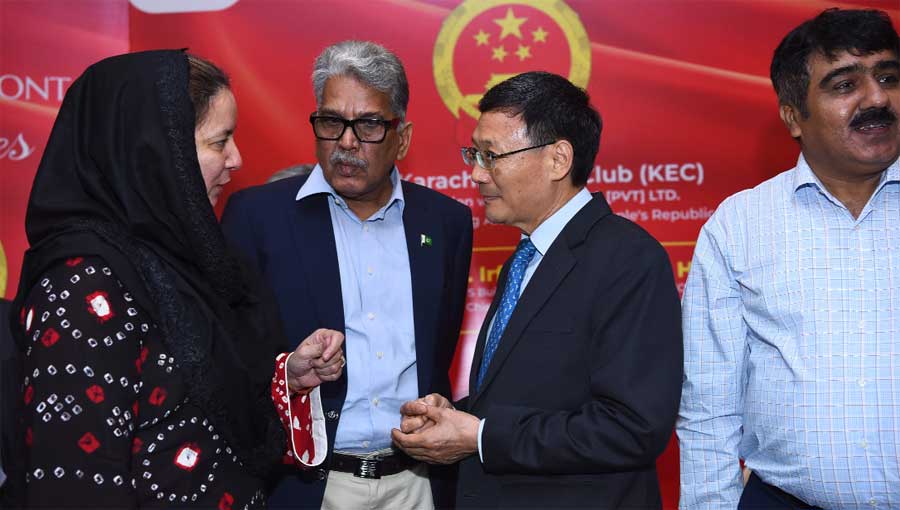 Irum Tanveer Director General Press Information Department (PID) Karachi on this occasion of the 73rd Anniversary of China arranged by KEC, met the Chinese Consul General at Karachi Li Bijian on and on the behalf of Federal Minister for Information Maryam Aurangzeb, and condoled with him on the brutal attack on Chinese dentists at Karachi a day before. She also remembered with heavy heart the attack on Chinese Teachers of Confucius Institute of Karachi University six months ago.
At the end of ceremony, Consul General presented her a shield of Appreciation on the occasion of 73rd founding anniversary of China on behalf of Karachi Editors Club and Adpulse IMC Pvt Ltd.
Consul General China delivers a keynote address at the KCFR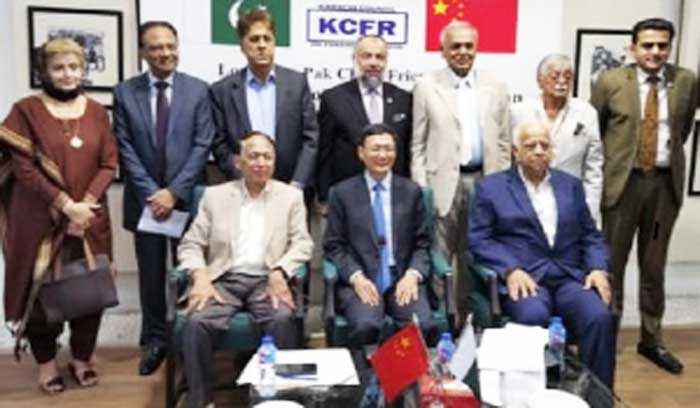 Consul General China Li Bijian after attending the KEC event visited Karachi Council on Foreign Relations (KCFR). He was received and briefed by the Ikram Sehgal, Patron-in-Chief, and Admiral Khalid Mir Chairman KCFR. Li Bijian delivered a keynote address at the KCFR which was attended by its members largely and the meeting was also attended by Shang Hailong, Deputy Director of the Political Section of the Consulate General of China.
Consul General Li said that the COVID-19 epidemic continues to rage in the world today, the global economy is in danger of recession, and the escalation of the crisis in Ukraine is delayed. Issues such as food, energy, production and supply chains, and climate change have become increasingly prominent. Peaceful development and win-win cooperation are the way to solve problems.
He said Pakistan has a young population structure, abundant remittances, and a sound economic foundation. It can overcome the current economic difficulties on its own. China and Pakistan have in-depth cooperation in the fields of economy, trade, investment and people-to-people and cultural engagement, and Pakistan's economic development will be stronger.
Li Bijian in his key note address informed the audience that President Xi Jinping clearly pointed out the leading role of the China-Pakistan Economic Corridor (CPEC) in practical cooperation between the two countries in 2015. The first phase of CPEC focused on inter-governmental cooperation projects and achieved fruitful results, including the construction of several coal power plants, hydropower plants, wind power plants, and nuclear power plants, and the completion of the M-5 Expressway, the second phase of the Karakurm Highway, and the Orange Line Railway and other major projects, which greatly alleviated Pakistan's electricity and traffic problems. Some negative remarks smear CPEC construction, claiming that it has created a so-called "debt trap" for Pakistan. The fact is that most of China's investment in Pakistan is free government assistance and preferential loans, and China's loans to Pakistan account for less than 10% of Pakistan's total foreign debt. The "debt trap" talk is complete nonsense.
The second phase of CPEC focuses on pragmatic cooperation in industries, agriculture and other fields, and is currently progressing steadily. The well-known Korangi Industrial Park and Dhabeji Economic Park are booming, and Chinese enterprises in Korangi Industrial Park are booming. The products are inexpensive, beautiful and durable.