Metro Matters
China CG Li Bijian awards certificates to writers, authors for contribution to cause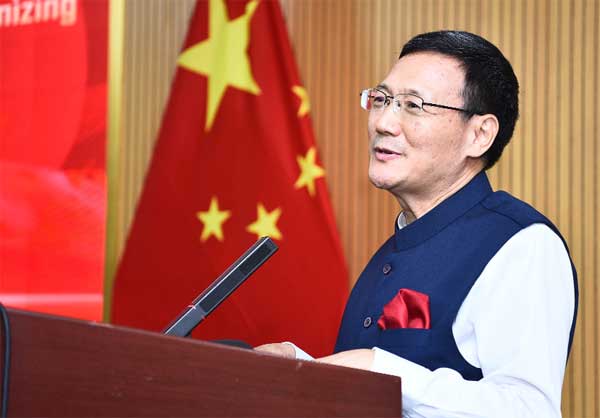 Metro Matters
Consul General of China in Karachi Li Bijian organised a beautiful and prestigious ceremony to award certificates recognising contributions promoting China and Pakistan's Mutual Understanding from writers, authors and others who serve the cause with zeal and zest during the reported week at the Chinese Consulate Karachi.
Li Bijian received every guest and saw off personally. He also spoke on the occasion and highlighted China's achievements in the last decade and appreciated the friendship between the two countries. He lauded the services of awardees. On this occasion including myself (Manzar Naqvi) as the Secretary-General of Karachi Editors Club (KEC), Yasir Habib Khan, Mian Abrar, Syed Hasan Javed, Amir Zia and Wamiq Zuberi addressed this occasion and following personalities awarded by the Consul General of China on behalf of the Government of China.
Aamir Riffat, Agha Masood Hussain Ali Shabbar Naqvi Amir Zia, Aneel Ahmed Usmani, Farasat Shah, Huma Baqai, Hussain Thebo, Iqbal Jamil, Iqbal Nafees Khan, Jawed Ahmed Malik, Maajid Chaudhary, Manzar Naqvi, Mian Abrar, Mubasher Mir, Muhammad Zubair Uddin, Mukhtar Ahmed Butt, Rasheed Jamal, Riaz Andy, Rida Saifee, Sajjad Ahmed, Sami Ullah Vohra, Shahida Wizarat, Shama Munshi, Sirajuddin Aziz, Syed Arfeen, Syed Hasan Habib, Syed Hasan Javed, Syed Nasim Haider Naqvi, Syed Saad Ahmed, Syed Zaigham Hussain, Talat Wizarat, Wamiq Zuberi,Wasif Shakil, Yasir Habib Khan, Zahid H. Karani.
The Financial Daily will publish a detailed report on this prestigious ceremony later in the following days. In Shallah.
FPCCI to facilitate PCA in all matters including exports

Metro Matters
Pakistan Coating Association (PCA) headed by Siraj Uddin, Chairman, PCA, visited the Federation Pakistan Chamber of Commerce & Industry (FPCCI), at the Federation House during the week.
The Acting President, of FPCCI, Suleman Chawla, welcomed and thanked the Association for their visit to the Federation Chamber. On behalf of FPCCI, he assured the PCA delegation to facilitate them in all matters and export of coating industry products.
He stated a lot of opportunities exist and emerging in CIS states, namely Azerbaijan, Uzbekistan, Tajikistan, Turkmenistan, also Afghanistan being our neighbours, PCA should target these markets to promote the coating business mainly focusing on exports. Through their good contacts with their counterparts and Pakistani consulates there, FPCCI can facilitate PCA in promoting the coating industry, Chawla stated.
He offered, PCA to obtain research data information also on CIS states from the R&D Office in FPCCI on request.
Chawla informed the PCA team that FPCCI recently had sent a delegation to one of the CIS States, where PCA Members could also be included in the same delegation if they had approached FPCCI earlier.
Talking about immediate opportunities for PCA, he apprised that URAN Chamber of Commerce plans to visit FPPCI shortly and an Export Exhibition is coming up soon in Indonesia, expect PCA to avail of these events.
Addressing the house, Siraj Uddin, Chairman, PCA, thanked FPPCI for extending a warm welcome to the Association. Believing on PCA slogan "Main Nahi Hum" he said let us all work together including FPCCI for the development of trade and business.
He requested FPPCI for their guidance to PCA in promoting and developing the coatingindustry.
Muhammad Yousuf, former Senior Vice Chairman, PCA, requested FPCCI to provide advice for promoting and enhancing new markets for coating products. Now that pricing are good in Central Asian Markets, Khalid Khanani, Former Senior Vice Chair ofman, PCA, seconded the idea for targeting CIS states.