Metro Matters
ACP pays tribute to screen and dialogue writer & playwright Javed Siddiqui

Metro Matters
Arts Council of Pakistan Karachi pays tribute to screen and dialogue writer and playwright Javed Siddiqui at Auditorium during the reported week. President Arts Council Mohammad Ahmad Shah, Famous broadcaster Zia Mohiuddin, famous poetess Zehra Nigah and Fatima Hasan participated.
Talking at the event Subcontinent's famous writer Javed Siddiqui said that I was a journalist but suddenly started writing films. I got married with the help of comrades but what happened was good my wife got very good, children are all talented but Sameer is my extension.
Javed Siddiqui said that it is said on our side that the children would have divided the angels. So I wrote that what came into the heart of the angels brought me into this family like Muhammad Ali Johar, Shaukat Ali Johar my grandfather and many great people in whose company, I trained and am here before you today.
He said that "Dil Wale Dulhania Le Jayenge" has become my identity but I want to make my identity something else. He said that there was no thought of writing the story of the film, today I think that life does not go by our will but by the will of some other force. I was in journalism. During the emergency in India, there was a need to write the story of a film, so a film writer would write it, so my name was suggested, but I was selected in a three-minute meeting. At that time my hands and feet became cold. I wrote the dialogues and you liked them.
Javed Siddiqui said that my prose is unconscious, poetry emerges from the best prose. He said that whatever I wrote for myself. My sketches are my own story. Many people say that one should not write like this, but I think that a writer should not be small.
He said that when I arrived in Delhi in 1960, the progressive movement was not so active, but with it, there were great people who did not discriminate against anyone. When I got married, Sultana Apa had 700 rupees in her account, out of which she gave 600 rupees to me. All the comrades helped, thus the marriage took place in Chande, but what happened was good, the wife was very good.
About his children, Javed Siddiqui said that all are talented, but Sameer is my extension. Farida Javed said that Javed is not only a writer but also a very good person, I liked him and got married, and which brother was angry for two years. Zahra Nigah, Fatima Hasan, Zia Mohiuddin and Ahmed Shah also spoke on the occasion. The audience in the packed hall gave him a standing ovation.
Nuzaira Azam renowned Journalist and Novelist and Dr Zafar Iqbal a scientist living in the USA were also on a Pakistan visit they also attended this ceremony along with their Karachi-based friends,
Irum Tanveer visits KPC to congratulate newly elected body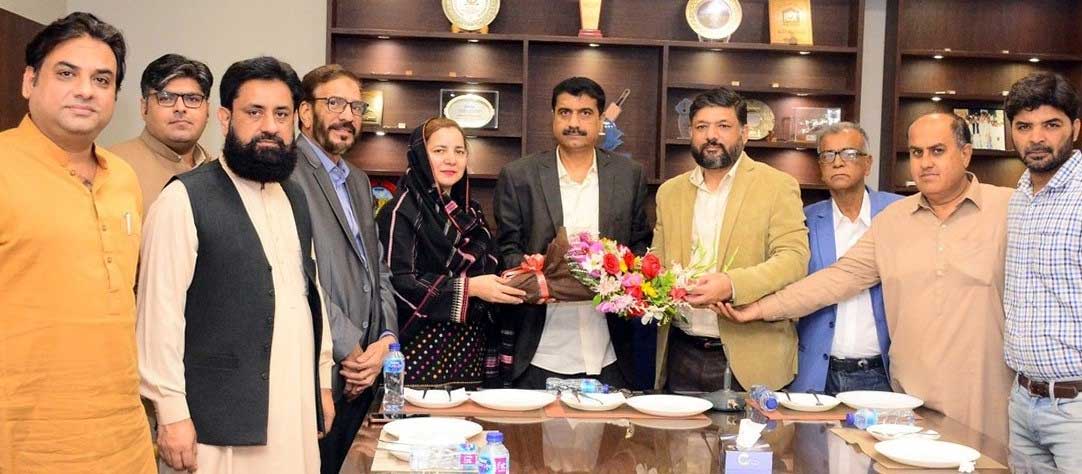 Metro Matters
Iram Tanveer Director General, Press Information Department (PID) Karachi visited Karachi Press Club (KPC) during the reported week and met the newly elected Governing Body. Karachi Press Club President Saeed Sarbazi and Secretary Shoaib Ahmed, Vice President Mushtaq Sohail, Joint Secretary Aslam Khan, Governing Body members Shams Kerio, Farooq Sami, Zulfiqar Wahoocho, Zulfiqar Rajpar and Ramiz Wahra welcomed the DG, PID on her arrival at the KPC.
Iram Tanveer congratulated the newly elected officials for their unopposed success and hoped that the newly elected body will keep the traditions of the Karachi Press Club alive and take it to greater heights.
Spiritual Evening About the Teaching of RUMI

Metro Matters
Khanqah-e-Mulana Roomi & PPEMF organised a Spiritual Evening About the Teaching of (Mulana Jalaluddin Rumi) Z.H. Khurram President (PPEMF) Dr Burhan Uddin Ahmed Saeedi was the keynote Speakers.
Cemal SANGU Consul General Turkey was the chief guest on this occasion and appreciated this initiative. Saeid Talabi Director Iran Culture Center Karachi, Anwar Haider, Mulana Asghar Dars, Ashok Kumar, Akhtar Mir, Saleem Khan, Barrister Shahida Jamil, Dr Asma Ali Shah, Khursheed Hyder, Syed Syedain Raza, Rehan Hashmi, Arshad Hussain, Naushaba Siddiqui, Manzar Naqvi, Sardar Akhtar Baloch, Tauqir Ahmed Khan, Bishap Khadim Bhutto, Sadar Amar, Waseem Uddin, Abdul Hameed, Akram Khan, I.H. Tipu, Haider Shah, Saleem Solangi, Asif Ejaz, Rahat Malik, Aftab khan, Naeem Khokar, Iqbal Zaidi, Fayal Mujeeb, Mehru, Shahid Ahmed, Najam Musavi, Liaquat Ali and various other renowned personalities of the city participated.