Metro Matters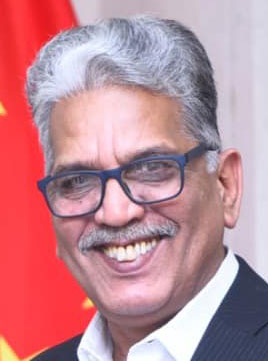 Li Bijian attends the opening ceremony of the 11th IDEAS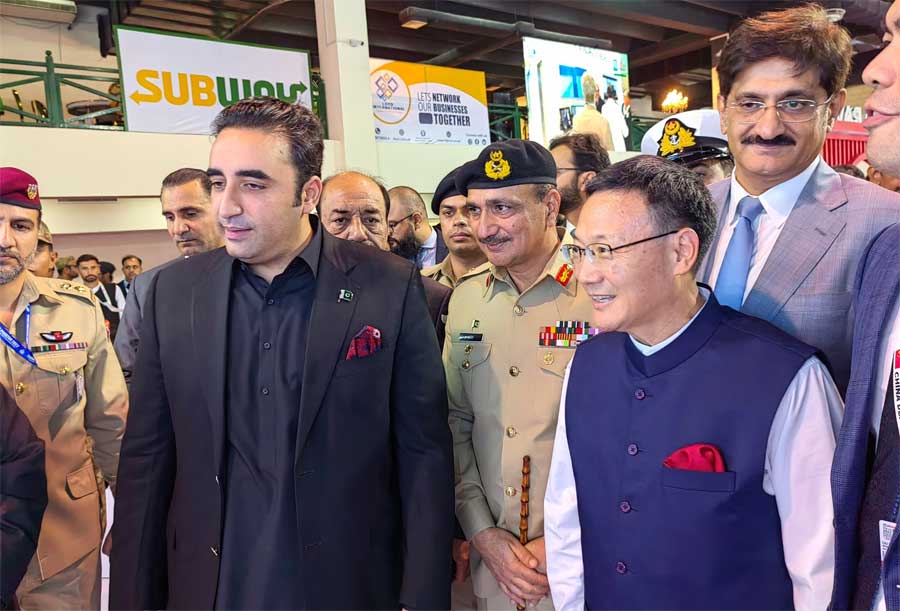 Metro Matters
Li Bijian, Consul General of China in Karachi attended the opening ceremony of the 11th International Defense Exhibition and Seminar (IDEAS) along with Li Yong, Deputy Military Attache of the Chinese Embassy in Pakistan during the last week.
Minister of Foreign Affairs of Pakistan, Chairman of the Pakistan People's Party (PPP) Bilawal Bhutto Zardari, Chief Minister of Sindh Syed Murad Ali Shah and other Pakistani dignitaries visited the exhibition area of China's military enterprises at the International Defense Exhibition and made relevant introductions on the opening day of the exhibition.
Wu Xiaojun, Director of the Cooperation and Exchange Center of the National Defense Science, Technology and Industry Bureau, Liu Jin, Assistant Military Attache of the Chinese Embassy, Zheng Chao, Consul General of the Consulate General, Aerospace Long March International Trade Co., Ltd., China Precision Machinery Import and Export Co., Ltd., China Aviation Technology Import and Export Co., Ltd., China Shipbuilding Industry Representatives of 7 participating military enterprises from Trading Co., Ltd., China North Industries Co., Ltd., China Electronics Technology International Trade Co., Ltd., and China Electronics Industry Engineering Co., Ltd. participated. Consul General Li Bijian also met with the Iranian Consul General in Karachi and Iranian generals at the China Pavilion at the IDEAS.
Pakistan International Defense Exhibition (IDEAS) is held every two years. The exhibition brings together global defense industry enterprises to showcase the latest technological innovations and hold a series of exciting activities such as world-advanced defense technology demonstrations and international seminars. This defense exhibition attracted about 300 military enterprises from 32 countries to participate the exhibition, and 285 high-level delegations from 64 countries participated and observed.
China's National Defense Science, Technology and Industry Bureau organized seven top domestic military enterprises including Aerospace Long March International Trade Co., Ltd. to participate in the defense exhibition.
UAV system, multifunctional unmanned boat, Y-9E transport aircraft, LY-70 air defense system, VT-4 main battle tank, SR5 multiple rocket system, YLC-2E multifunctional radar, command information system, electronic warfare defense System, communication navigation system and other high-end equipment have attracted extensive attention from professional audiences and many media.
Fourth book of Sana Pirzada 'The Raven's Call' launched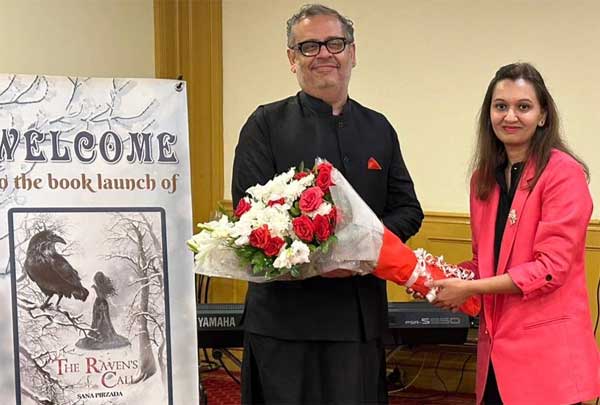 Metro Matters
Sana Pirzada, Barrister and Author has recently launched her fourth book, 'The Raven's Call', a detective fiction with elements of a gothic romance, during the reported week at a local hotel. The book, set in Victorian England in 1898 revolves around the tangled web of secrets of the strange household at remote Griffin Vale in Kent.
The novel focuses on several themes including secrets behind polite society, the realities of the British Empire, the pain of unrequited love, vengeance and the centuries-old legend of the ominous raven that has haunted the house. 'The Raven's Call' is a tale full of suspense that tests the protagonist Detective Eldrtich's skills to the limit until the shattering climax. Sana's work has been compared to those of Wilkie Collins, Edgar Allan Poe and Sir Arthur Conan Doyle.
CEO NAPA, Junaid Zuberi, who was the guest of honour at the occasion shared some profound words on the significance of literature and how pleased he was to see a Pakistani author writing a Victorian-era gothic romance. The book launch also included talks by Zafar Osmani, Managing Director at Excelerate Pvt Ltd and Dr Lubnab Ayub, Director General at the National Institute of Public Administration.
All speakers greatly appreciated Sana's numerous talents and brilliant writing skills. The book launch also included a verbal performance by Sana as well as a piano recital of one of her own compositions.
PCA delegation visits Karachi Chamber of Commerce & Industry

Metro Matters
Pakistan Coating Association (PCA) delegation headed by Chairman, Siraj Uddin made a courtesy visit to Karachi Chamber of Commerce & Industry during the week, to meet and greet the newly elected office-bearers of KCCI.
The President, KCCI Muhammad Tariq Yousuf welcomed the PCA delegation and appreciated them for visiting the Chamber. He emphasized to live together and work jointly. He also assured of all possible support to PCA in the development and promotion of coating industry. He suggested, a PCA member could be inducted in their Housing & Construction Committee also PCA can be a member of KCCI. Tariq Yousuf, also recommended PCA to participate in KCCI's "My Karachi Exhibition". He also offered to arrange a single country exhibition through TDAP.
The Chairman, PCA, Siraj Uddin while addressing the house thanked KCCI officials for extending a warm welcome to his delegation. He thanked Allah and his PCA members to nominate him as Chairman of the association. He also added that business related issues and problems are more or less common among us, hence, suggested to work together for promoting business. Siraj Uddin was of strong opinion, to believe on their slogan "Main Nahi Hum".
After introduction of participants, Muhammad Yousuf, former Senior Vice Chairman, PCA, apprised the house that PCA has signed MoU with LCCI and RCCI, and also looks forward to sign MoU with the KCCI. To enhance their Membership Drive, PCA plans to visit Balochistan shortly, as they have huge mineral and mining sector, which is also an important component of coating industry, he added. He said PCA is interested to induct their Member from Karachi as nominee in KCCI.
Knowing that Mr. Yousuf is one of the pioneer founder of PCA, also has an indepth knowledge and insights of the industry, as well as the Association, the Chairman, PCA, Mr. Siraj Uddin wanted the floor to be with him for a while, so that he can also come up with serious issues and problems being faced by the industry as a whole and members of PCA in particular.Metro Matters