Digital Media Association Karachi Chapter formed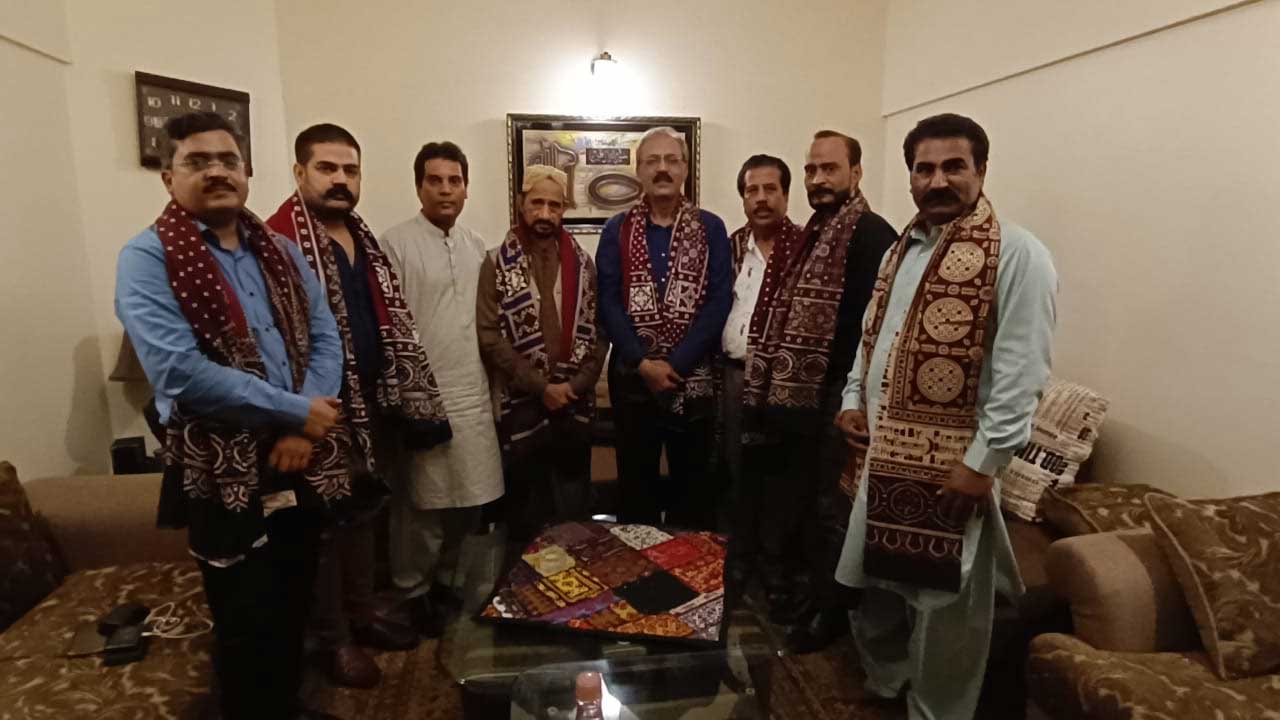 The country's renowned journalists belonging to print, electronic and social media have laid the foundation of Digital Media Association (Karachi Chapter) in a meeting held at the residence of Ghazi Salahuddin, CEO of Ghazi Media House, Clifton, during the week.
The office-bearers of the Digital Media Association (Karachi Chapter) are: Patron-in-Chief: Aftab Memon; President: Mukhtar Aqil; Chairman: Ghazi Salahuddin; Vice Chairmen: Manzar Naqvi & Abrar Bakhtiar; Secretary General: Syed Sabir Ali; Deputy Secretaries: Syed Athar Hussain & Akhtar Shaheen Rind; Information Secretary: Malik Munawar Hussain; Treasurer: Shahab Miraj.
Meanwhile, Mukhtar Aqil and Ghazi Salahuddin while addressing the meeting said that the Fifth Generation War will be fought with full force of the social media. They said that the campaign to create conspiracy between the people and the institutions would be countered on every front.
They lamented that the world is currently facing cyber war and we have to understand this nefarious conspiracy so as to settle it amicably.
He said that turning a political war into a cyber-war would create dangerous consequences and will have to understand this heinous conspiracy of our enemy.
Later, Ghazi Salahuddin presented gifts of Sindhi Ajrak to all the office-bearers of the Association. All the elected members participated also enjoyed the Hi-Tea hosted in their honour by Ghazi Salahuddin.
PCMW holds debates on Degrading Social Values, Role of Women in Society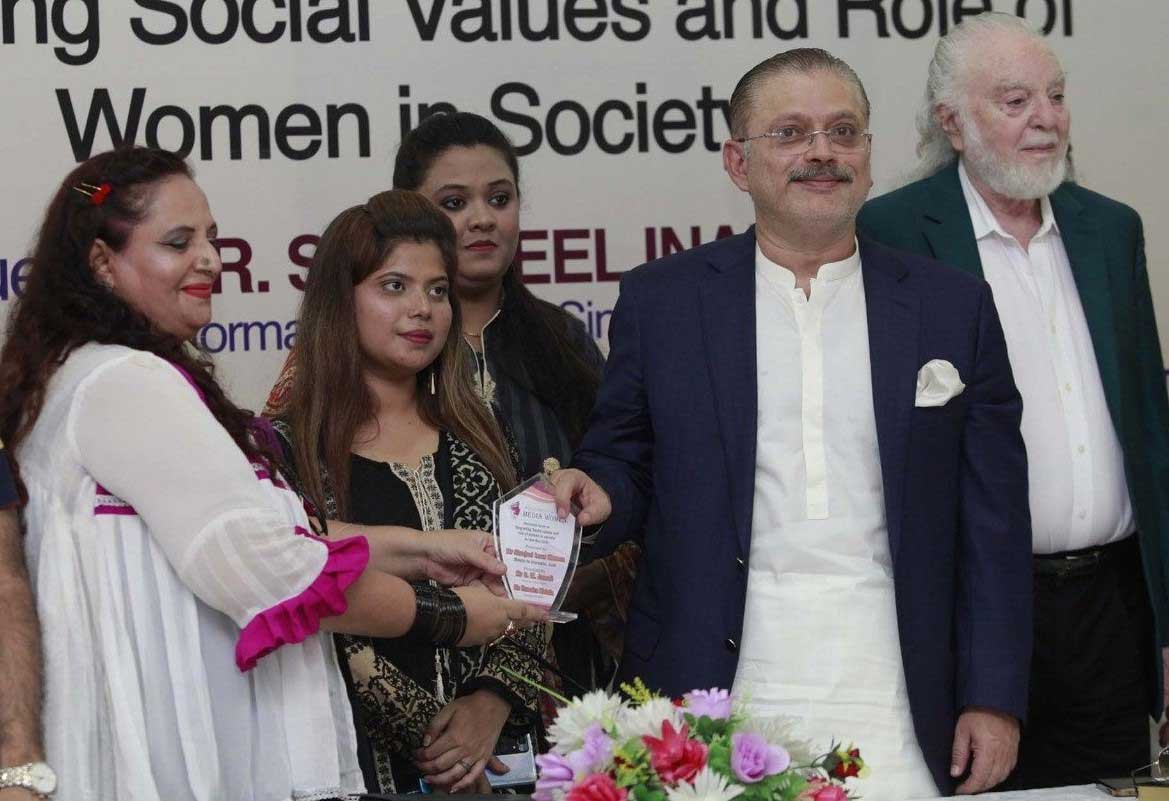 President Pakistan Council of Media women (PCMW) Humaira Motala organized an Interactive Debating session on "Degrading Social Values and Role of Women in Society" during the reported week.
Renowned Philanthropist and Business community leader Senator Abdul Haseeb Khan Presided the session while Sindh Information Minister Sharjeel Memon was the Chief Guest. Executive Producer GEO Munazza Siddiqui, SSP Investigation Shahla Qureshi, Aamra Shahid content head GEO Entertainment, Shahnaz Ramzi, Dr Farah HoD Criminology and Psychology Karachi University Metropolitan University Vice Chancellor Shahida Sajjad, Chairman Legal Aid Plus Altaf Khoso, Scholar Farhana Owais, Drama Artist Humaira Bano, Shahida Murtaza, Rizwan Jaffer, motivational speaker Neha Mubeen, Mass Communication Professor Madam Rafia Taj, Anchor Yasmin Mirza, Mubasher Mir, Abrar Bakhtiar, KUJ President Aijaz Ahmed, Farid Ahmed Editor Medical Review, Media Influencer Jahan Ara Khan, Nargis Alvi Ex Principal Habib Public school, Syed, Arzoo from Habib Metro, writer Seema Manaf, Asad Abbas, Lish Sharbeen, journalists Kanwal Jatoi, Ali Waqas, Seerat Asia participated as panelists.
Speakers on this occasion appreciated this initiative taken by Humaira Mortala to highlighting the Role of women in every field of the society.
'Aik Tou Tum Aurtain' is a tribute to women in the wake of the pandemic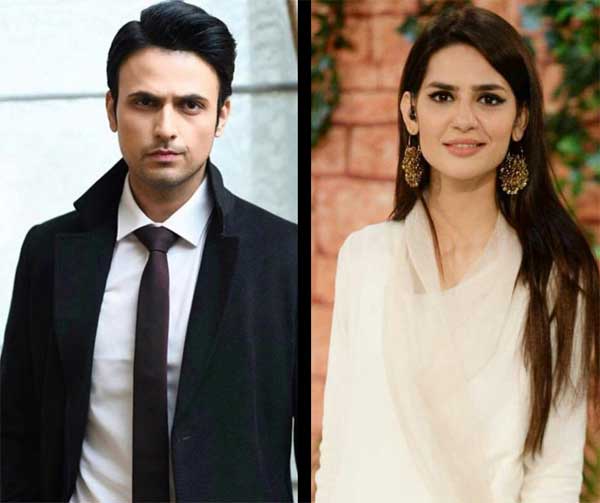 Known for his exceptional performances and profound character choices, Usman Mukhtar once again delivers a strong message through the insightful execution of his role in 'Aik Tou Tum Aurtain'; SeePrime's latest short film.
Directed by Nadeem Baig, with Madiha Imam as the leading lady, this new short film is a tribute to all the women and home workers without whom we could not have survived the global pandemic, while also highlighting their importance in our everyday lives.
In this short film we can see how well Usman Mukthar has performed, truly depicting the social stigmas of how men treat women in the society and at their homes. He has really taken this role to his heart as he shows the world exactly what is wrong with the way women are mishandled and misjudged starting from their very own at their homes.
We all know how tough the pandemic was and during that stage, the women in our societies really held fort and globally fought this pandemic as resilient mothers, daughters, sisters and coworkers.
"This project is one that is close to my heart. I have always felt that our society discredits women and continually tries to put them down. I am so glad that I have had the opportunity to work on a project that is tackling and shedding light on a narrative mostly swept under the rug. We all know how challenging the pandemic has been, and it is high time we recognize the importance of the women in our lives that make our houses into homes, and give credit where it is due", stated Usman.