DIG Dr Maqsood called on Yundong C.G. China in Karachi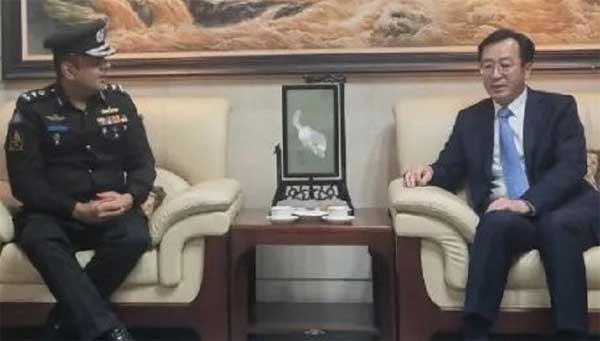 Consul General of China in Karachi Yundong Yang met with Dr Maqsood Ahmed, DIG Security and Emergency Services Division, Sindh Police Karachi during the reported week at the Chinese Consulate Karachi. Yang on this occasion said that this year marks the 10th anniversary of the launch of the China-Pakistan Economic Corridor. The construction of the corridor has entered a stage of high-quality development. China-Pakistan cooperation and personnel exchanges are facing new opportunities. He hopes that the Sindh Police will further implement enhanced security measures to ensure that Chinese personnel and institutions and project security.
Masood Ahmed introduced the important security measures recently taken by the Sindh police, saying that protecting the safety of Chinese personnel, institutions and projects in Pakistan is an important duty and a glorious mission of the Pakistani police, and they will do their best to do the relevant work well.
The two sides also exchanged views on strengthening China-Pakistan local police exchanges and cooperation as well.
Call to transform Karachi into a humanistic Eco-City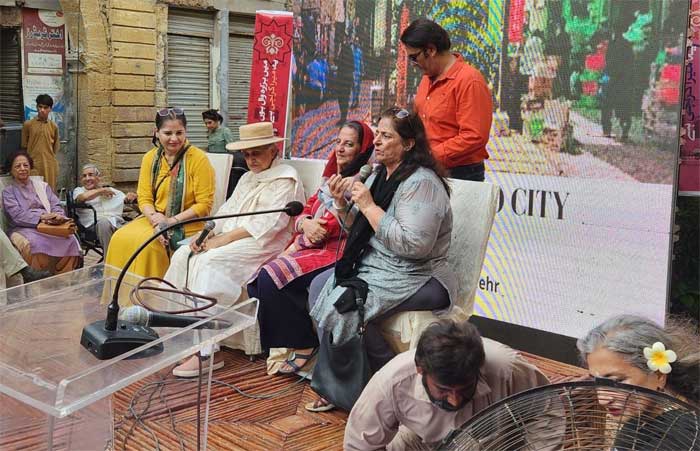 The much celebrated and recent awardee of RIBA Royal gold medal, Dr Yasmeen Lari, CEO Heritage Foundation of Pakistan held a street tea get-together with Karachiites from all walks of life here earlier Monday, at Denso Hall Rahguzar Walking Street. The objective of getting the motely gathering together especially at Rahguzar, a model eco-enclave in the heart of the busy congested city, was to call Karachiites to take ownership and join hands to transform Karachi into a humanistic eco-city, and to witness first-hand the huge possibility and potential of such an eventuality.
The event, hosted by Arif Bahalim a founding member of Karavan Karachi, an initiative launched by Heritage Foundation in 2000, in order to create awareness of the city's unsung wealth of heritage at the time, began with a welcome and walk down memory lane by the host.
He then invited Shanaz Ramzi, Director Heritage Foundation and founding member of Karavan Karachi who was also wearing the hat of co-host of the event as president Rotary Club of Karachi New Central, to give her welcome address.
She explained that this was originally planned as a celebratory event by her club – of which Yasmeen Lari is a founding member, and which has been supporting Heritage Foundation's activities from day one, including the cleaning of Denso Hall, supplying books for its library and constructing a bathroom for it, soon after the formation of the club – for the great honour bestowed on her and the country by King Charles, but was hijacked by Lari who felt that rather than waste time in celebrations the need of the hour is to work collectively for Karachi's betterment. Hence, the programme's focus was changed to one of awareness-creating and supporting Karachi to become an eco-city.
A documentary created by Ramzi and ArifBahalim on Karavan Karachi and its achievements was then shown to jog the memories of those present on the events that had taken place in 2000 to celebrate Karachi as a historical city. The core Karavan group comprising Yasmeen Lari, Shanaz Ramzi, Arif Bahalim, Shaha Tariq and Afroza Bhamani were then invited on stage to share their memories.
Starting from where the documentary left off, Heritage Foundation's recent phenomenal work during the floods was showcased highlighting humanistic humanitarianism, for the people and by the people – achievement through self-building.
This was followed by an introduction to Humanistic Eco City by Yasmeen Lari, placing Karachi on the map of Eco and Heritage Cities of the world. She then made an impassioned call for active participation in the metamorphosis of Karachi and launched the concept of Meri Gali Mera Sheher a community mobilization programme to develop ownership of Karachi. She showed a
Slide presentation highlighting the pathetic state of the city – urban degradation, urban heat islands, urban flooding – and loss of heritage, fad with multi-storeys, depicting a complete lack of ownership. She then introduced projects such as Kharadar Chowk development, Nullah near PSO House: Protoype Aquifer drain + green spine, and Ranchore Lines – Eco Street for greening Mohallahs that could be undertaken to transform the city. She also offered pro bono design services by Heritage Foundation to achieve these goals:
Her words resonated with the attendees, igniting a spark of hope and determination in the hearts of all present, and many registered on the spot for some kind of volunteer work to help salvage the city, and also spoke enthusiastically on the mike about their plans.
Social Responsibility sets up medical camps on way to Ashoora procession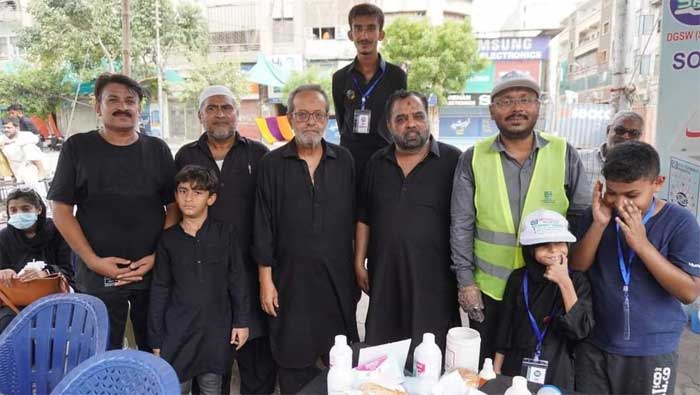 Social Responsibility Organisation had set up Medical Camps on the way Ashoora procession on 10th of Muharram at Regal Chowk, Saddar Karachi.
Z.H. Khurram (President SRO), Dr Rizwana, Dr Kashif, Dr Faheem, Dr Aliya Haider, Javed Raza, Col Shah Ali, Maqar Mehdi, Magan Singh, Mehdi Bhai, Zaigham Abbas, Nadeem Tasaduq, I.H. Tipu, Murtuza Haider, Akbar Mehdi, Iqbal Raza, Naveed Bhai, Rehman Hashmi, Naqi Haider, Mehdi, Liaquat Ullah and other friends participated in the camps and served to the Zaireen Imam Hussain (A.S) and Zanjeerzani performer.