Yang Yundong holds meeting with Chief of the Karachi Police


In a significant diplomatic interaction, Consul General of China in Karachi, Yang Yundong, convened a meeting at the Chinese Consulate Karachi during the reported week, with the distinguished figure of Karachi Police Chief, Javed Alam Odho. The purpose of this engagement was to foster stronger collaborative ties between the two entities, with a primary focus on matters of operational synergy and security dynamics.
Javed Alam Odho, a distinguished officer with notable accomplishments, currently holding the position of PPM, PSP Additional Inspector General of Police Karachi, boasts a rich portfolio encompassing leadership roles in pivotal domains such as crime investigation agency, security and emergency services, traffic police, and various other key departments within the Karachi Police. His extensive experience also extends to serving as a police chief in diverse districts of the Karachi City.
During this meeting, Consul General Yang Yundong extended his gratitude towards the Karachi police for their unwavering commitment to upholding stringent security measures for the safeguarding of Chinese personnel, institutions, and projects. He underscored the ever-evolving nature of the China-Pakistan all-weather strategic partnership, which is marked by deepening ties. In particular, he highlighted the impressive strides made in the development of the China-Pakistan Economic Corridor (CPEC), a venture that has yielded substantial outcomes and is now entering a phase of high-quality advancement.
In light of this, the Consulate General expressed its readiness to sustain a robust line of communication with the Karachi police. This engagement aims to foster further collaboration across pivotal domains such as bolstering security protocols, enhancing capacity-building endeavors, and facilitating local police exchanges with their Chinese counterparts. Such efforts, Consul General Yang emphasized, are pivotal to erecting a resolute defense barrier.
Javed Alam Odho and his accompanying delegation echoed their steadfast commitment to nurturing the enduring friendship between Pakistan and China. They articulated the Karachi police's dedication to intensifying law enforcement collaboration between the two nations. Emphasizing their resolve, they affirmed their dedication to implementing an elevated security strategy, thereby ensuring an environment conducive to the safety of Chinese personnel, institutions, and ventures within their jurisdiction.
CG China meets with Chairman ABAD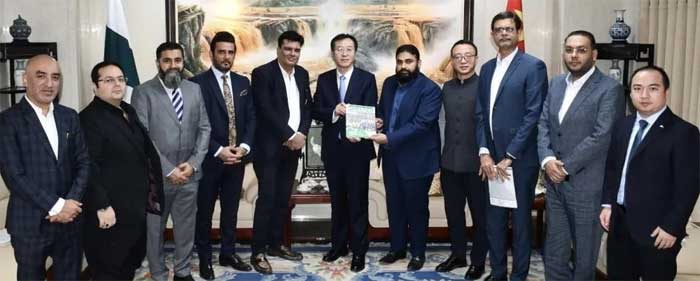 During the week, Yang Yundong, the Consul General of China, had also a productive meeting with Ataf Tai, the Chairman of the Pakistan Builders and Developers Association (ABAD), during the week. Also present at the meeting was Counselor Yang Guangyuan from the Consulate General.
Yang Yundong remarked on this occasion that the Pakistan Builders and Developers Association has effectively harnessed the collective strength of enterprises and played a pivotal role in Pakistan's urban development and the economic and trade cooperation between China and Pakistan. Emphasizing that the China-Pakistan Economic Corridor (CPEC) operates as an inclusive and open collaboration framework, he warmly welcomed member companies of the association to actively engage in corridor construction. This engagement, Yang noted, would not only serve to fortify the partnership between the two nations but also deepen the longstanding ties between China and Pakistan.
The Consulate General stands ready to facilitate the participation of association members in exhibitions and exchanges hosted in China.
Ataf Tai and his delegation responded with enthusiasm to Yang's insights. They acknowledged the noteworthy accomplishments in the development of the China-Pakistan Economic Corridor and expressed a keen interest in drawing lessons from China's relevant industries' developmental experiences. Ataf and his team also conveyed their aspirations to enhance their involvement in the corridor's construction, aiming for increased collaboration and mutual growth.
LadiesFund 10,000 wheelchair drive
As a significant step within the Dawood Global Foundation's LadiesFund 10,000 wheelchair drive, #LFWheels, aimed at enhancing mobility for Pakistanis, the Foundation has joined hands with Bank Alfalah Islamic to distribute 100 wheelchairs to the Indus Hospital, during the week.
Tara UzraDawood, President of the Dawood Global Foundation, expressed her profound gratitude towards Bank Alfalah for their remarkable generosity and unwavering support in realizing the vision of distributing 10,000 wheelchairs throughout Pakistan.
Syed Faraz Ahmed, Senior Vice President of Digital Products at Bank Alfalah Islamic, stated, "Bank Alfalah Islamic takes immense pride in its association with the Dawood Global Foundation LadiesFund for the distribution of these 100 wheelchairs to the Indus Hospital. We eagerly anticipate future collaborations, reaffirming our commitment to working closely with the Dawood Global Foundation."
TCB-1, SSRL receive environment awards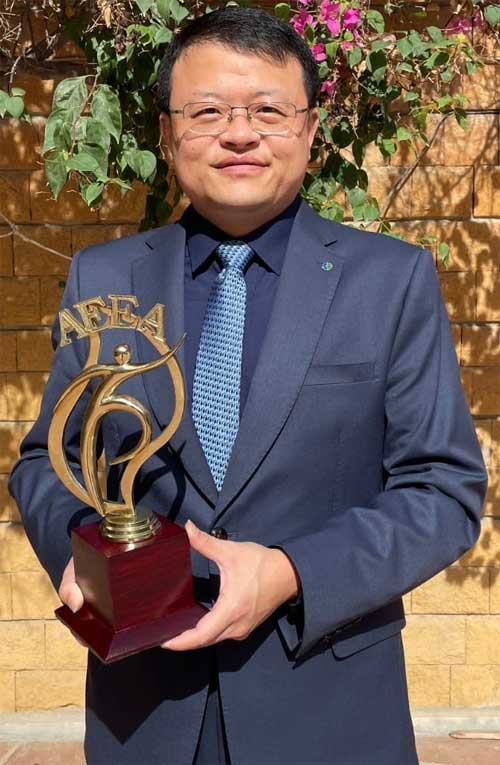 TCB-1 and SSRL, subsidiaries of Shanghai Electric, have been honored with awards for their environmental achievements. These two entities, which are dedicated to the 1320MW Thar Block-1 Integrated Coal Mine and Power Project, are focusing on enhancing community development, as emphasized by Meng Donghai, Chairman of TCB-1 and SSRL. The awards were received at the 20th Environment Excellence Award 2023, presented by the National Forum of Environment and Health (NFEH) during the week. This recognition coincided with a conference centered on "Adapting Urban Transportation to Climate Change."
Meng Donghai reaffirmed his company's commitment to community welfare, particularly in the context of their involvement in a significant CPEC priority project. He expressed his satisfaction in receiving the award for the third consecutive year and stressed the company's profound dedication to environmental preservation and public health.
Donghai highlighted the multifaceted efforts the company is making to enrich the lives of the local population.
Underscoring their contributions, Donghai noted that the Thar Block-1 Integrated Coal Mine and Power Project has yielded over 18,000 job opportunities for the local workforce, along with noteworthy contributions including a cumulative tax payment of $120 million and a significant CSR expenditure exceeding $1.3 million.