Karachi Night Market by LadiesFund
Rural women artisans from all over Pakistan – from the mountains of Kalash to the deserts of Thar – have come to Karachi to showcase and sell their work at the Karachi Night Market by LadiesFund at Bagh Ibn-e-Qasim Park, as part of the All Fruit, Flower and Vegetable show organized by KMC and Horticulture Society of Pakistan. Free and open to the public, citizens of Karachi were invited to attend free to support these courageous women as well as a gift to the community. 100 stalls of women entrepreneurs from across the nation including some delicious food stations as well made for a perfect family outing this weekend.
"It is important for us to support the economy during these difficult times, especially the SME women entrepreneurs and rural artisans who in many cases have struggled the most during lockdowns. Thanks to DG Parks Taha Saleem and the amazing men and women behind the scene, we are able to hold Pakistan's first ever night market is a safe, huge, open air park with plenty of space for social distancing," said Tara Uzra Dawood, President of LadiesFund, who is the visionary behind the Karachi Night Market.
DG Parks Taha Saleem ensured safety for all, providing free masks and encouraging social distancing.
"People need entertainment and enjoy our culture," said Masood Lohar, Founder, Clifton Urban Forest.
"Karachi Night Market has offered an avenue not only for skilled women across the country including Kailash to present their handicrafts to Karachiites but also added cultural diversity to the ongoing flower show," added Irshad Sodhar.
"Let's all make sure that we support these talented women by purchasing their craft, and remind people that Karachi is truly the city of dreams. No commission is taken by the organizers and 100% of proceeds will directly go to these dynamic women of Pakistan. Our culture has existed for thousands of years. Let's all make sure our traditions continue," said Ms. Dawood, whose LadiesFund is working on technological solutions to connect sales for all women of Pakistan.
LadiesFund is also planning night markets in other cities, as well as striving to facilitate these women to apply for loans through the State Bank of Pakistan women SME scheme.
The event was a two-day affair, inaugurated by Commissioner Karachi Naved Ali Shaikh on Saturday, with a special Sufi musical performance by Shah Latif's Women Ragis, which for the first time, featured female singers.
Day two featured Chief Guest Murtaza Wahab, Chief Minister of Sindh on Law, Anti-Corruption Establishment, and Information, as well as Deputy Commissioner South Irshad Sodhar, and a speech by DG Parks Taha Saleem. The national anthem was performed by popular singer Jana Nazabeth and there was an inspiring speech by Special Guest Sayed Gul Kalash, who had traveled 16 hours from Kalash to be part of this inaugural event.
Tara Uzra Dawood also gave a moving speech about how she conceived the idea of a night market for Karachi and the journey bringing so many women across the nation together in this way.
"It has been the most amazing two days seeing the fruit of months of work come to life," said Ammad Siddiqui, Dawood Global Foundation, who was #LFKNM Supervisor whose worked tirelessly to bring this event to life, "It's all to support the women of our nation."
5 Ikebana groups receive praises by CG Japan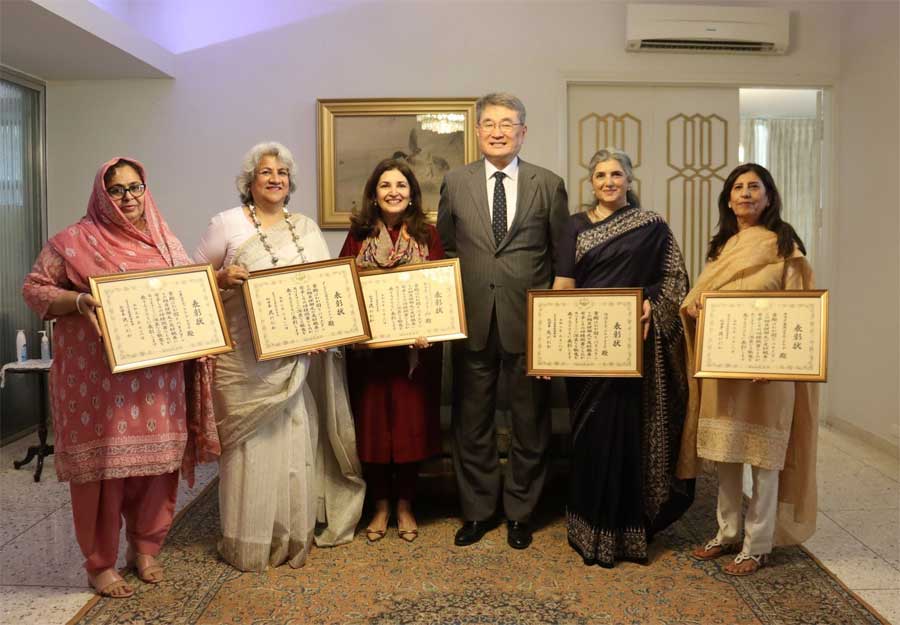 Toshikazu Isomura, Consul-General of Japan in Karachi, conferred the Certificate of Commendations upon five Ikebana groups in Karachi, in recognition of their significant contributions towards the promotion of Japanese Ikebana art of flower arrangements in Pakistan and their participations in events held by the consulate such as Japan Fest, adding to its success.
Isomura, presented the commendation to Ikebana International Karachi Chapter 204, Ikenobo Study Group Karachi, Ohara Study Group Karachi, Karachi Sogetsu Study Group and Indus Sogetsu Study Group.
Furthermore, while extending his congratulations to the Ikebana groups, Isomura encouraged them to expand their activities such as Ikebana exhibitions and workshops in other cities which will promote the art of Ikebana in the country.
Concluding the event, the presidents of each group extended a note of thanks to the Consul-General and desired to advance their activities to spread the art of Ikebana with more enthusiasm.
Musical short film 'Bewafa
'
Anoushay Abbasi will now be seen playing the leading lady in the Musical Short Film 'Bewafa' to be released on YouTube. Anoushay Abbasi, alongside Wasil Tanweer and Ahmed Randhawa, takes us on a roller coaster of emotions in this Romantic Musical Short, for which the song has been sung by Nabeel Shaukat Ali, under the direction of Fahad Nur.
"This story was so heart-breaking, that when it was narrated to me, I was immediate intrigued to play a part in it," said Anoushay Abbasi. "As an actor, I love the margins and avenues we get with the advent of digital platforms, that with television we don't get."
Anoushay Abbasi has been starring in back-to-back critically acclaimed drama serials, and currently you can see her in 'Prem Gali' (ARY Digital) every Monday and Raqse-Bismil (HUM TV) every Friday.