Residence of Imam Khomeini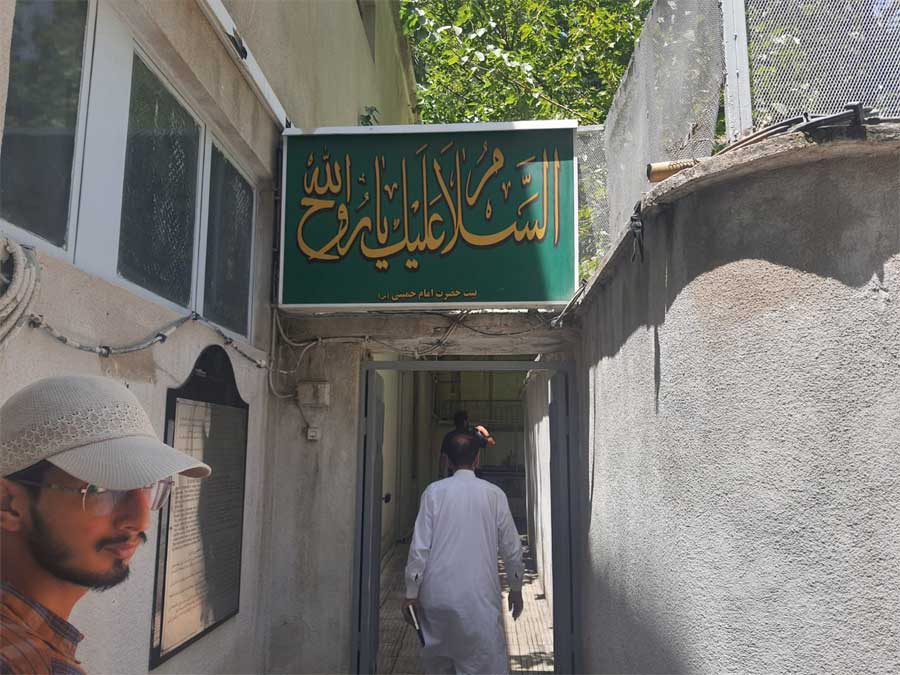 It was the third day of our visit to Iran for 7 days along with Ali Fatmi. After the breakfast we moved to visit Imam Khomeini's residence where he used to live in a very small two-bed house on rent after the Islamic revolution of Iran.
When we approached in the area where he lived after long walk in small and thin streets, we reached the house of Imam. After the proper security checkup, we entered this street where Imam Khomeini lived.
The Residence of Imam Khomeini holds significant historical and cultural importance in Iran. Located in Tehran, it served as the home of Ayatollah Ruhollah Khomeini, the founder of the Islamic Republic of Iran. The residence showcases the modest living quarters and personal belongings of Imam Khomeini, offering visitors a glimpse into his life and teachings. It stands as a symbol of the revolution and the ideals of the Islamic Republic, attracting pilgrims and admirers who come to pay their respect to the revered leader and gain insights into Iran's modern history.
At the end of our visit, Asrar Askar Khani head of The Institute for Compilation and Publication of Imam Khomeini's work presented us few books of Imam Khomeini. He also briefed us about the residence of Imam which we will share later, in details.
The Institute for Compilation and Publication of Imam Khomeini's work (International Affairs Department)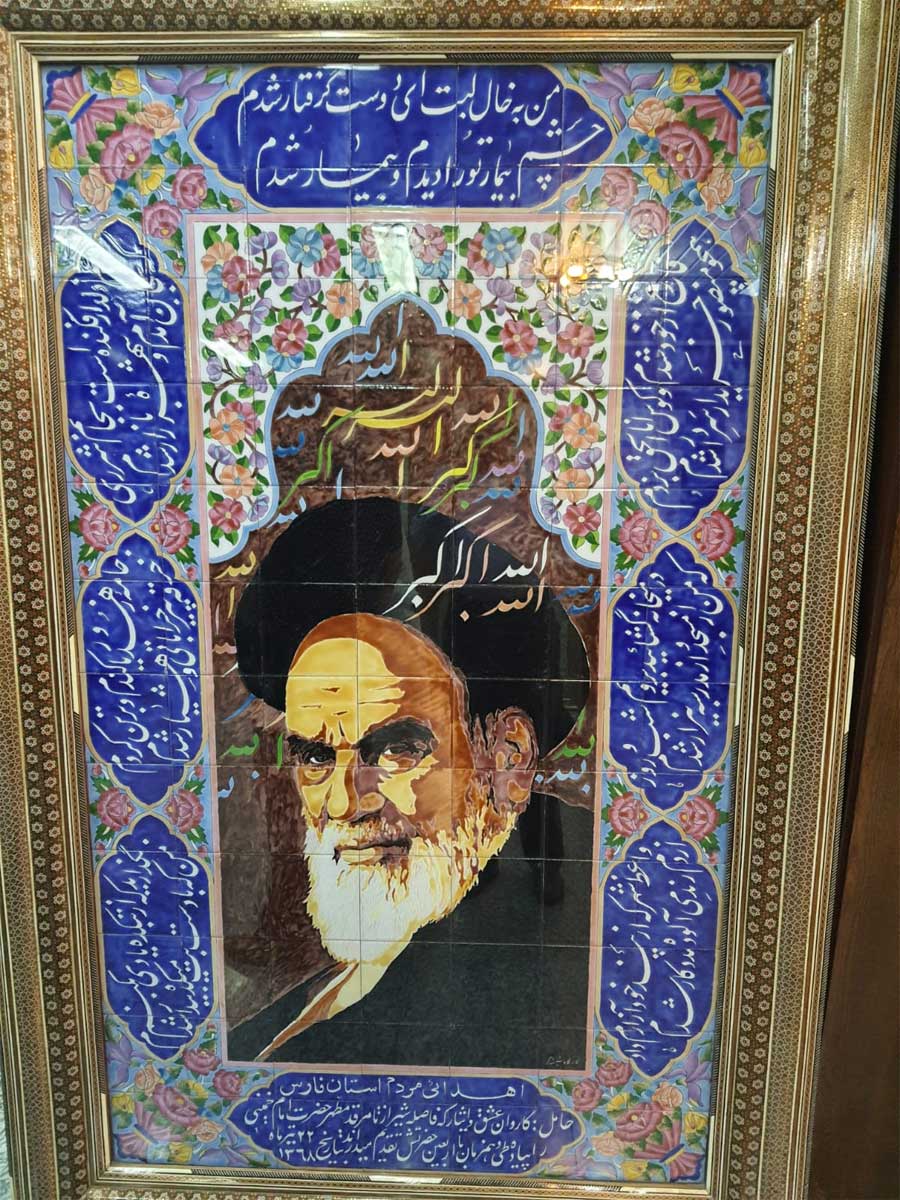 At this street second place was The Institute for Compilation and Publication of Imam Khomeini's work, which is we visited before the Imam Khomeini house, the institute is a prominent institution dedicated to preserving and disseminating the teachings and works of Imam Khomeini. It serves as a hub for research, translation, and publication of his literary contributions. The International Affairs Department of the institute focuses on spreading the message of Imam Khomeini globally, promoting interfaith dialogue, and fostering a deeper understanding of Iran's Islamic revolution. Scholars, researchers, and enthusiasts from around the world visit this institute to study and explore the rich intellectual heritage of Imam Khomeini.
Residence of Hashemi Rafsanjani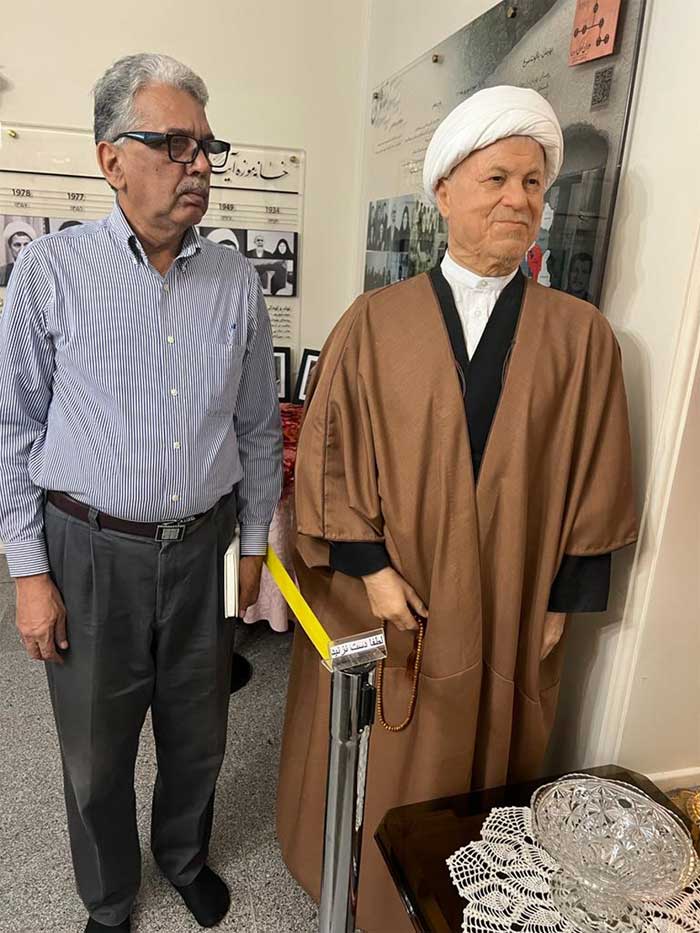 Before the visit of the institute our first visit of this street was the The Residence of Hashemi Rafsanjani, situated first home in the corner of this street, this is a historical landmark associated with the late Ayatollah Ali Akbar Hashemi Rafsanjani. Known for his significant role in Iranian politics, Rafsanjani's residence offers a unique perspective on his life and contributions to the country. The residence showcases personal artifacts, photographs, and documents that provide insights into his political career and influence. It serves as a tribute to Rafsanjani's legacy and a place where visitors can learn about the political dynamics of Iran during his tenure.
It was the double storied house, open as museum about Hashmi Rafsanjani. On both floors a Vax sculpture of Rafsanjani was placed it was lookin like that Mr Rafsanjin is at home personally and welcoming to the visitors.
Saadabad Palace of Shahanshah Iran at Tehran
Our next destinations wasThe Saadabad Palace, situated in Tehran, is a grand complex that once served as the summer residence of the former Shah of Iran. This magnificent palace is a symbol of opulence and architectural grandeur, with lush gardens and numerous palatial buildings. It offers visitors a glimpse into the extravagant lifestyle of the monarchy and displays an impressive collection of artifacts, including paintings, carpets, and sculptures. Exploring the Saadabad Palace allows one to immerse themselves in Iran's royal history. This palace is spreads in various kilometers and have various parts filled with full of luxuries.
Roza Imam Saleh, son of Imam Musa Kazim, at Tehran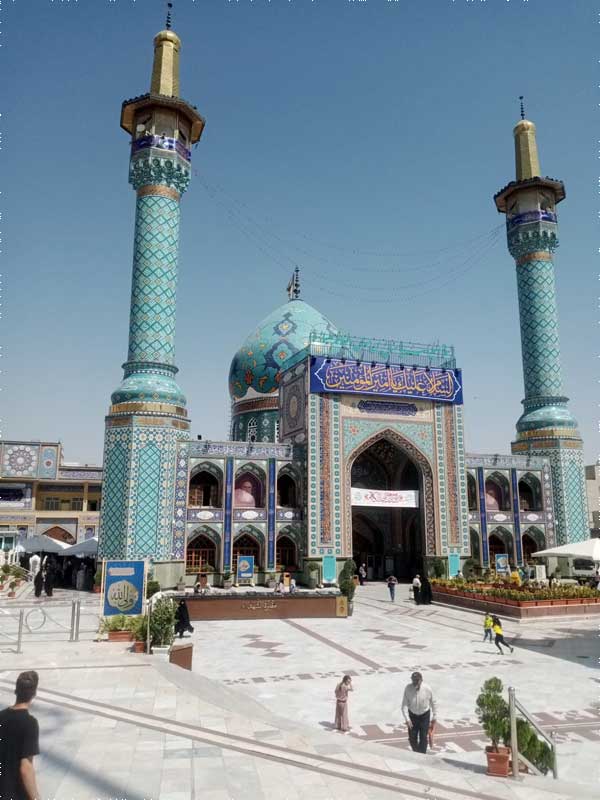 Our next destination was Roza Imam Saleh, located nearest the Saadabad Palace, it is a revered shrine dedicated to Imam Saleh, the son of Imam Musa Kazim and brother of Imam Raza (AS). This sacred site holds immense religious significance for Shia Muslims and serves as a place of pilgrimage and reflection. The shrine's architecture showcases intricate designs and beautiful calligraphy, creating a serene and spiritual atmosphere. Visitors can pay their respects, offer prayers, and gain a deeper understanding of the spiritual lineage within the Shia faith. The Roza Imam Saleh stands as a testament to the religious devotion and cultural heritage of Iran.
Sahar TV of Iran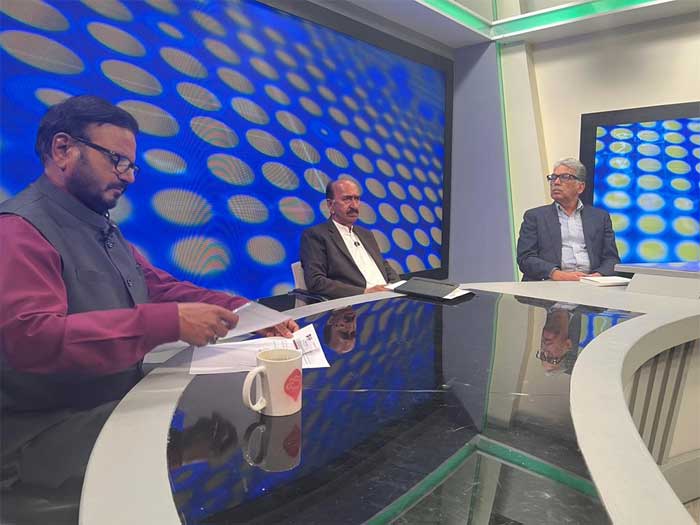 Our next was for the Sahar TV of Iran is a renowned television channel, offering a diverse range of programming that reflects the cultural, social, and political aspects of the nation. As a prominent media outlet, Sahar TV provides a platform for news, current affairs, entertainment, and religious programming. It promotes the values and teachings of Islam, featuring religious scholars, educational content, and spiritual discussions. Sehr TV plays a vital role in connecting viewers within Iran and beyond, providing insights into Iranian society, traditions, and the contemporary issues that shape the country's narrative.
When we reached the Sahar TV after the long necessary security process
Syed Hassamuddin Mohajri Producer Political Programmes of Urdu Srvice of Sahar received and brief us about the Sahar TV which very well organized and popular in the region. Mohajri taken us to his Urdu department where, Rashid Naqvi, Producer and Anchor, Syed Gulshan Abbas Naqvi Translator Farsi to Urdu, Qamar Abbas Translator briefed us about the Urdu services which will we share in details later. After the briefing they invited us, Nazir Leghari and myself in a live show "Andaz Jahan" a most popular program of Muhammad Mehdi Sharfat who conducted it beautifully.