The Central Library and Documentation Center of the University of Tehran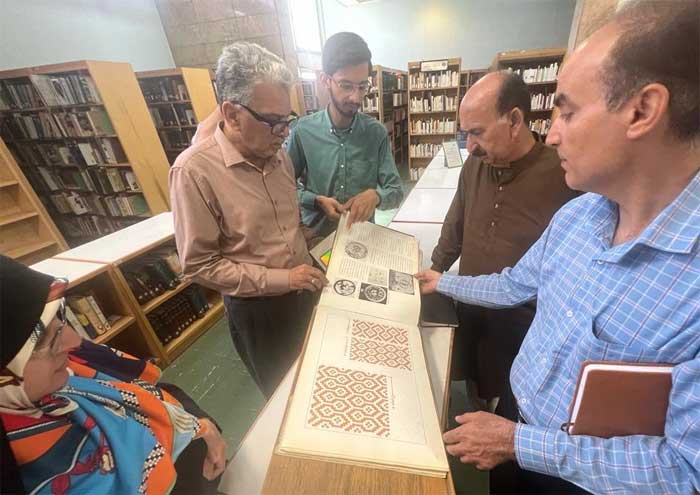 On the 4th day in Tehran our first rather all visits were exciting throughout the day. The first visit was to University of Tehran  fulfilling my cherished desire to see this place as the Islamic Revolution of Iran started from there. We reached the University with our Protocol Officer Ali Fatmi. At UT, Yazdan Yar Protocol Officer International Affairs received and welcomed us and took us to The Central Library and Documentation Center of the University of Tehran. We were shown to the offices of President of the Library Fatemeh Saghafi where she along with Dr Ali Shahidi Advisor for International Affairs and Prof. Nadir Naqshineh Head of Digital Restoration briefed us about the library which is a prominent and comprehensive resource hub for students, researchers, and scholars.
It serves as the main library for the University and plays a vital role in supporting academic pursuits and promoting knowledge dissemination. They informed us in the briefing that the library has over 1.5 million books including from 6th Hijrah in original shape, 17000 hand written Quran, over 700 books related to Pakistan and 81 theses on different subjects on Pakistan. The library has books on every topic and 52 sections are active.
Dr Saghafi informed us that before the Islamic revolution the library used by an average of 4,000 persons but after the revolution now it is being used by 70,000 persons.
Dr Saghafi after the briefing took us on the round of different sections including Allama Iqbal sections. After the visit Dr Saghafi presented us a book "Bagh-e-Danish" about the Tehran University.
The Central Library is a spacious and modern facility equipped with extensive collections of books, journals, research papers, and other academic resources. It houses a vast array of materials across various disciplines, catering to the diverse academic needs of the University's faculty and students. I will share our detailed experience of this library later. It's a daily diary that cannot cover the details.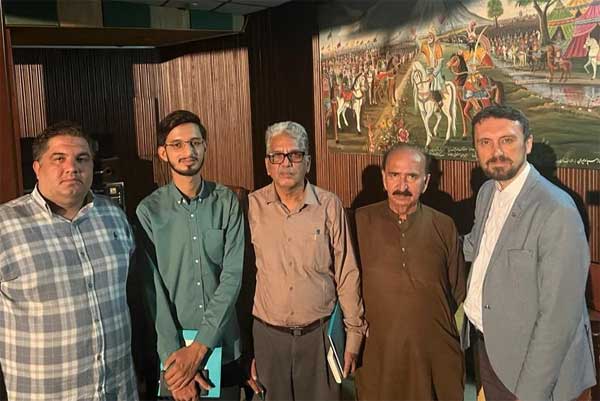 After the visit of TU Library, Dr Ali Shahidi along with Yazdan took us to the Literature and Humanities Department of the University where along with Dr Ali Shahidi he gave us a detailed presentation accompanied by eight Deans of different Departments.
They informed us that the University of Tehran, located in Tehran, Iran, is one of the oldest and most prestigious institutions of higher education in the country. Established in 1934, it has a rich history of academic excellence and has played a pivotal role in shaping Iran's intellectual landscape.
The university is known for its comprehensive range of disciplines, offering a wide array of undergraduate, graduate, and doctoral programs. It encompasses 45 faculties, including Humanities, Science, Engineering, Social Sciences, and Medicine, among others. With over 70,000 students enrolled, the University of Tehran provides a vibrant and diverse academic community, and over 8000 are foreign student. It has over 3000 faculty members.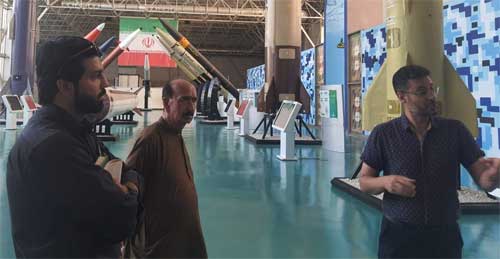 The faculty members at the University of Tehran are highly accomplished scholars, renowned for their contributions to research and innovation. The University boasts state-of-the-art research facilities and laboratories, fostering an environment conducive to groundbreaking discoveries and advancements across various fields. We will share briefing details in our forthcoming columns in detail. After the briefing, Dr Shahidi took us to Firdousi Auditorium where Rustum and Sohrab paintings on fixed on the wall and it was discovered by Dr Ali Shahidi that father of Sohrab, Rustam was from Sindh province. After the visit at the outside of this Department a big stone statue of Firdousi was inducted which was presented to the University by an Indian from Parsi Religion?
The Iqtidar Museum
After the Tehran University, we came back to the hotel for lunch while Ali Fatmi joined protocol duties for another delegation from Kyrgyzstan and Muhammad Reza who is bank of information of all places in Iran took us to more exciting visit to the Iqtidar Museum which is a prominent cultural institution in Iran that showcases the rich history and heritage of the country. Established in 1977, the museum is dedicated to preserving and exhibiting a diverse collection of artifacts, artworks, and historical objects spanning several millennia.
We saw the defence portion of this biggest museum where different missiles, aircraft, drones, helicopters, tanks and various defence related original productions of Iran were placed. It was amazing that Iranian scientists made these all after under continuous US sanctions. What an achievement of Iranian especially in science, technology and defence productions.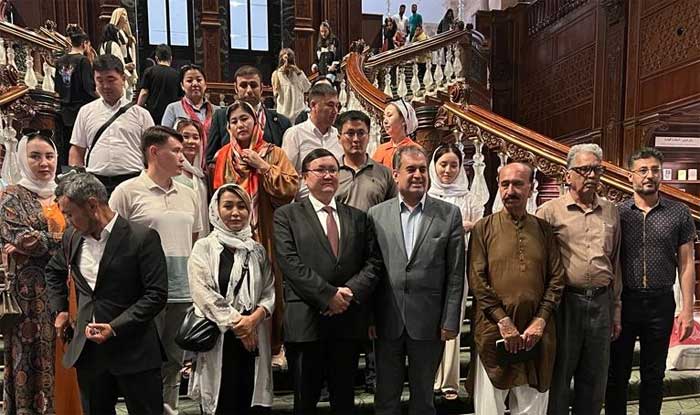 After the visit of Iqtidar, we headed to yet another most exciting place for the day's visit. It was Iran Mall where Morteza Ghoroghi Director PR along with other members of the management received, briefed and entertained us and then took us to this amazing Mall of Iran which indicates that now Iran is emerging as a big economy and is far ahead in science, technology and education etc. as compared to many nations.
Iran Mall is the largest shopping mall in Iran and one of the largest in the world. Its grand architecture combines traditional Persian elements with modern aesthetics, creating a visually stunning environment. Covering over 1.4 million square meters, the mall offers a world-class shopping experience with high-end international and domestic brands.
Beyond shopping, Iran Mall provides diverse entertainment options. It features a state-of-the-art cineplex, an amusement park with thrilling rides, and hosts cultural exhibitions and events. Visitors can indulge in gastronomic delights at the mall's restaurants, cafes, and food courts, offering both local and international cuisines.
The mall also caters to wellness needs with fitness centers, spas, and wellness facilities. It fosters a community atmosphere with beautifully landscaped gardens, outdoor seating areas, and play zones for families to enjoy.
Iran Mall is a symbol of Iran's aspirations for modernity and luxury. It attracts both local residents and international visitors, leaving them with lasting memories of grandeur and sophistication.