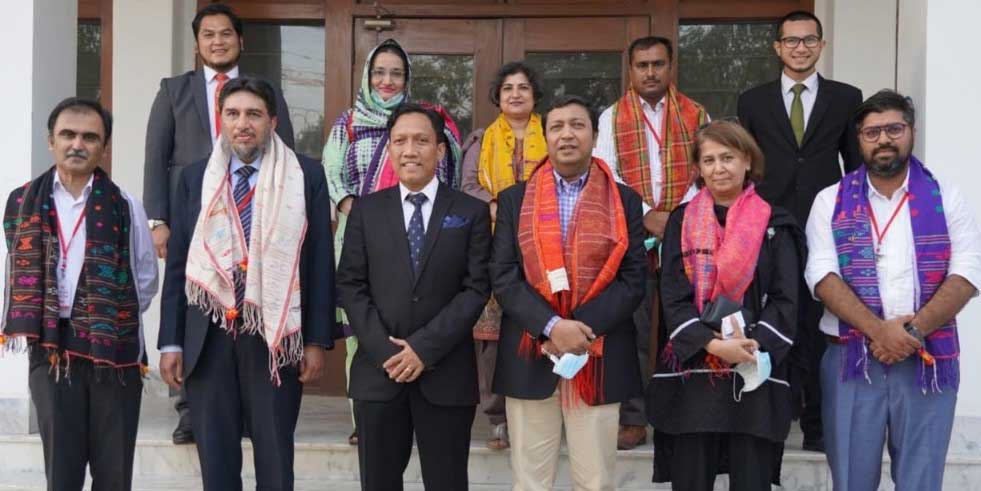 KARACHI: Consul General for the Republic of Indonesia in Karachi Dr. June Kuncoro Hadiningrat hosted a meeting with six universities in Karachi Monday to promote education cooperation between the two countries, says a Press release.
The meeting was facilitated by Prof. Iqbal Chaudhary from the International Center for Chemical and Biological Sciences (ICCBS), University of Karachi, and was attended by University of Karachi, Sir Syed University, Sindh Madressatul Islam University, Indus University, Iqra University, and NED University. There was also a virtual participation from the Department of International Cooperation and faculty members of Universitas Sumatera Utara (USU) Indonesia.
During his opening remarks, Consul General Dr. June highlights the importance of education cooperation as one of the instruments in promoting bilateral relations between Indonesia and Pakistan, especially in terms of people-to-people contact.
While expressing his keen interest in facilitating the meeting, Prof. Iqbal Chaudhary further proposed the academia of both countries to also consider developing cooperation within the scheme of Reverse Linkage Capacity Development by the Islamic Development Bank, as both Indonesia and Pakistan are members of OIC and are two of the largest Muslim countries in the world.
The meeting highlights several proposals for cooperation from each universities, namely scholarship programs, faculty exchange, research supervision, workshops, and seminar/conference across different fields of study such as science, engineering, medicine, business and managements, as well as arts and culture. Furthermore, there was also a special interest in developing Indonesian language course in some universities in Karachi.
Representatives from the University of Sumatera Utara expressed their gratitude for such great interests proposed by the six universities, and would further finalize their proposals in the form of Memorandum of Understandings (MoUs) between each universities in the near future. Closing the meeting, Consul General Dr. June has high hopes that such cooperation cemented by these universities will pave way for more inclusive bilateral relations in the academia and education sectors of both countries.