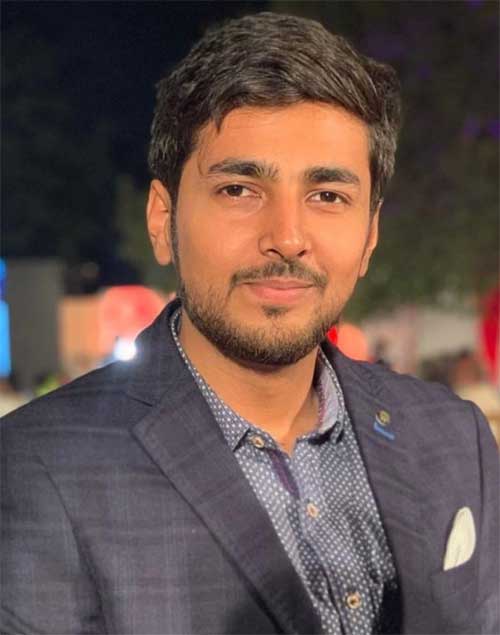 Day 5th in China and 2nd in Shanghai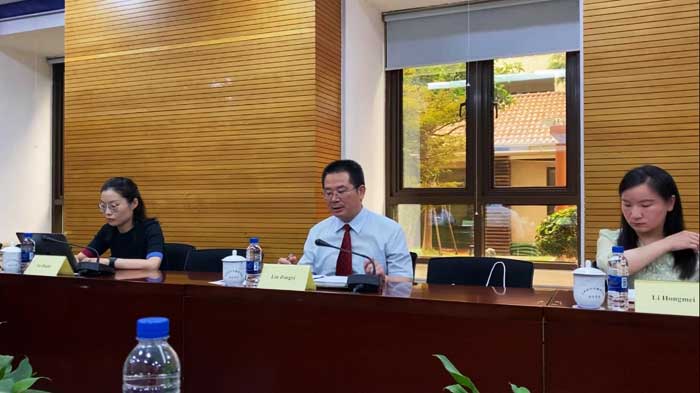 Our day in Shanghai began with a delightful breakfast at Hotel Moxy, which I discovered is a Marriott Hotels brand. Although the hotel was nice, it didn't quite measure up to the one we stayed at in Beijing. Nevertheless, its funky and vibrant theme, adorned with antique and Harley Davidson bikes, created a pleasant ambiance. Our guide, Jason, also chose to stay at the same hotel since his home was in Hangzhou. It was considerate of the Chinese government to provide him with accommodation here, highlighting their equal treatment of everyone.
Visit to Shanghai Institute for International Studies
Our first visit of the day was to the Shanghai Institute for International Studies (SIIS) after breakfast. We were initially worried about the hot and humid weather, but fortunately, it started raining as we left, transforming the climate into a beautiful and pleasant one. Upon our arrival at SIIS, the management warmly welcomed us. We had the opportunity to meet our Chinese friends, including Liu Zongyi, Ms. Hongmei Li, Wang Wenyu, and two other colleagues. They graciously invited us to ask any questions we had. The delegates took this opportunity to inquire about various topics, such as the China-Pakistan Economic Corridor (CPEC), the Belt and Road Initiative (BRI), the IT sector's potential for Pakistani students to study in China, and the further advancement of women's rights in Pakistan.
Liu Zongyi and his colleagues earnestly addressed our inquiries, offering encouraging responses. While I won't delve into all the specifics in this daily brief diary of activities, I anticipate compiling a comprehensive report on the Shanghai Institute for International Studies (SIIS) once I return home. I can assert with confidence that their answers were highly promising. They informed us about China's commendable endeavors to foster stronger academic relations by welcoming an increased number of Pakistani students. Additionally, they emphasized the significant presence of Pakistani students already engaged in their studies in China.
Office of Communist Party of China (CPC)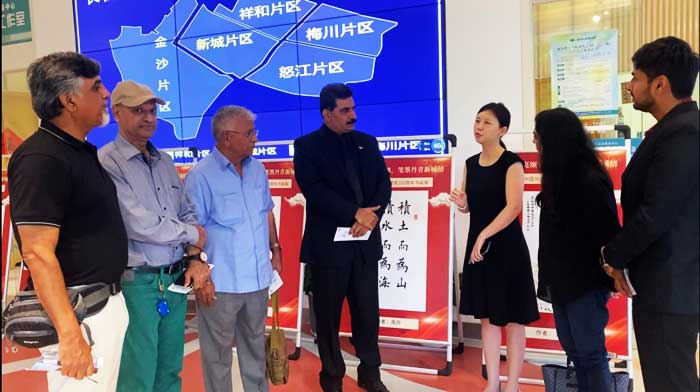 In our next visit today we had the opportunity to tour the Party and Mass Service Center. We were given a comprehensive overview of their well-organized healthcare system, which is jointly managed by the government and select corporate entities. The organization goes above and beyond in providing essential services to those in need. They offer cards that enable individuals to obtain food and meals, and they showcased a mobile application that allows patients to easily schedule appointments with doctors. It was impressive to witness the high volume of patients they attend to daily, averaging around 200. The facilities they provide are extensive, encompassing complimentary medical check-ups, nutritious meals, access to gym facilities, haircuts, table tennis, kindergarten services, and various other activities, all offered free of charge by the government.
During our visit, we also had the pleasure of meeting enthusiastic Chinese citizens who warmly welcomed us and expressed their deep affection for Pakistan. They passionately emphasized the strength of the China-Pakistan relationship, describing it as unbreakable like iron, boundless like oceans, towering like mountains, and sweet as honey. Their heartfelt greetings and support left a profound impact on me, instilling a deep sense of appreciation and affection for our Chinese counterparts, who have proven to be incredibly genuine and supportive.
Upon our departure, the delegates were presented with beautiful souvenirs as a gesture of goodwill. Additionally, as it was raining, the Chinese hosts kindly held umbrellas in a queue to shield us from getting wet. This thoughtful act exemplified their considerate nature and further reinforced the warmth and hospitality experienced throughout our visit.
Visit to Shanghai Urban Planning Exhibition Center (SUPEC)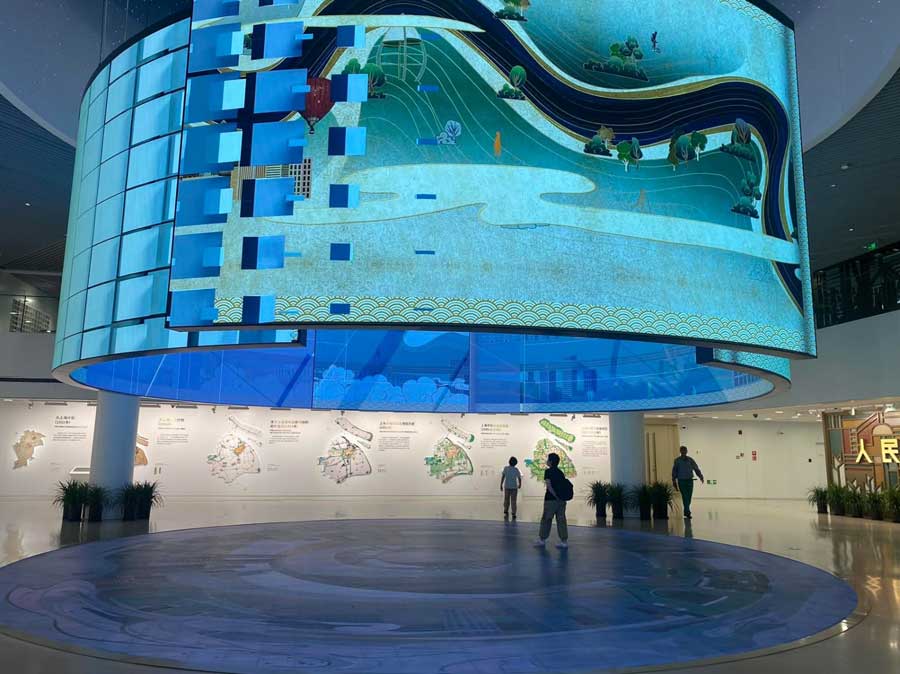 After our visit to the CPC office, we had the opportunity to explore the Shanghai Urban Planning Exhibition Center. The center showcased a comprehensive display of future and past infrastructure planning through meticulously crafted models, ranging in scale from 1:50 to 1:500. The technological advancements employed were truly impressive, leaving us in awe of the town's future development plans. We thoroughly explored the museum, immersing ourselves in the intricacies of the exhibits up to the fourth floor. However, as it was already 5pm, we reluctantly had to make our way back. This visit provided an once-in-a-lifetime experience, allowing us to witness China's remarkable attention to town planning and infrastructure, and offering glimpses of what the future holds for the nation.
Dinner at a Muslim restaurant
After a day filled with exploration and enriching experiences, we concluded our evening with a delightful dinner at a Muslim restaurant. Jawed Ahmed, always the entertainer, added an extra layer of joy to our meal with his singing. We cherished his company, and during this time, Dr. Muhammad Ali and I took the opportunity to go shopping. We stumbled upon a few handcrafted items and even had the pleasure of watching an immensely talented elderly lady create hand bands right before our eyes. She revealed that she had honed this skill over the past two decades. In conclusion, I would like to convey a message to my fellow Pakistanis: true change can only come when we cultivate a desire for transformation within ourselves. It is now or never! The nation I have witnessed continues to progress and prosper, and I hope for the same for both China and Pakistan. Long live Pak-China friendship!