31st LadiesFund Power Lunch with 40 female entrepreneurs and leaders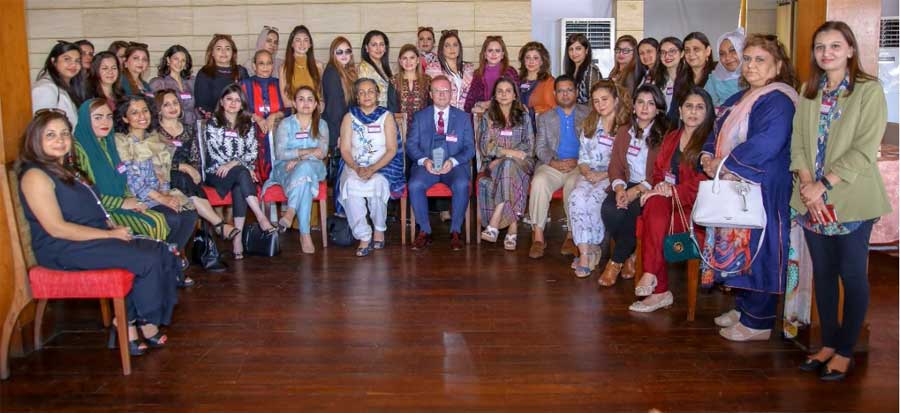 Chief Guest Deputy Head of Mission Martin Dawson headlined the power-packed 31st LadiesFund Power Lunch. It was an outdoors affair during the week.
This dynamic networking session featured 40 incredible women leaders – including Sayeeda Leghari (Owner of Sukkur Beverages (Pvt) Ltd Pakistan), Simi Sadaf Kamal (Chairperson Hisaar Foundation, Pakistan), Moneeza Usman Butt (Partner, KPMG), Sana Pirzada (Founder of Virtual Legal Advisory VLA), Tameem Qazi (Head Of IT Meezan Bank), Rukhsana Narejo (Board Member, Sindh Modaraba Ltd.) and Sania Alam (Sitara-e-Pakistan Award 2022 winner Sania Alam) et al.
"Honoured to be the Chief Guest at the 31st LadiesFund Power Lunch with 40 female entrepreneurs and leaders in their field. A truly impressive group with a class of their own," said British Deputy Head of Mission Martin Dawson, Chief Guest.
"We continue to transform the way power spaces and networking at the highest level take place as we place women front row and center in these conversations, providing a platform where they have a voice and receive respect from the get-go, with select inclusion of male champions for gender inclusion, diversity and women empowerment. With this thirtieth lunch, we are growing this pool further as agents of change and the sectors represented," stated LadiesFund President Tara Uzra Dawood.
"The very professionally arranged LadiesFund Power Lunch was a delightful experience, being surrounded by highly accomplished entrepreneurial women of Pakistan. LadiesFund is a must-join group to connect with women of substance," stated Sania Alam CEO, Futuristic Learning.
"I have always been an outspoken individual and I love meeting new people. The LadiesFund luncheon gave me the opportunity to interact with such amazing ladies. The best part being the real conversations. We were placed in an environment where the only objective was to be yourself and share your journey with "truth." I learned so much in those two hours whilst having fun and over delicious meal (What else could one ask for). As a bonus, I think I've become a much better storyteller after listening to Martin; the way he shared his thoughts was not only captivating but also engaging and thought-provoking. I have to say, that's a skill I want to keep, especially in my line of work, as a facilitator and Head of Learning," stated Reena Ebrahim, Head of Learning, Standard Chartered Bank.
"I experience unparalleled networking and brand trajectory from LadiesFund and #LFPower31 was no exception. Today, my signature luxury silk scarves are being worn by leading diplomats and I have a circle of connections who are introducing me to more clients as my product is used for high profile gifting for different companies. I even got the opportunity at LadiesFund to meet personally with those at the top of their game as well as other women just like me who own high quality, exciting brands that are on the rise," stated Madiha Sikander.
"Social networks are not only websites, they are about experiences. LadiesFund has given me an opportunity to interact with such talented entrepreneurs, diplomats and people from different fields, etc. I feel so happy to be a part of LadiesFund. #LFPower31 inspires me: how we are connected and related to each other," stated Mehak Saba, Director, Saba Builders n Developers.
Tara Uzra Dawood hosted the impactful event which was sponsored by Khurram Khan (Head of Advisory, Grant Thorton Anjum Rehman). Supporters included Beauty Partner Nighat Misbah Depilex, Dessert Partner The Story, and Chief Guest Appreciation partners Beautyluxe, Meethay by Aymen Haq, Sayeeda Leghari and Madiha Sikander.
THF & SBTE sign MoU to create a skilled Pakistan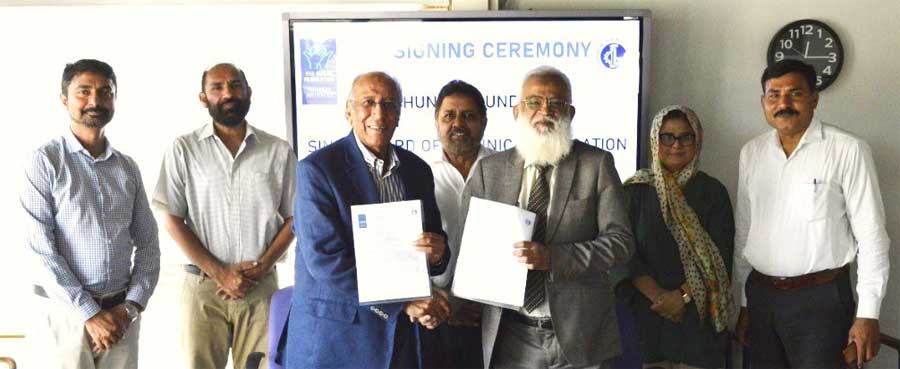 The Hunar Foundation (THF), Pakistan's largest Not-For-Profit Organization in private TVET sector, and Sindh Board of Technical Education (SBTE) recently signed a Memorandum of Understanding at the THF Korangi Corporate Office, during the week.
While The Hunar Foundation (THF) prioritizes opportunities for underprivileged and marginalized segments of the society to train and equip them with in-demand and employable skills, the SBTE's vision is to provide a certified skilled workforce for the economic development of Sindh province and the country by providing quality assessment and well-recognized certification and facilitate competency-based training as per employer/industry needs.
Moreover, the purpose of the MoU is to strengthen and promote productive working relationship between THF as the training provider and SBTE. It also aims to prepare skilled workers and trainees for Recognition of Prior Learning (RPL) by providing them with trade knowledge & practical competencies, life-skills, understanding about health & safety, and work ethics etc. Both the Institutions also agreed to formalize their collaboration and association for "Professional Training/Seminars/Workshops" to train, develop, and polish trainees' skills and their competencies.
The ambit of the MoU covers all the THF institutes in Sindh province including THF Delhi Mercantile Society Technical Institute Tariq Road; Saeeda Naseem Technical Institute Korangi; Rashid Arshad Aslam Shahid Institute of Emerging Technologies Korangi; Central Vocational Institute Saddar and THF Hajiani Ashraf Khatoon Technical Institute Rashidabad, Tando Allahyar.
Present at the occasion were Aslam Khaliq (Chairman THF), Dr. Masroor Shaikh (Chairman SBTE), Muhammed Nasir Uddin (THF Head of Grants & Industrial Links), and Alia Fatima (Secretary SBTE).
Gradsy chief condoles with Farooq Sattar on death of his mother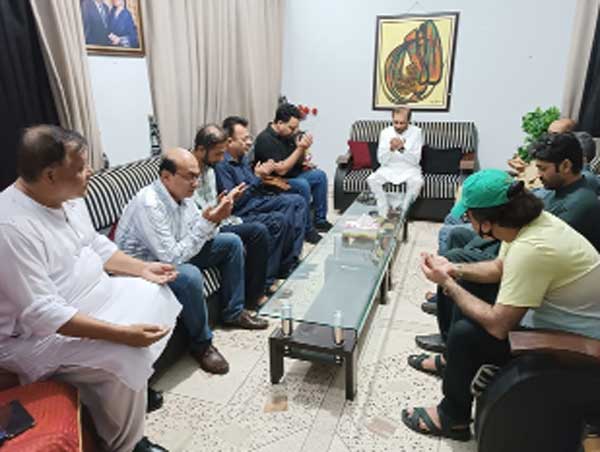 Chairman Gradsy Institute of Business & Technology, Sameer Zakir Ahmed along with his team members visited the residence of MQM-P leader Dr. Farooq Sattar and expressed grief over the death of Farooq Sattar's mother on this inconsolable loss and offered Fateha for the departed soul.