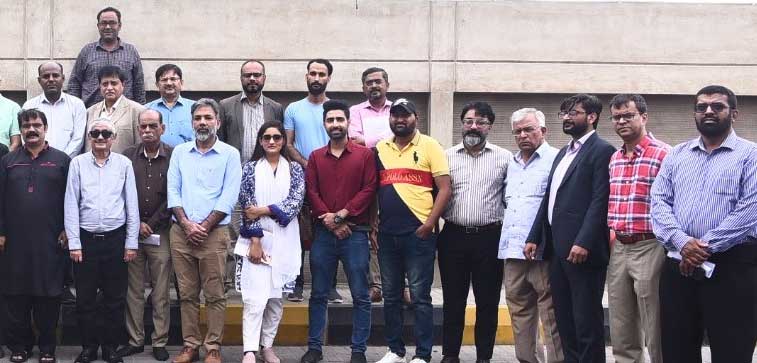 TFD Report
KARACHI: In a remarkable display of its commitment to openness, Sunridge Foods Limited (SFL), a wholly-owned subsidiary of Unity Foods Limited (UFL), cordially invited members of the media to witness its dedication to transparency. The exclusive tour took place at the Sunridge Flour processing facility situated at Port Qasim.
More than 50 media professionals from diverse print, electronic, and digital outlets partook in this illuminating visit on Tuesday, gaining valuable insights into SFL's unwavering focus on transparency, quality, and innovation.
The media visit was orchestrated by Adpulse IMC (Pvt) Ltd, a renowned Advertising and Marketing firm, in close collaboration and assistance with Nageen Rizvi, Head of Corporate Communications & Sustainability at Unity Food Limited.
SFL's resolute mission revolves around providing secure and fortified nutrition to the people of Pakistan through its range of products. The primary objective of this media engagement was to establish complete transparency across the entire journey from farm to table, acquainting the media with Sunridge Foods' comprehensive approach to food quality and safety.
During this exclusive tour, attendees had the privilege of firsthand exposure to the cutting-edge technology, fortification practices, and stringent safety protocols that underpin the production of Sunridge products. With global attention firmly fixed on food safety and quality, SFL aimed to convey a positive and informative message to both consumers and stakeholders. This message highlights how their transparent practices directly contribute to their continued success.
Farrukh Amin, CEO of SFL, expressed immense pride in extending this opportunity to the media, underscoring the company's steadfast commitment to transparency, quality, and innovative practices throughout every stage of production.
He emphasized their dedication to consumers through the slogan "Gizayat say Bharpur Zindagi," which underscores their efforts to provide safe and fortified nutrition to the people of Pakistan while ensuring their products remain accessible and affordable. Amin also emphasized their investments in farmer training and a sustainable food system, aimed at benefiting current and future generations.
The media tour comprehensively covered the entire flour production process, encompassing wheat sourcing, rigorous quality assessments, and adherence to both international and national food safety standards. Attendees gained invaluable insights into the complete supply chain and production cycle, showcasing SFL's unyielding commitment to ensuring safe and fortified nutrition.
A noteworthy highlight is the Sunridge Factory's distinction as Pakistan's sole flour mill to employ the advanced PESA Mill, a Swiss technology that facilitates fully automated flour processing, eliminating the need for human intervention. This cutting-edge technology plays a pivotal role in upholding the highest standards of food safety and quality.
With a meticulous system of 25 quality control checks, including hourly flour evaluations, final product inspections, and SAP-supported batch releases, every phase is vigilantly monitored. This rigorous approach guarantees consistent excellence from start to finish. The integration of automated packaging processes further reinforces the company's dedication to quality and safety across all operations.
By prioritizing food safety protocols, embracing innovative technologies, and maintaining the highest quality standards, SFL continues to exceed expectations.
Nageen Rizvi, Head of Corporate Communications UFL, expressed her deep appreciation for the media's active participation in the comprehensive tour, which shed light on SFL's unwavering commitment to food safety and quality in brand preparation. Nageen underscored every Pakistani's right to safe and fortified products, particularly in light of the concerning stunting crisis that affects nearly half of Pakistan's children.
She highlighted SFL's determination to tackle food insecurity and malnutrition through their flagship CSR campaign, Sunridge Taqatwar Pakistan. This initiative has joined forces with governmental bodies, NGOs, orphanages, and hospitals to provide fortified nutrition to over 150,000 families.
The factory tour culminated in an engaging question and answer session involving media representatives. This interactive session reaffirmed their dedication to advocating for fortified nutrition as a strategy to combat food insecurity and malnutrition throughout Pakistan. The media expressed admiration for SFL's unwavering dedication to food safety and high-quality standards for consumers, applauding their contributions through the Taqatwar Pakistan initiative.
SFL remains steadfast in its mission of delivering safe and fortified nutrition to the people of Pakistan. This media tour stands as a testament to their unwavering commitment to transparency, quality, and innovation.
To mark the occasion, the senior journalists from the visiting media group presented a bouquet to Farrukh Amin, CEO of SFL, on behalf of all the visiting members. The event was expertly hosted by A.K Memon.