During these tough times of pandemic when almost every sector has got badly affected, the literary organisations of valley have switched over to virtual mode of holding the literary events. In this connection Idara Tehqeeq Adab JK held an online literary function in memory of late legendary poet, scholar, author and former HOD of Kashmiri of Kashmir University Prof Dr Marghoob Banihali who passed away recently. Credit for organising this online event goes to Farooq Shaheen. He organised this event with utmost zeal and with full enthusiasm. Live streaming of the function was held both through the WhatsApp group of the organisation as well as on its official Facebook page.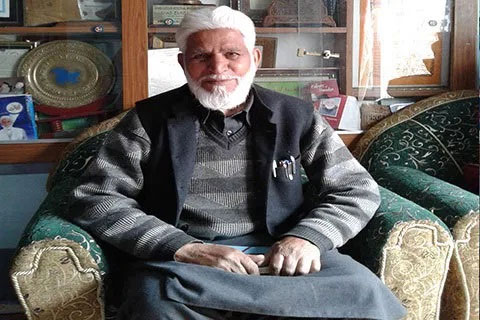 Dr Ghulam Mohammad, popularly known by his pen name Marghoob Banihali, a renowned novelist, academic, and former head of the Kashmiri Department at Kashmiri University, died on Tuesday at his Srinagar residence after a brief illness, according to family sources. He was 84 years old.
During his decades-long academic career, before becoming a professor at Kashmiri University's Persian Department, he had served as a Tehsil Education Officer.
Dr Marghoob, a dynamic academician, rose quickly to lead the varsity's Kashmiri Department while still serving in various capacities in other departments. He also served the Centre for Central Asian Studies.Post-retirement, Dr Marghoob dedicated his life to literature and research work that earned him laurels both at the national as well as international level. He was an institution in himself. He had a huge contribution to the language of Kashmir and has propounded a theory on the Kashmir linguistics.
The proceedings of the grand online event began with the recitation of some holy verses of the glorious Quran by Mushtaq Kawsar. Welcome address of the function was given by Mohd Mushtaq vice-president of Idara Tehqeeq Adab JK. Dr Aziz Hajini distinguished poet, author, academician and chief patron of Adbi Markaz Kamraz presided over this great event. In his maiden address Dr Hajini highlighted the contribution of late Marghoob Banihali for uplifting the Kashmiri language and literature. Prof Farooq Fayaz Ex HOD History Kashmir University was the chief guest on the occasion. He threw detailed light on the works and writings of Prof Marghoob Banihali.
Prof Shafkat Altaf department of Kashmiri university of Kashmir was the guest of honour of this literary function. He lauded the role of Marghoob Banihali in promoting Kashmiri language and literature both with the state as well as across the borders.
Dr Riyaz Tawheedi prominent fiction writer, researcher, critique and expert of Iqbaliyat also remembered late Marghoob Banihali in his brilliant speech.
Farooq Shaheen president of Idara Tehqeeq Adab JK read his researched article in the event on Marghoob Banihali under the heading "Marghoob Banihali Shakhsiyat ti Fun".
Other scholars and dignitaries who graced this event include Shabnam Tiligami general secretary of Adbi Markaz Kamraz. Shabir Ahmad Shabir president Adbi Markaz Banihal and Dr Aadil Mohidin assistant professor.
Vote of thanks was given by Muhammad Akram Pardesi and technical support for the event was provided by Nazir Safalpori Joint Secretary Idara Tehqeeq Adab JK. Dignitaries and participants of the event prayed for the peace of departed soul and his highest place in Jannah. The deceased was the father of renowned psychiatrist, Dr Mushtaq Marghoob.Born in the Giri family in Bankoot area of Banihal in J&K's Ramban district, Marghoob Banihali has authored more than fifty books.