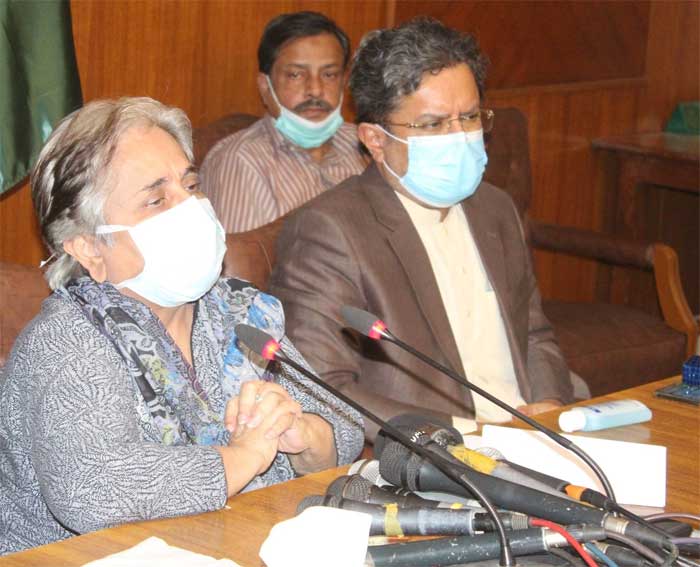 Imran Zakir
KARACHI: Minister for Health and Population Welfare, Sindh, Dr. Azra Fazal Pechuho, held a Press Conference regarding the new covid-19 variant, Omicron on Monday at Committee room Sindh Assembly.
The Minister stated that in order to combat this new variant the Federal Government will have to take precautions immediately. She also said that rapid antigen tests must be carried out at the airport and all other points of entry into the country.
The Minister requested NCOC to directed the Aviation departments, airport management, and the Airport Security Force to devise a mechanism for screening passengers travelling from the banned countries.
The Sindh government is ready to administer booster shots for the people free of cost, however to do this the province needs at least 2 million doses of the covid vaccine.
Dr. Azra said that those people who get infected with covid despite having received the vaccine will have their genomic profiling done in order to pin down which variant is present in our population and its probability.
Giving clarity on the new variant, the Minister also said that the virus has mutated so as to show difference in 30 locations of its anatomy. This means that there could be a difference in its rate of infection and how it affects the human body in comparison to the previous variants.
The booster shots will be provided free of cost to the people, however there is not enough stock of the vaccine to deliver this to everyone so the Sindh Government has requested the Federal Government to supply one million doses of Pfizer, 500,000 doses of Astrazeneca and 500,000 doses of Moderna for this purpose.
The Minister also stated that tomorrow is the last day of Measles and Rubella Vaccination Vaccination and children above 12 years of age should be getting the covid vaccine as well and they will be given Pfizer as their covid vaccine. While mobile Centres will cover the rural population and under-privileged urban areas where we focused on mail/females.
In reply to a query about bogus vaccination cards, Dr. Azra said that the NIMs system ensures that no vaccine goes unrecorded.
In reply to an other question about vacant seat of Executive Director Trauma Centre, she said that a selection committee is formed who will finalized this matter soon.