The tale of some unique ideas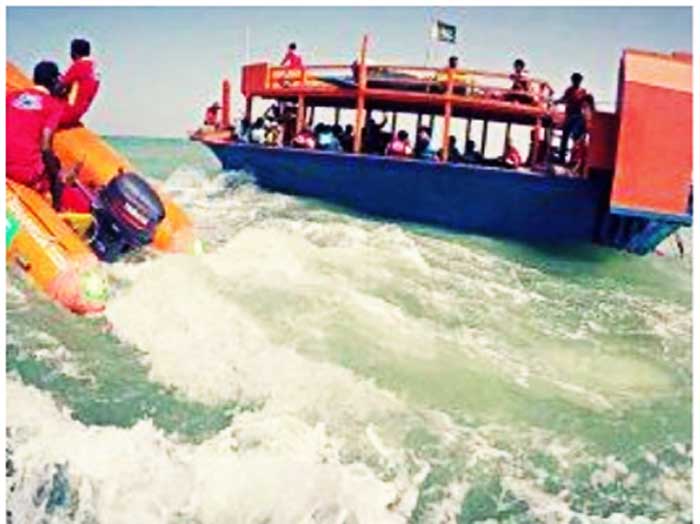 Einstein once said, "Creativity is seeing what others see and thinking what no one else ever thought!"
This tale that you're about to read is about some dreamers who did the same. All they had was an innovative idea which met an amazing opportunity. Today, they are living their dream because "the value of an idea lies in the using of it."
In Pakistan, small- and medium-sized enterprises (SMEs) comprise 98 percent of the country's 3.8 million businesses, but most of these businesses operate in the undocumented, informal sector. These SMEs face a variety of barriers, from burdensome regulatory procedures to limited access to finance and markets. The USAID Small and Medium Size Enterprise Activity (SMEA) are helping Pakistani SMEs become more competitive by reforming policies and creating a stronger financial and operational framework for these enterprises to grow.
The activity supports SMEs in the information and communications technology, light engineering, textile, hospitality, minerals, logistics and packaging, and leather sectors. These efforts will create jobs, cultivate entrepreneurship across the country, and reduce poverty.
Closet – Rent, Reuse, Return: Many of the visionaries that we are talking about today are young dynamic entrepreneurs who have moved out of their comfort zones to establish startups. Closet is one such example. Established in 2018 by three young undergrads, Closet is a woman-led enterprise that is Pakistan's first online apparel rental marketplace.
Laiba Amir, the mastermind behind Closet, while sharing her journey of establishing her start-up business, and the ups and downs she faced on the way said, "In Pakistan, weddings are festivities that are spent extravagantly on, and the expenditure on shoes and clothes is always mounting sky high! To cut down the over-the-top sum of money allocated to clothes, Closet brought an entirely different approach to the table."
The main issue they had to face while running their business was the lack of streamlined processes required in work, and a proper location where they could showcase their collection. With the help from the USAID-SMEA Challenge Fund, Closet was able to make itself technologically sound and introduced an inventory management system on their website, through which they were able to code all their articles and manage them in a disciplined way. The biggest perk of their collaboration with USAID SMEA was the inauguration of their personalized flagship store in Karachi, which paved the way to their success, resulting in them processing thousands of orders in record time.
Today, as they continue to grow, the team Closet hopes to expand their business and reach Lahore with all that they have to offer. All of this was made possible with the help from USAID SMEA Challenge Fund, which has supported many small ventures and helped them grow from small to successful businesses.
Soldrive – Power for Pakistan: In a developing country like Pakistan, the sufficiency and sustainability of energy pose a significant challenge. In 2012, when the majority of Pakistan was facing a blackout, a small Lahore-based company, took it upon itself to rid Pakistan of excessive power outage triggers. Hadron Solar (Pvt) Ltd. was conceived in 2012 when Pakistan was going through a phase of immense energy crisis and unemployment.
"Our goal was to build an industry that would provide cost-effective, energy-efficient and environment-friendly alternative to the blackouts, as well as create unique job opportunities for the people." told Waqas Moosa Director Marketing for Hadron Solar (Pvt) Ltd.
The company then developed a technology, called 'SOLDRIVE' that reduced electricity charges of air-conditioners by 25%-60%, making their solar systems work efficiently for cooling units. " It basically brings your regular air-conditioning to a low-power consumption mode, allowing our customers to enjoy their long summers without the constant fear of power outage" told a company representative. SOLDRIVE was invented in theory and tested successfully on laboratory level, but the cost and equipment required to scale-up the project required capital.
"USAID-SMEA Innovation Grant helped us procure the lab equipment needed to commercialize the product." Thanked WaqasMoosa.
Sun Importers and Exporters – Plastic to Polyester: It is not always that one finds many people in Pakistan willing to contribute and making a practical step in positively influencing environment. Shahzad Azam Khan; a Lahore based proprietor who runs the Sun Imports and Exporters SME; took up an initiative to recycle Polyethylene Terephthalate (PET) bottles into polyester fiber to save the environment from further deterioration. Shahzad Azam started off with a novel idea of getting the raw material for his textile from then-deemed unrecyclable waste plastic disposable bottles, since the chemical used in both was the same.
Despite the lack of an organized system of waste collection and recycling in Pakistan, he took up the mighty task as a challenge. Another hurdle that he faced was the lack of appropriate machinery for color sorting of the plastic bottles. His dream for a cleaner Pakistan was only made possible with the help of The USAID-SMEA challenge fund, which helped him procure the automated color sorter machine required. This improved the SME's capacity by 20% and enhanced the quality too. Thus, with the amplified capacity, the labor force increased from merely 12 people to a group of 50, creating more employment opportunities. Overall, the yield of the SME was taken to a new height. This unique idea of Shahzad Azam was brought to life with the contribution of USAID's SMEA grant.
PALS Outdoor – From a Plan to a Tourism Paradise: Pakistan Life Saving Foundation (PALS) is a registered NGO in Pakistan. This internationally accredited NGO was established in 2004 for the purpose of providing life-saving services along the beaches of Karachi Sindh, Pakistan.
With a coastal line of about 990 kilometers, Pakistan has a rich variety of opportunities to explore and earn via introducing recreational shoreline activities. Sadly, the shorelines were not brought to such use. Activities such as snorkeling, trekking, boat riding, playing with the dolphins, RIB boats and exclusive beach setups were never explored until PALS Outdoor took this initiative in Balochistan, an area that too was not a location not engineered for tourists in the past.
The major hiccup in exploring this tourist haven was the lack of infrastructure in the coastal areas. PALS Outdoor was given the hope to fill this tourism void when the USAID-SMEA fund provided them with the grant to build infrastructure in the damp shore in Balochistan. Had the grant not been availed, PALS Outdoor would have still been struggling in the planning phase.
The scenic beauty of the country is no longer a mere imagination for the people of Pakistan and abroad, but a fun reality conceived by the collaboration of PALS Outdoor and the USAID.
MeraSabaq Learning System – Learning made Fun! It is no longer a rare sight to see mobiles and tablets held in tiny fist grips, blasting out rhymes. The use of cartoon content has widely increased in Pakistan. However, what one finds is a lack of original Pakistani content.
"Our kids were addicted to English or Hindi content, and for good reason because there was a complete void of Urdu content creation in Pakistan." said Hasan Bin Rizwan CEO MeraSabaq.
After this realization, Hasan Bin Rizwan founded Sabaq and decided to amend ways in the country. They create content which focuses on both educating and entertaining the children at the same time. Their work was not only in Urdu but also in several other regional languages, which made it a huge hit with the schools as well. Several schools added MeraSabaq into their curriculum from Pre-School to Grade 5. The 2D and 3D animation-based educational content was unique and engaging for the children of Pakistan.
Sabaq also wanted to meet the increased demand of quality digital content in COVID-19 lockdown, by expanding and procuring the desired but expensive hardware. The capital support for the required hardware was achieved when Sabaq won the USAID-SMEA challenge fund grant.
"With USAID SMEA challenge fund, the team of MeraSabaq doubled the production capacity and produced quality animation with greater efficiency", told Hasan Bin Rizwan.
ZuriaDor – Madiha Latif: ZuriaDor, a women-led emerging brand, is gradually developing into a business that offers premium women attire. Madiha Latif, the entrepreneur behind ZuriaDor, wants to encourage the spread of traditional Pakistani hand embroidery globally, as it is unique and not crafted with this exceptional skillset in many countries. However, being a small-scale business brought many hurdles in their way.
The biggest issue they had to face was finance. To reach their desired outcome and goals, they required further investments, which wasn't possible with their growth capital. In times of need, The USAID-SMEA Challenge Fund proved to be their savior.
"The USAID SMEA grant fund made our COVID-19 crisis pass smoothly and helped us speed up the completion of our goals, resulting in tenfold increase in business outcome", shared Madiha Latif.
With immediate assistance from the Challenge Fund, Madiha Latif was able to fulfill her dream of making Pakistani handicrafts and aesthetics available on the global market, and improve the performance of her premature venture. Today she stands tall, taking all challenges she faced head on with her determination and the support she received. USAID's SMEA Challenge Fund has opened gateways of success for many such small businesses, understands their purpose and works on fulfilling their dreams.