Dr. Murtaza Mughal is appointed as Resident KEC Adviser Islamabad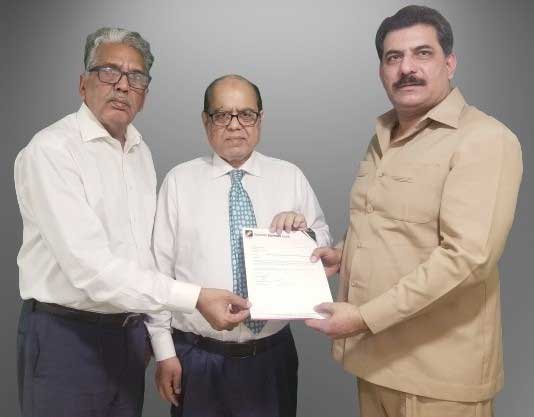 Dr Murtaza Mughal President Pakistan Economy Watch (PEW) and President World Columnists Club (WCC) was Karachi visit to address a seminar to pay tribute to Mohsin-e-Pakistan Dr. Abdul Qadeer Khan arranged by Pakistan Council of Media Women (PCMW) during the reported week.
During the visit he also visited offices of the Karachi Editors Club (KEC). On this occasion Mubasher Mir President KEC offered him to interact with the senior journalists at the Capital city on behalf of KEC. Dr. Mughal accepted the offer to interact and promote KEC among the journalists community in the Capital of Pakistan.
Mubasher Mir along with Secretary General KEC presented him an appointment letter as Resident Advisor of KEC for Islamabad.
Qatil Haseenaon Ke Naam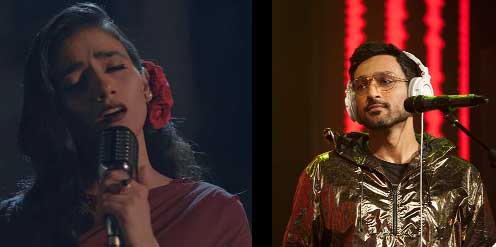 Zee5 Global has now released the original soundtrack of Zindagi's next original. Titled 'Qatil Haseenaon Ke Naam' based on the title of the show, the song is composed by ace writer and musician Ali Sethi, sung by Farheen Raza Jaffry, and penned by Farjad Nabi. The song takes viewers into a dark, gritty world of suspense and thrill and has a sensuous vibe.
"The song encapsulates the essence of this show and is the best possible invitation to it. It embodies a playful yet empowered feminine voice that I had wanted for the theme song. The mix of desi and western, contemporary, and vintage is simply brilliant. Kudos to the team behind it," said Creator and Director of the show, Meenu Gaur.
'Qatil Haseenaon Ke Naam' is a compilation of seven stories of seven women who wrest back control and redefine the word femme fatale. Written by Farjad Nabi and Meenu Gaur, the series showcases stories of love, lust, power, and redemption woven in a web of betrayal, anger, and revenge. Each story from the anthology depicts the fearlessness of women and their determination to avenge deceit. At the core of the stories are a mystery, suspense, intrigue with twist endings.
The series features an eclectic cast comprising of leading actors from the Sub-continent including Sanam Saeed, Sarwat Gilani, Mehar Bano, Faiza Gillani, Beo Raana Zafar, Eman Suleman, Samiya Mumtaz, Saleem Mairaj, Ahsan Khan, Osman Khalid Butt, and Sheheryar Munawar, Omar Rahim, Kashif Hussain, Fawad Khan and HajraYamin.
Ani Kunkoro hosts seminar to facilitates business women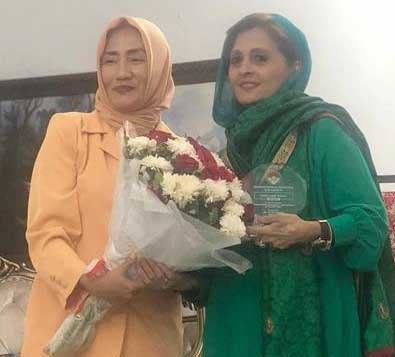 Consulate General of the Republic of Indonesia Karachi lead by Ani Kunkoro, Indonesian Women Association and in collaboration with the Women Entrepreneurs Committee of FPCCI Sindh Region 2021, led by convener Nazli Abid Nisar, organised a multi-speakers seminar on women entrepreneurship. The purpose of the seminar is to discuss the possibilities of collaboration and create a bridge between women entrepreneurs of Pakistan and Indonesia.
Seminar has a sub-theme of speaking session on Building Entrepreneurship mindset in women keynote by Nazli Abid Nisar former VP, FPCCI. Other speakers included Ani Kunkoro,
Dr. June Kunkoro Consul General Indonesia and Mrs. Suriani Wong Master Artist. Nazli Abid Nisar gave a thorough keynote presentation on building women entrepreneurship mindset, and listed down the challenges faced by women entrepreneurs.
Nazli also briefed that Pakistani women have various platforms for example FPCCI, WCCI, Women Entrepreneurs Committee, SMEDA, State Bank of Pakistan launched microfinance loans.
Through bilateral trading we can trade in rice, mangoes, sports goods, media workshops, digital training done by the Deputy Convener of our committee Farah Sadiq Khan or other capacity building training, jewelry, crafts, bridal abayas, special carved furniture gift items, pink salt.
She further said that thanks to similarities in our culture and religion together we can work in wedding planning, clothing, hijab and other several similar sectors in a better way.
As exhibitions are a splendid way to promote each other's culture, handicrafts, fashion and clothing, by organizing and showcasing exhibitions our women entrepreneurs can exhibit their products and Indonesian women can introduce their products to us as well. We can create a platform to promote each other's entrepreneurs as well.
Lastly she also expressed her wish to see more women entrepreneurs in our country working with Indonesian women entrepreneurs and contributing to the country's economy.
Women Entrepreneurs Committee delegation including Deputy Convener Shimmi Khan fashion designer, and Farah Sadiq Khan CEO TASA Digital, other senior members includes Afzala Shaheen fashion designer, and Yasmin Arif who is fitness trainer and fashion designer as well.